0
Saturday & Sunday 11th & 12th April 2009
Posted by OwdTrout , 13 April 2009 · 287 views
The FOGs Raid Tykeland.
Despite the forecast of rain all day, Alan Roe and I agreed a covert raid across the boarder. The plan was to meet up at about 11:00 hours, disguised in flat caps, and speaking strangely. Just as I was getting my gear together Al phoned to say he had left early. Well I had planned to arrive a little early myself so no real drama.
While on the way to our clandestine rendezvous I received a telephonic communication from Al. The prat had forgotten his waders. He would have to go into Silsden and buy some. Three tackle shops later he had a pair of Ron Thompson nylon thigh boots. He was also walking strangely from the pain in his wallet at having to pay the full RRP on them. When one is desperate, negotiation is difficult. It had taken three tackle shops to find a pair approaching the right size for his enormous coal barges. The reason for these rather over sized feet became obvious later.
Meanwhile I had arrived at the RVP (Rendezvous Point) and gotten a brew on. Al arrived five minutes later, sans headdress. Another item he had "forgotten". After a refreshing cuppa we moved on to the fishing. To my utter astonishment he had remembered to bring a rod, reel and line. He'd even remembered to bring some flies. Though that wouldn't have stopped him raiding my meagre supply. It also emerged that he had lost his sun glasses. Fortunately he had a spare pair. On putting them on he promptly found the errant pair.
We had parked at the top of the length so walked down river staying back from the edge. There is no point frightening the trout you are going to fish for later. Stopping at one pool to cast a prospecting fly proved first fruitless then painful. On making my way away from the pool I slipped climbing the bank and landed on a rather rough lump of cast concrete. Banging and cutting my left thumb. I don't mind the sight of blood, so long as it isn't mine! It still hurts now. Old age is catching up with me in that I don't bounce as well as I once did.
There was not much activity of the fishy variety as we wandered down but after a couple of hundred yards we came upon a glide with a few rising fish. Al had first chuck at them and after a couple of casts declared they didn't want my Stuck Shuck Emerger. Changing to, what he called, a "chocolate biscuit fly" (Half a chicken wrapped around a hook) he cast again. A few casts later, a fish ate it. After "playing with his food" for a while the trout rolled on the surface. The reason for the fight extending beyond the usual 4 seconds became apparent. It was an above average fish. Well to tell the truth it was a ******* monster. Throwing his net at me he asked me to do the honours. (That's an insurance policy - if he lost it it would have then been my fault). It was a good job I was using Al's net as mine would not have taken the beast.
Anyway I managed on the second attempt to get it into the net. A camera was needed. You may have seen the images on the board but here they are again.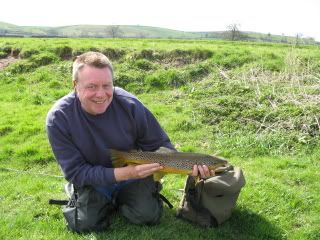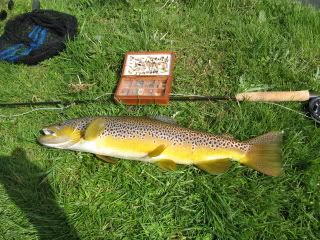 The first time Al got his new waders wet was returning that fish, which he nursed back until it swam off strongly.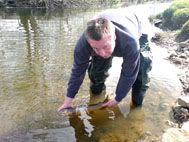 That's the way to christen new waders. Time for a cuppa. This is where the size of Al's plates was explained. On lifting his brew kit I immediately sank half an inch into the ground! Al set up his field kitchen and made tea. TEA I ask you? Yuck filthy stuff. What's wrong with a cup of coffee. No waste to drag back. By the time Al had dismantled the mess house, and attended to his "other needs",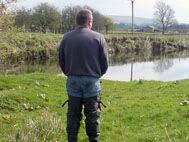 fish were again rising in the glide.
My turn. I made a few casts and missed a couple of fish by tightening too quickly. These fish had a much more lazy rise than the fish in the faster water of the Irwell. Slowing down I finally managed to connect with one from the same place as Al's monster. Not as large as his but a respectable 15 inches. This is a small stream by Girach's definition (i.e. one you can roll cast across). That was to be the last fish of the day for either of us.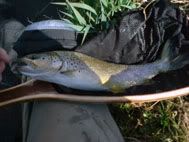 The Grannom had started to hatch and that was the fly the fish had been rising to. By next week the hatch will be history. Much to our surprise Al spotted a few early, very early, mayfly hatching. Hmm better get some tied I like a spot of mayfly fishing.
Moving downstream we came across 5 other fishermen, all were fish less. It was crowded on the river that day. Seven anglers on a 3 mile stretch is a bit shoulder to shoulder for our tastes.
Late in the afternoon we retired to the local hostelry for refreshment, only to find them not serving food over the holiday! However the fish and chip shop a couple of doors down was. Fish chips and mushy peas accompanied with Dandelion and Burdock taken on a bench by the river in spring sunshine; a great way to round off a day. Al made his escape back across the border and I went to set up camp for the night. Though the dammed mobile leash was tugged, and I had to return home about 22:30.
"He is risen - He may be, but the trout arn't" - Easter Sunday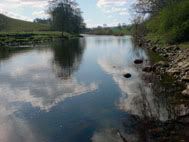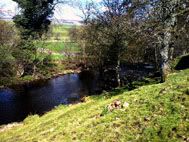 Off to the Ure today. As a school child I spent a week in Keld as part of the Duke of Edinborough's Award Scheme. I fell in love with the Yorkshire Dales, and I still am. Just being there is a medicine for the soul. Though when you visit remember that it is a tough landscape and those who work it for a living have a hard enough time winning a livelihood from the land without us getting in the way. We all know the country code, or should. That's a good start. Stay out of their way while you enjoy the land. Don't stand and watch a farm worker stop his tractor, get out and open a gate. Open it for him, and remember to close it again.
The Ure is a lovely looking river, but was in a dour mood. I fished two of the lengths. On the first I spotted only one feeding fish. What it was feeding on wasn't apparent. He didn't want any of my offerings. The second length did have fish feeding. On midges so tiny as to be impossible to catch. When they refuse a #30 suspender buzzer as too large you will struggle. I did. Not a single fish rose to my fly all day. I tried nymphs and one or two very fancy flies that usually do the job in these situations. The midges used my fly to crawl through the surface, one trout rising and taking the midges off it!
On this length I came across another angler who had bumped into Al earlier in the day. Al had attempted to show him his fish from yesterday. Having taken his memory card out of his camera to down load the images he had forgotten to replace it. His decent from prat to pillock is now complete, official and witnessed.
Still it was a beautiful day in the magnificent Dales. What more could I ask for. I will be back.
Cheers,
OT