0
Wingham 2012
Posted by Rusty , 05 June 2012 · 688 views
Wingham Fish-in, 19th, 20th & 21st May 2012
Well here I am again, having speculatively put my name down for a place on this year's event you could've blown me down with a feather when Steve replied in the affirmative.
My 2011 experience at Wingham was invaluable in deciding what to take this year, I was able to pare down the gear to the bare minimum and plan cooking activities a little better. My tactics would remain as last year with corn on the hook and a mixture of liquidised bread, hemp and corn in a feeder. I saw no reason to change although perhaps an opportunity was missed by not taking some of JV44's recently produced homemade boilies. It would've been an ideal test for them and I'm kicking myself for not thinking about it.
Saturday
Started at 2:00am for me (in bed by 7:00pm the night before)! I'd been unable to take Friday off work so had to drive down on the day and after triple checking my tick list I set off at 3:00am. The journey was a breeze, even the M25…nobody else was stupid enough to be up at that time…and I arrived an hour early at 6:00am. Neil, Paul and John were already there so we chewed the fat for a bit while the clock very slowly counted down the minutes before the official 'off' at seven. We were like kids waiting for their pocket money eyeing every move Terry made just in case he was going to fire up the tractor/taxi a little early…he didn't.
I had tentatively requested the same swim as last year simply because it was close to the clubhouse and I was familiar with the features, I also had confidence that fish did frequent that area so it seemed a logical thing to do given that we only had a weekend. I knew that Steve had been able to oblige so I picked up my name badge and bacon butty and then joined a group listening to Budgie's tale of woe. Apparently he'd hooked into something which he thought was the mother of all eels, his holy grail, but as it approached the landing net it turned out to be a common carp….a 44lb common carp. As the sad tale unfolded I could see him welling up with tears of disappointment, jeez I felt so sorry for him (yeah right).
Anyway enough of Budgie's 44lb carp problems the tractor was running and we were off. My gear was unloaded at my swim as I followed up on foot carrying the quiver containing my rods. First job on arrival was to get the baits in the water and this is where the rods being already set up really helped, within a few minutes I was fishing probably before 7:30am.
The next job was the accommodation, Paul had kindly lent me a bivvy again but this year he would be fishing so I didn't want to pester him with putting it up, after all I've got seven O Levels and GSCE grade 2 in Biology so I should be able to assemble a few poles and a tent. Unfortunately my secondary school achievements were no help as I surveyed the 4 poles (only two of equal length) and the bundle of mesh and PVC before me. On a few occasions I thought I'd cracked it and created something resembling a dome but then I'd find that I had a pole left over so clearly something was wrong;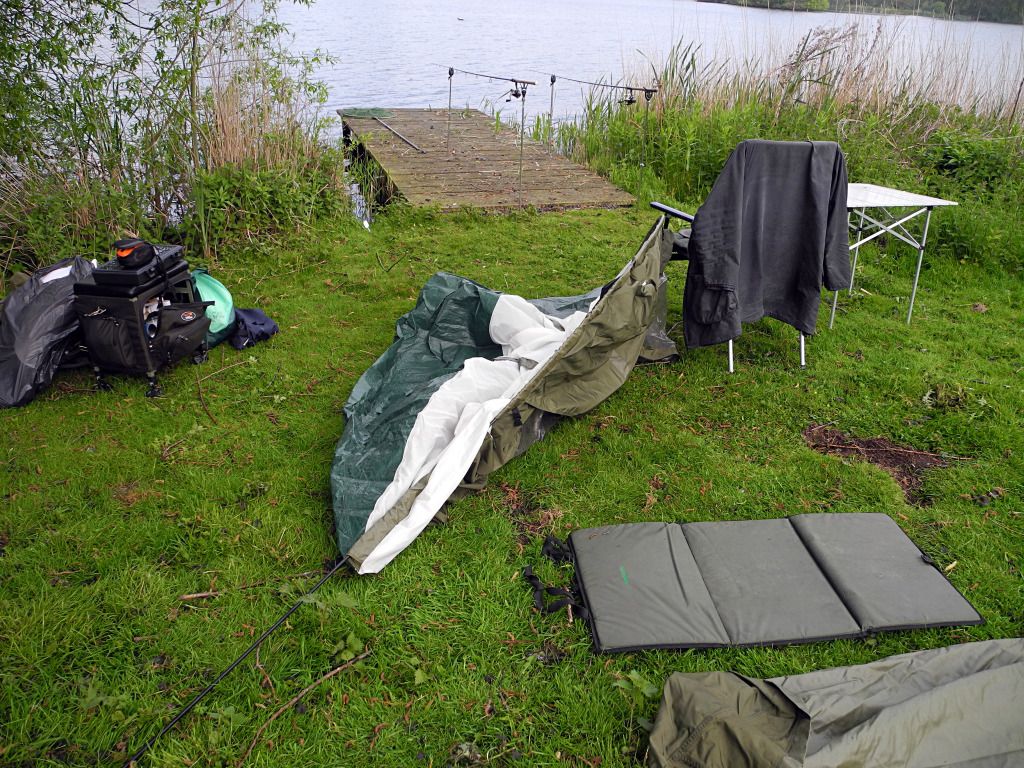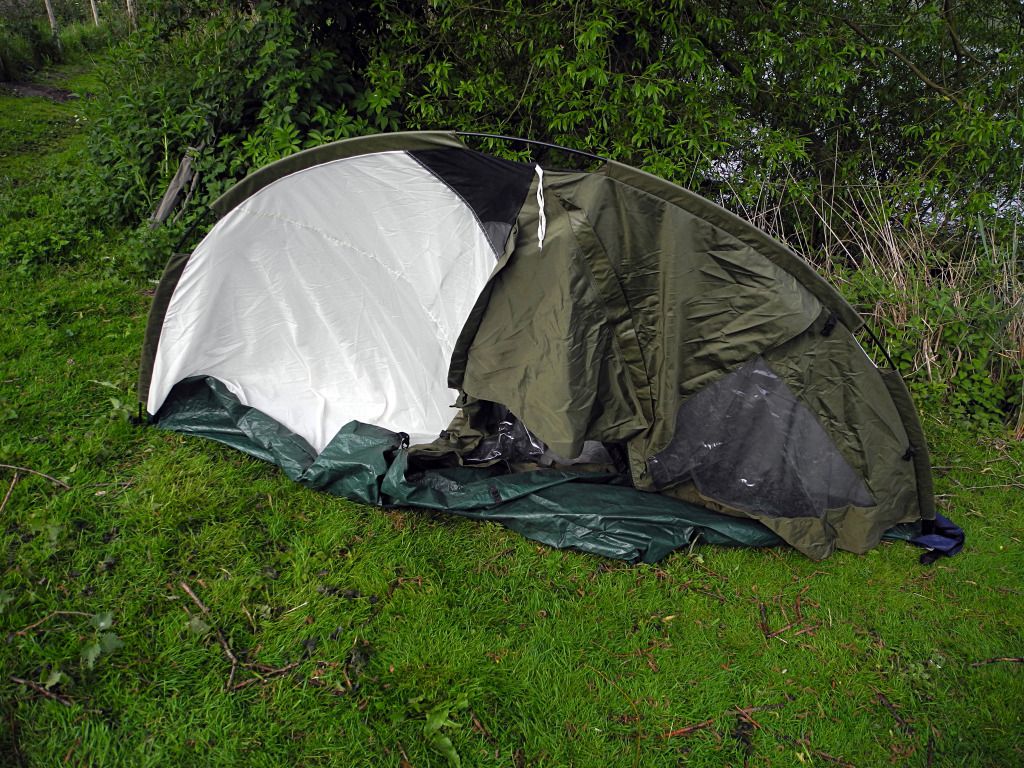 This pathetic display of ineptitude lasted an hour before I conceded defeat. I flagged down Terry and asked that he passed a message to Paul to please come and help, within minutes of Paul's arrival the bivvy was up;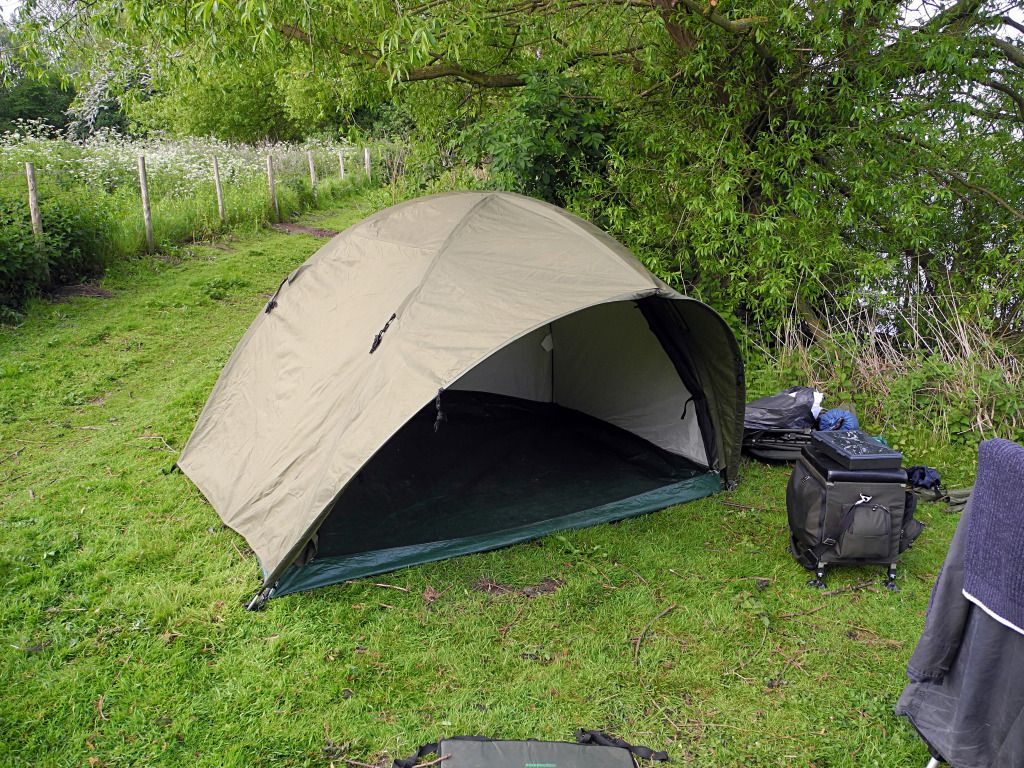 Ok so with the accommodation sorted it was time to eat, I must say I was disappointed not to have caught the Wingham record tench within two hours of arriving but I soon got over it as broke out the rations holdall. This had been carefully thought through, the BBQ would provide lunch for both days but there was eating to be done in between times so the breakfast menu for the three mornings was sausages, Saturday night was fillet steak, Sunday night and Monday lunch would be Heston Blumenthal's burgers all washed down with something from the well stocked wine cellar (well perhaps not breakfast). Stills of breakfast cooking are so last year so here's something different;
http://s421.photobuc...nt=DSCN0465.mp4
After brekkie it was a case of settling down and waiting for the bite alarms to do something. One of them certainly did something about an hour later, a continuous tone and a bobbin slamming up against the rod signified a bite so I grabbed the rod and lifted into…...a coot. The bird had surfaced a distance away from where my bait was so it took me a while to figure out what was going on but the feeder dangling from its beak was the giveaway. I wasn't sure what to do, obviously I needed to 'land' it but every time I tried to get it in the net it would fly away again. Eventually it got tangled in the mainline and couldn't flap so I reeled in and carried the poor thing to a place where I could cover it with the net and sort out the mess. Luckily it was beak hooked with a lot of the shank showing so the forceps got the hook out. The tangled line was then cut away until I'd accounted for all of the end tackle and had just a loose mainline. I had to be sure, once I lifted the net it would be gone in a flash, there wouldn't be a second chance. A double check that everything had been removed and off with the net, I've never seen a coot move so fast, it was flapping and running at a terrific rate of knots so I guess it was none the worse for the experience.
That was the excitement for the morning I'm afraid, the usual spectacular BBQ provided the opportunity to meet everyone and then it was back to the swim. Optimism was still high at this point, the first morning can be a bit of a dead loss because of everybody being ferried to their swims and setting up but there was still the afternoon ahead. I tend to divide the weekend up into mini sessions, if nothing happened on the mild Saturday then the night time would bring new conditions, it would be dark for starters and the wind would get up. Sunday would bring daylight and a northerly wind so again something different and so on - it's my way of keeping the enthusiasm going.
Anyway Saturday afternoon passed without incident, unless you call a couple of swans picking up your line an incident. The screaming run had Steve Burke rushing along from the next swim up and had me having palpitations at the thought of unhooking a much larger bird….one very capable of fighting back. Fortunately it didn't come to that, a couple of vigorous paddles had the line free and all I had to do was re-bait and cast out again. Once I'd calmed down I decided to go for an early dinner, I was pretty tired after the drive down and the thought of fillet steak, a red wine nightcap and an early night was too tempting;
http://s421.photobuc...nt=DSCN0467.mp4
It can only have been 8:00pm when I settled in for the night and dozed off with the alarm volume turned right up should a passing tench oblige. After a while the wind got all energetic and the heavens opened, the bivvy was moving about and creaking as if it wasn't secured by the guy ropes (it wasn't) but, crucially, it was watertight. A peek through the door suggested that it wasn't a good time to catch a fish so once I'd convinced myself that I wasn't going to be blown away and wake up in a different time zone I got back down to the important business of sleeping.
Sunday
Ironically that turned out to be the best night's kip under canvas that I can remember having. Sunday dawned dull, damp, cold and windy but I awoke refreshed and raring to go, raring to go to the shower that is so off I went in anticipation of a good dowsing of hot water. It was unfortunate that the clubhouse padlock had a different combination to that of the venue gates, it was more unfortunate that I'd only committed the latter to memory so had to trudge back to the bivvy unwashed. By the time I got back it had started to rain so I decided against making the return trip, my living quarters were dry and I wanted them to stay that way. Anyway, kudos was to be gained by the grey stubble and the mossies swarming around my armpits.
There's not much to report about Sunday, much of it was spent looking at rods from the bivvy. I did venture out to take some spy shots and some pics of the lake but most of the time I spent reading;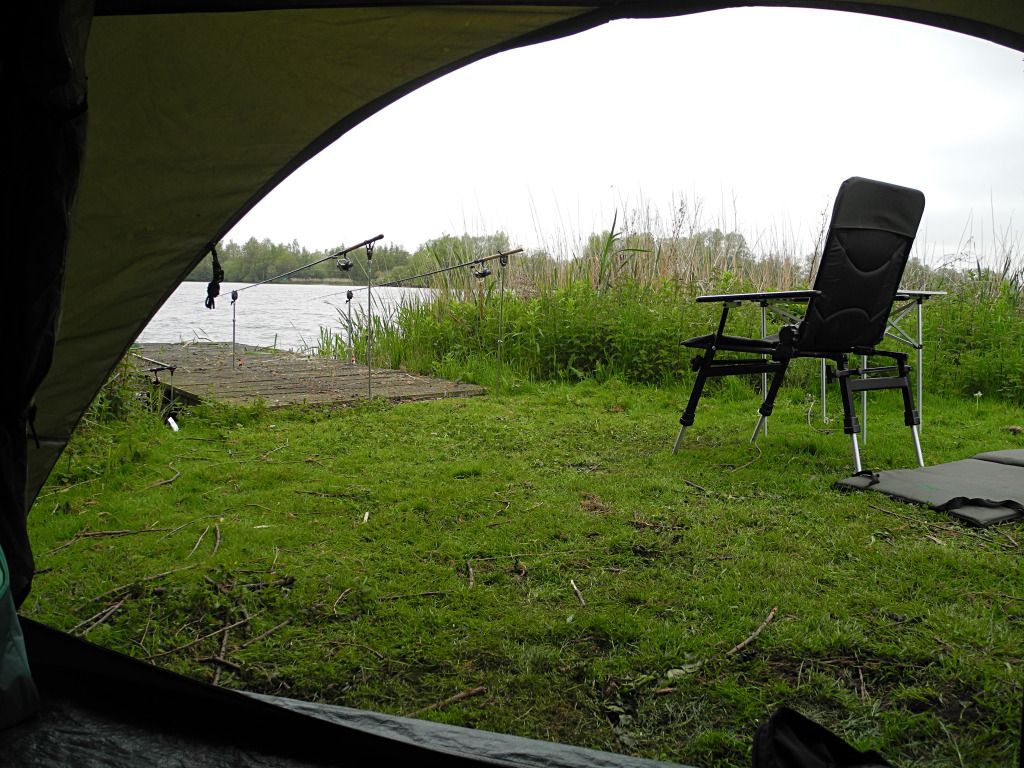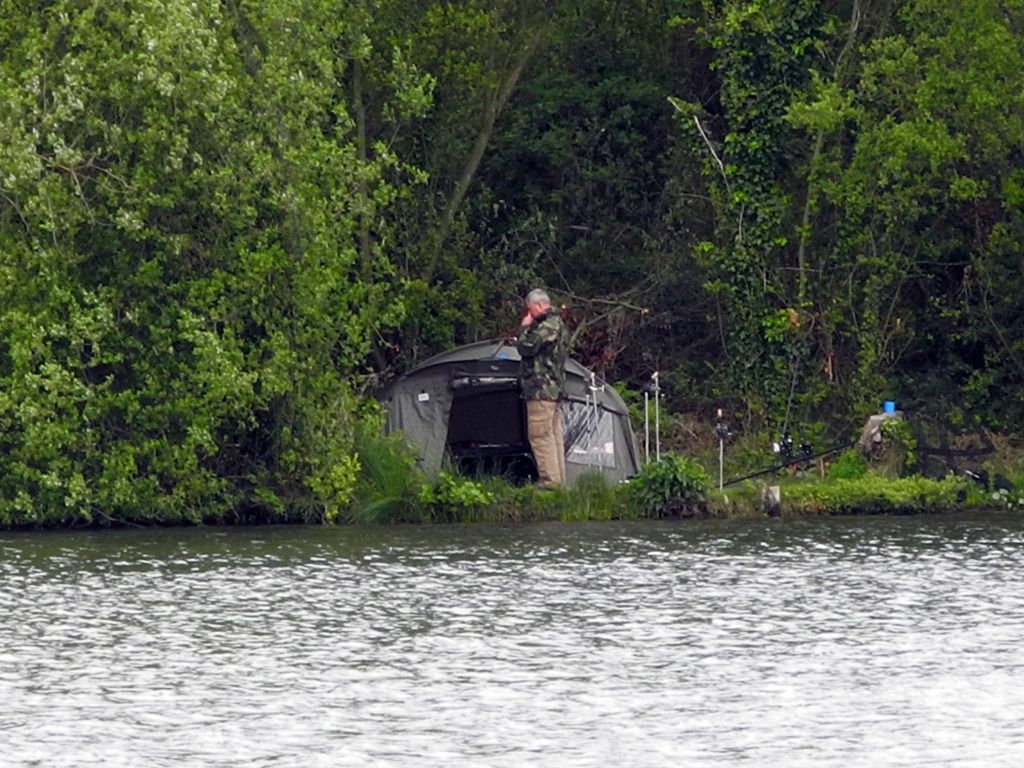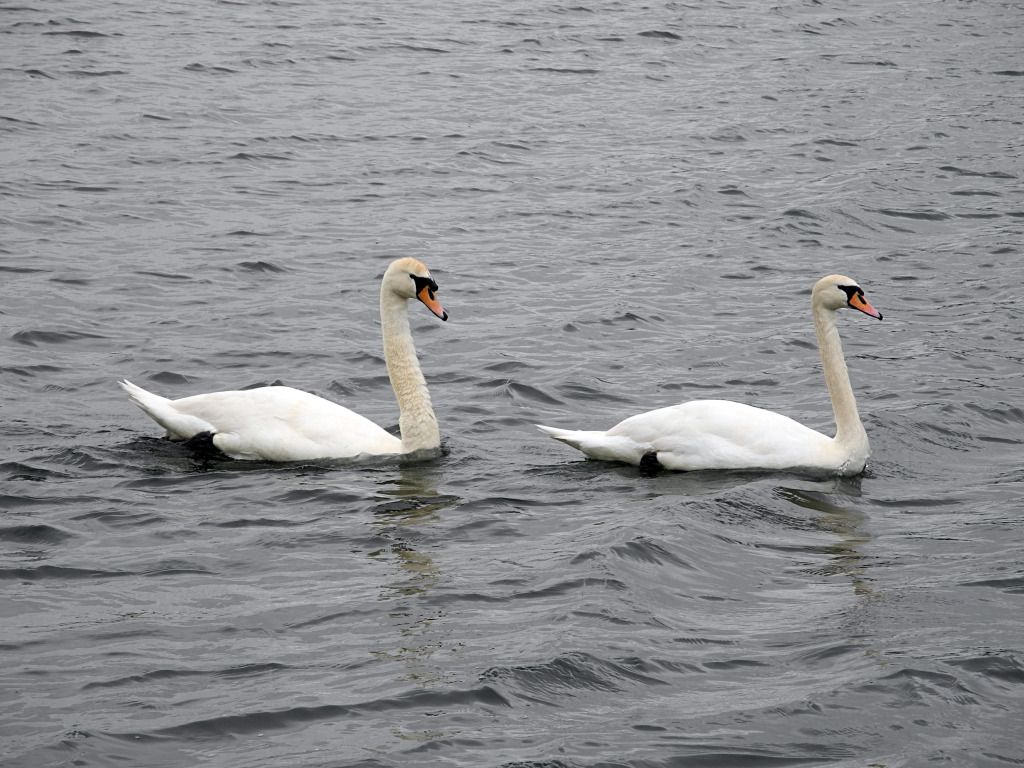 Sunday night loomed and as far as I was concerned this was to be the last hoorah. The forecast was slightly better for Monday but I was certain that the miserable weather had put the tench off and they wouldn't start feeding again until a few days of warmer weather had set in. My intention was to get an early start to the following day's journey home so it was with some sadness that I re-baited the rods and cast them out for the night, it was probably the last time I would do it at the 2012 event.
The phrase "Never say Never" has….erm….never meant as much to me as it did that night. At precisely 3:00am another continuous sound awoke me, through the clear bivvy window I could see that both alarm lights were illuminated. The Wingham rules state that you can't be more than 10 seconds away from your rods, I couldn't make that but a methodical exit got me out pretty quickly (presumably if Usain Bolt ever attends the fish-in he can be 100 metres away from his rods?). The sight which greeted me filled me with dismay, two alarms sounding and two bobbins climbing and falling, which rod should I pick up?
I waited until one of the baitrunners started giving line and went for that rod. It was a good decision, the resistance on the other end felt solid and secure so I played the fish watching the line where it entered the water in the light of my headtorch. Bringing it in confirmed that it had become entangled in the other line. It was only once I'd got the fish out of the water that I realised that this was the first time that I'd caught anything in the dark. My mat was nowhere to be seen so I put it down on the grass while I unhooked it and cut away the rig and line from the second rod. The scales confirmed a weight of 6-12 and looking at the photo now I think it may have been the same male tench that I caught last year, at that time weighing 6-10. What do you think?
This year;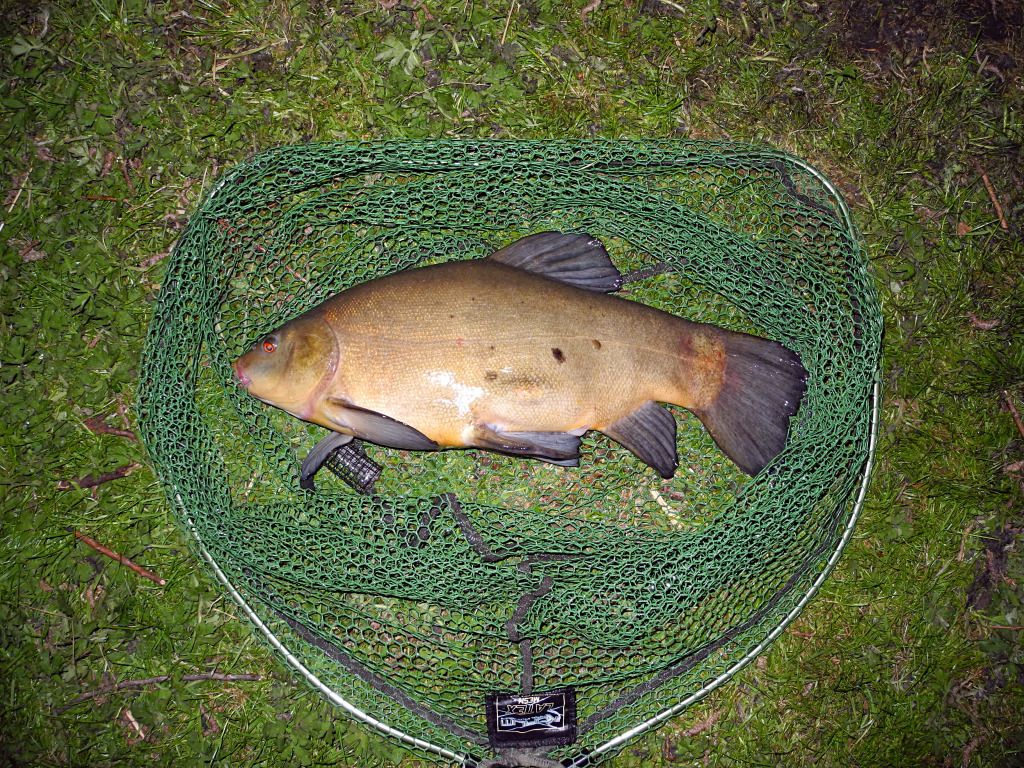 Last year;
Whether it is the same fish or not it was a PB male tench, on the two occasions that I've fished Wingham I've only caught three fish but each one has been a personal best. I'll settle for that.
Monday
The anti climax of packing and going home after a great weekend's fishing is always depressing particularly if you're leaving a venue like Wingham. The best way to think about it is that if holidays don't end they can never start so with that thought in mind I packed everything up (leaving the rods until last) and 'booked' the taxi back to the clubhouse. I said my goodbyes, set off on the 150 mile drive home and started planning the 2013 campaign.
Thank you
As ever those who put themselves out to make the event possible deserve a huge amount of credit, Steve for the Saturday bacon butties, Peggy for the BBQs, Terry, Glyn, Sam and Luke for the help in getting to the swims, Paul for the loan of the bivvy and lastly Steve for making the venue available.