1
Please let that swim be free...
Posted by tomhaggett , 26 November 2014 · 144 views
11th May - Berkshire Stillwater
Looking back through my pictures I can't believe how much fishing I was getting in over late Spring.  Unfortunately the lakes remained mostly closed for that whole period so it was difficult to really make most of the best season of the year.  
I remember this session well.  The lake was still 3/4 closed with only the same 7 swims open for angling.  I had pulled out all the stops to be there this day as the conditions were due to be bang on... big westerly winds and a healthy drop in barometric pressure.  The problem was that I knew there was only one peg to be in while the weather was doing it's thing.
The swim in question was the last one along the open bank, situated with the end of the island inline with the right hand edge of the swim so by fishing long and off to the left it was possible to access the far side where the fish were obviously more comfortable.  Of course this hadn't gone unnoticed and the swim was always the first of the 7 to be taken and had done a few fish, including the biggest of the year so far.  The westerly wind would be hacking down that end of the lake making it even more appealing.  It's very rare that I go fishing with preconceived ideas regarding swim choice but this time I just knew.  It was a Sunday if I remember correctly so there was the vague likelihood that the weekend anglers were pulling off and that the swim would be free  In reality one of the dole scroungers would probably be ensconced in the swim for the next 5 days or something stupid.
Anyway, I arrived mid morning and was amazed/excited to see only one car parked up... that said the dole scroungers get dropped off so it didn't fill me with hope.  
The barrow was loaded and with a right sense of trepidation I trotted off on the long walk, praying there wouldn't be anyone in there.  As I approached the lake I saw a brolly in the first peg... result, that was hopefully the only car accounted for.  Nearer and nearer I got, the reeds obscuring my view so I couldn't tell if I was in there until I was literally on top of it.  BINGO... it was free... I don't think I've ever felt so relieved. 
Now I was in there I could start to relax and hatch a plan.  The bivvy went up first, again, something I VERY rarely do but I was so sure where the majority of the stock would be I thought I'd get everything sorted in case it rained.  Anyway, it gave me a chance to wallow in the glory of getting in there.  
Even as I was organising my things I'd spotted a couple of subtle shows.  On the corner of the island lies a prominent bed of pads, spanning probably 5 or 10 yards wide and the fish had shown behind these.  It was off to the left of the pads that I was planning to fish, casting well past them to access the far side.  A couple of mates had caught by fishing in a similar manner and had assured me that the pads wouldn't cause an issue if/when I was to hook one. 
Finally, once everything was looking neat I set about getting a couple of hinged stiff rigs out into the area of silty open water that when the lake is fully open is totally ignored.  It was quite a chuck compared to what I'm used to but after a few attempts the 4oz leads were sailing the 100 yards or so.  I left them out there with singles, to minimise disturbance and because it was physically impossible to get any bait out there in the wind.  An hour or two had passed and a few fish had shown in the vicinity but I was getting itchy feet about the singles.  I felt I should have had a take so, as a mate had arrived, I left him to watch the rods and sneaked around the closed area of bank with my bag of bait and a catapult.  This enabled me to spread about a kilo of bait around the zone in an attempt to get them going a bit.  I put in a kilo in one go because I thought it would be enough for the night and I didn't fancy trying my luck in the out of bounds too often.   
Within just 5 minutes of getting the bait out one of the rods pulled up tight and I was in.  It was hard to tell in the wind, especially at that distance, but it didn't feel all that big and sure enough, after a brief flirtation with the pads, a tench rolled into the net.  Not what I wanted but before I could do anything the other rod signalled a few shrill bleeps as another fish hooked itself.  A similar battle with a slightly longer flirtation with the pads and tench number 2 went into the net that my mate had gladly emptied of tench number 1.  This one was left in the water while I set about getting a rod back out as soon as possible and second cast lucky it was in prime position again.  Tench number 2 was unhooked in the net but before I had chance to have a look at him the recast rod was calling for my attention.  This time there was a much more substaintial resistance pulling back over 100 yards away.  Thankfully it kited in the opposite direction to the pads so I was left to enjoy the battle worry free and sure enough after a few minutes a pretty looking mirror was resting in the mesh.  Once again I was left with no rods in the water so, after slipping the hook out of my prize and popping him in the retainer briefly I got a couple of new hook sections tied, baits screwed on and balanced and set about winding up for a couple more big chucks.  One of them I managed to crack off so that needed completely re-tackling and it was probably 20 minutes before both rods were back on the money... by that time the feeding had either subdued or the kilo of bait that was supposed to last the night had all been cleared in the space of half an hour.  
I needed a bit of time to sort myself out anyway so after everything was re-organsied I hoisted the fish up onto the scales which read 20lb 6oz.  Without wanting to become a slave to cliche's, the weight really was immaterial in this case, it was a beautiful fish and one we later figured out was one of the handful of remaining originals, 35 - 40 years old and a rare visitor to the bank.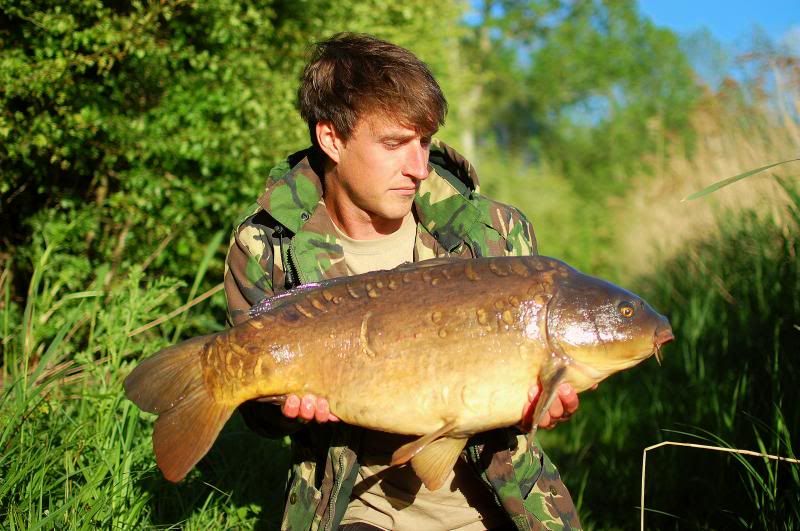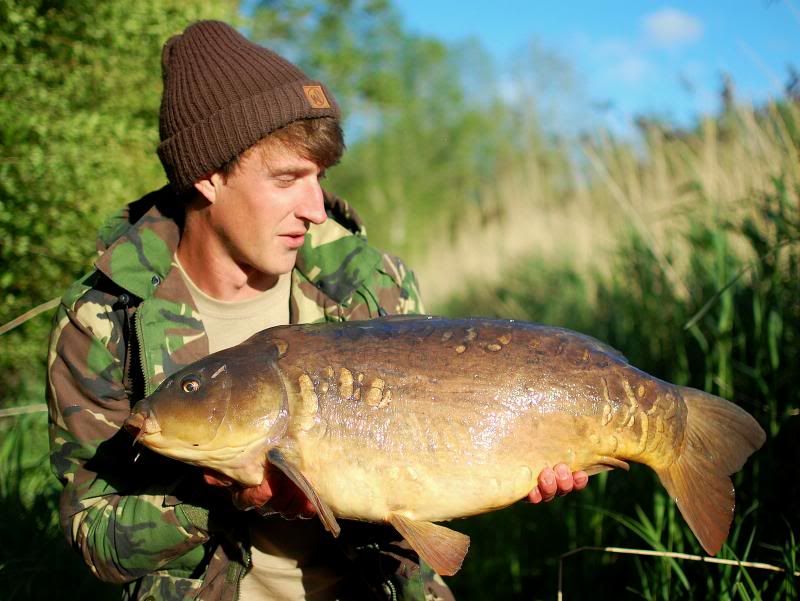 From there on in things just went downhill.  I had ridden my good fortune and I was due to pay for it.  As I said I cracked off one of the recasts, something which I later repeated as I was getting the rods sorted for the night.  I was also running low on bait so had to borrow some from my generous mate.  Darkness was soon approaching and with ol' Jimmy (he's proving useful) left in charge of the rods I sneaked round for another covert baiting up mission.  I had to be a bit more careful this time as a couple of guys had set up a few swims away and could potentially see me as I tip toed along the closed bank.  All was good however and another kilo or so of bait was scattered over the area ready for the fish to feed their heads off during the night.  
Wishful thinking ay... the rods remained silent all night, bar the incredibly persistent bleeps from the wind.  The rods were left as they were that morning to minimise disturbance and thankfully that paid off half an hour later as one pulled up tight.  This time the fish had other ideas and kited towards the pads and at that distance it is difficult to put any real pressure on them... just as I thought I'd salvaged it and the fish seemed to have cleared the pads I felt a grating and all ground to a halt.  Giving up on the out of bounds nonsense I walked down to change the angle but before I'd even put any pressure on the line parted!!  Sick as a parrot I was but not as much as when the exact same thing happened an hour or so later!!!! 
By the time I'd finished licking my wounds the wind had subsided, the action seemed to have slowed and I was more than ready to leave.  
A good start ruined by my incompetence... sound about right then!!