1
A costly loss
Posted by tomhaggett , 01 December 2014 · 162 views
11th August - Berkshire Stillwater
As usual this was an after work jaunt to the target water.  The conditions were due to be spot on again so I made the effort to get the next day off work and trotted down the path full of enthusiasm.  
The winds were due to be blowing in strong and south westerly, similar to during the session I fished earlier in the year.  Two mates had beaten me too it unfortunately and were set up at the windward end of the lake but reported that not a lot had happened.  
One had mentioned a couple of shows a bit further up the bank, in one of my favourite swims, so we took a wander up there together and watched in amazement as they put on an aerial display like I've not seen for a long time.  We must have witnessed 50 odd shows to which I fished singles for 45 minutes or so without any indication before deciding to get the rods sorted for the night.  A few flicks around, trying to keep disturbance down and I got the rods out on the spots that had been the most active during the acrobatics. 
Obviously I went into the night rather confident but not much happened in the end.  The left hand rod did go sometime between 11pm and midnight, resulting in a small, escapee common of around 10lbs... not what I was after.  By the time first light came around nothing else had happened and I was starting to get a bit agitated... you've probably realised by now that I'm not the most patient of anglers.  I'm sure this costs me the odd fish but I much prefer being active and hunting them down so that's exactly what I did.  Both of my mates had left by that point so I wandered down that end and fished to some sparse fizzing for an hour or so before ending up back in my original plot.  I'd packed everything up and was contemplating leaving when I spotted a back breaking the surface close to the island in front of me.  If I had been looking anywhere but at that exact spot at the exact moment I would have missed it, but I thought it was worth another half an hour or so, unpacked one of the rods and flicked it out within a couple of feet of the island.  Not ten minutes later I saw the line start picking up before the alarm sang it's tune... and I lifted into thin air!!  WHY!
Anyway, I checked the rig, resharpened the hook and flicked it back out there as perfectly as I ever could.  The lead took a low trajectory and sailed into the undercut of the island, closer than even the baitboaters could go.  Within 2 minutes it was off and this time I lifted into solid resistance.  The initial stages of the fight were a little hairy as the fish beelined for a large bush that protrudes from the island but after a bit of careful work it was out in open water where I could relax.  My mate had run around by this point and got there just in time to slip the net under a nice common...  23.7 that one went.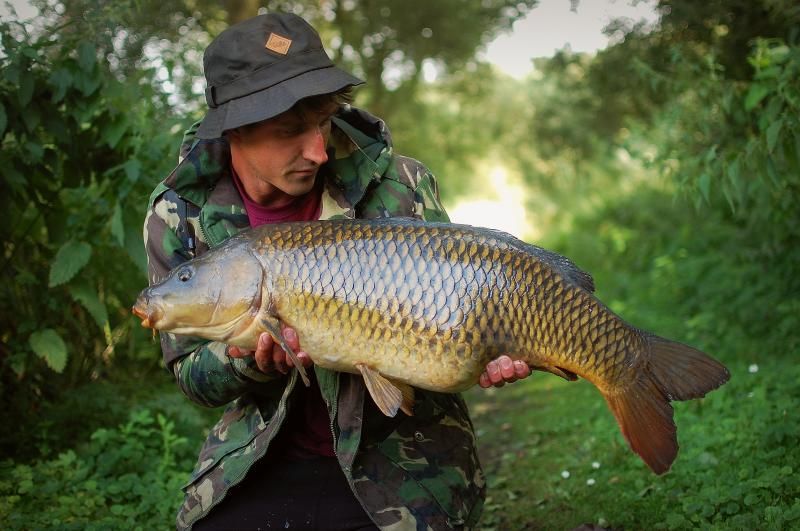 Amazed by the quick bite I set about getting the rod back out and also sorting the second one out and fishing that a little further up the island.  Both rods went out unbelievably well, into the undercut where there is about a foot between water and the base of the island... casting into that, underneath the branches that hang over at 45-50 yards is not easy, in fact I've not idea how I managed it so consistently... I've tried a good few times since and can't get it in anywhere near as tight!!  The rod on the new spot pulled up tight within 15 minutes and after a repeat of the first battle my mate slipped the net under another common.  This one was a bit smaller at mid-upper doubles. 
I was running rather low on rigs at that point and as I only had a little while before I had to be off home, rather than tying up a fresh one, I picked one off my board that I wouldn't normally use... that was to prove rather costly.  The recast went perfectly once more and after waiting a bit long this time, perhaps half an hour to 45 minutes it pulled up tight, much to my mates amusement.  "I'd hit that if I were you".
From the off it was clear this was a far bigger fish... it took off the other way along the island, tearing off line and leaving a serious bow wave as it went.  It was headed to an area we call the beach... a very shallow plateau towards the corner of the island.  There was a set of pads towards the back of this that I was slightly worried about so I put on a little pressure... at that moment the fish seemed to ground itself... a sure sign that it was one of the better ones but alas it wasn't to be and before I knew it the fish thrashed violently while beached and the hook lost it's hold.  We then had one of those moments when you look at each other, knowingly. 
I was understandably gutted... the chance I'd been working towards and I'd managed to fluff it.  To rub salt into my wounds, one of the mates that was there with me had one of the known fish of 30+ a week or two later that had a fresh hook mark in the exact place we expected my hookhold hook to have been!