A few weeks ago I was contacted by Ant Perkins from System X who are importers of a large range of kayaks and related products including Native Watercraft, Kokatat, Ctug and Scotty.
http://www.systemxeurope.com/
Ant was interested in the growth of coarse fishing from kayaks and saw a link to the American Bass fishing scene and wondered how a US boat would fare on UK freshwater. He decided to take a gamble on importing a Slayer 12'.
For those that do not know, Native set up a Facebook page in the states for anglers to offer likes and dislikes through the Native range and what they would like to see in a new boat.
http://www.nativewat...at_overview.cfm
Native already have a wide range of very popular boats in the US but are best known in the UK for the Manta Ray which has a reputation as a competent and well made boat. Many will see links between the Manta and the Slayer but I digress.
The Slayer is as I have said a fisherman's boat, stable, comfortable and spacious.
First impression was what a great finish the boat had and everything a a 'quality' feel about it'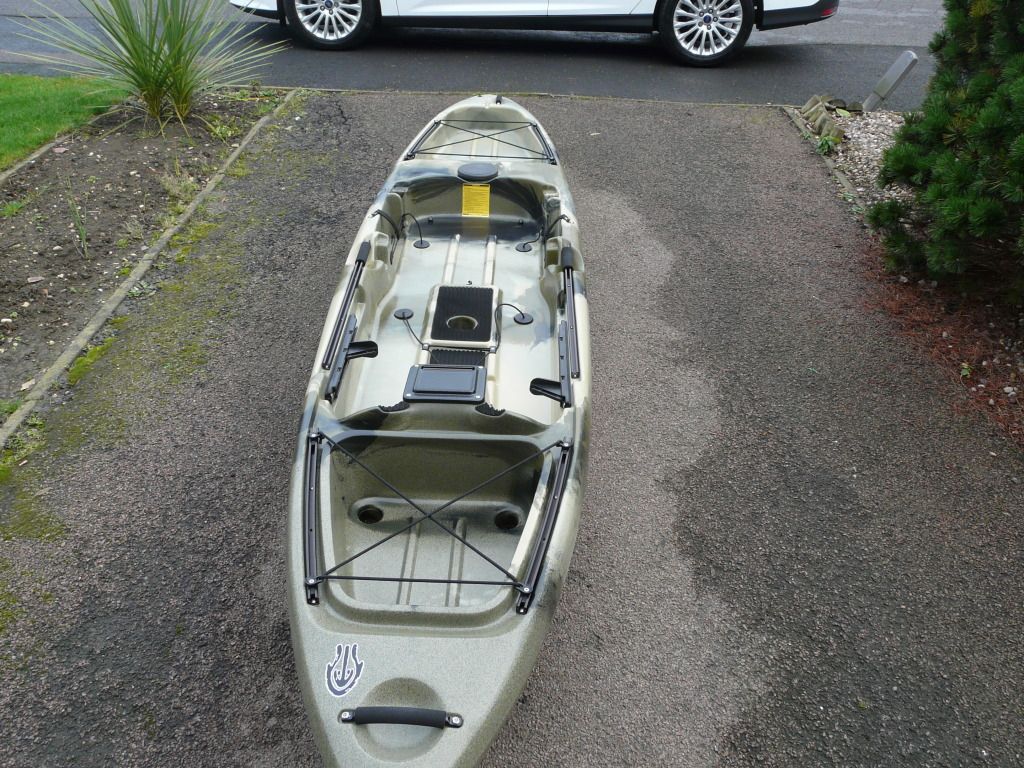 Basic specifications are:
Length: 12' 366 cm
Width: 31" 79 cm
Weight: 70 lbs 32 kg
Capacity: 400 lbs 181 kg
Like me it is no lightweight but look at the capacity, definitely capable of handling my 15 stone. But as has been said elsewhere custom moulding styles all add to the weight of kayaks.
The Slayer has a tri hull design which will offer great stability.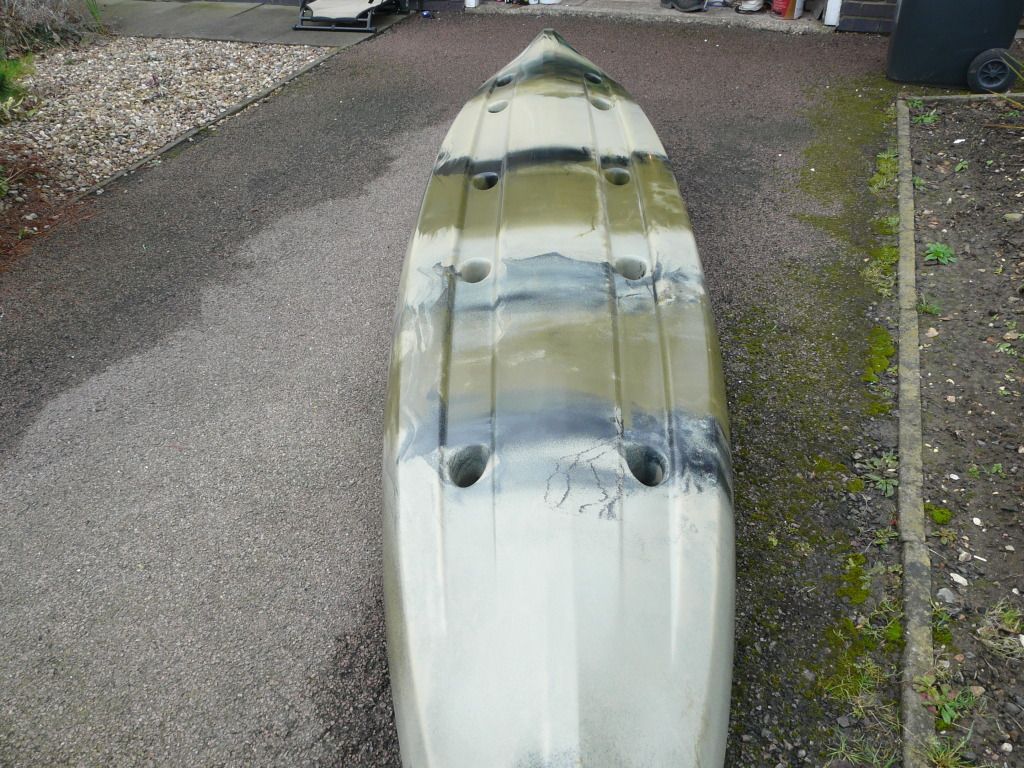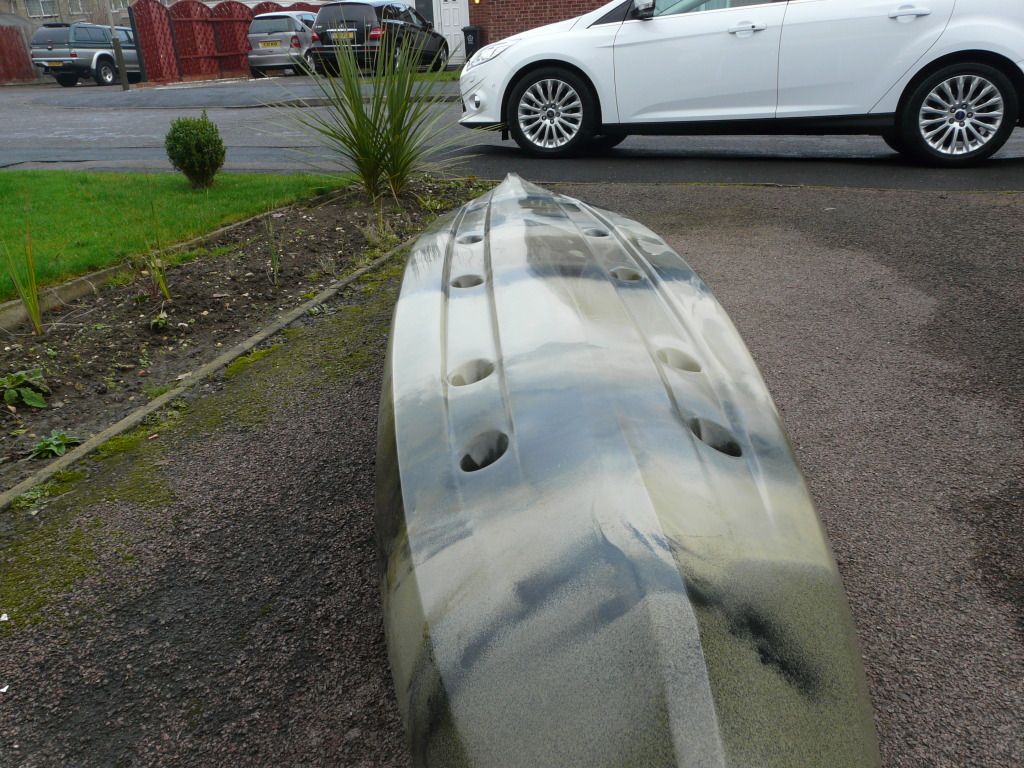 Note the 10 scupper holes large and efficient I would guess.
Lets start at the bows. The yanks asked for a bow storage area that can be accessed whilst on the water and they got it. No chance of swamping here.
A decent sized open area with two scuppers , a bungee cord to secure gear. Note that the cord is secured by clips fitted to the track strips. These clips can be moved or removed completely.
The 'Groove' will accept a range of Scotty accessories which can be moved and removed simply.
And a cover will be available.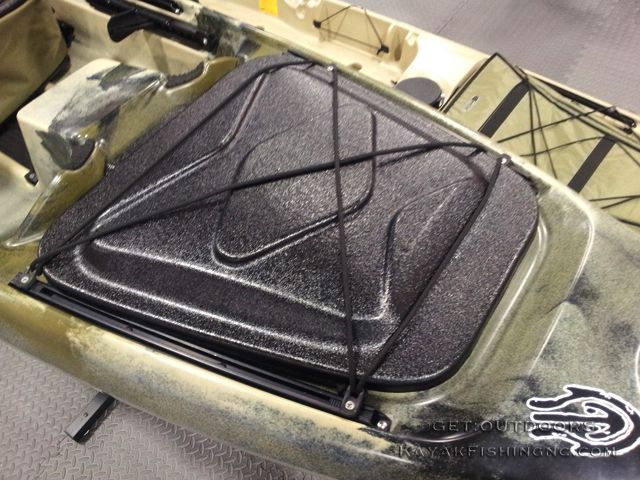 The black lid behind the bow storage is a secure access point to the hull for fitting a transducer and battery holder. There is alson another section of Groove for the FF mount or GPS holder.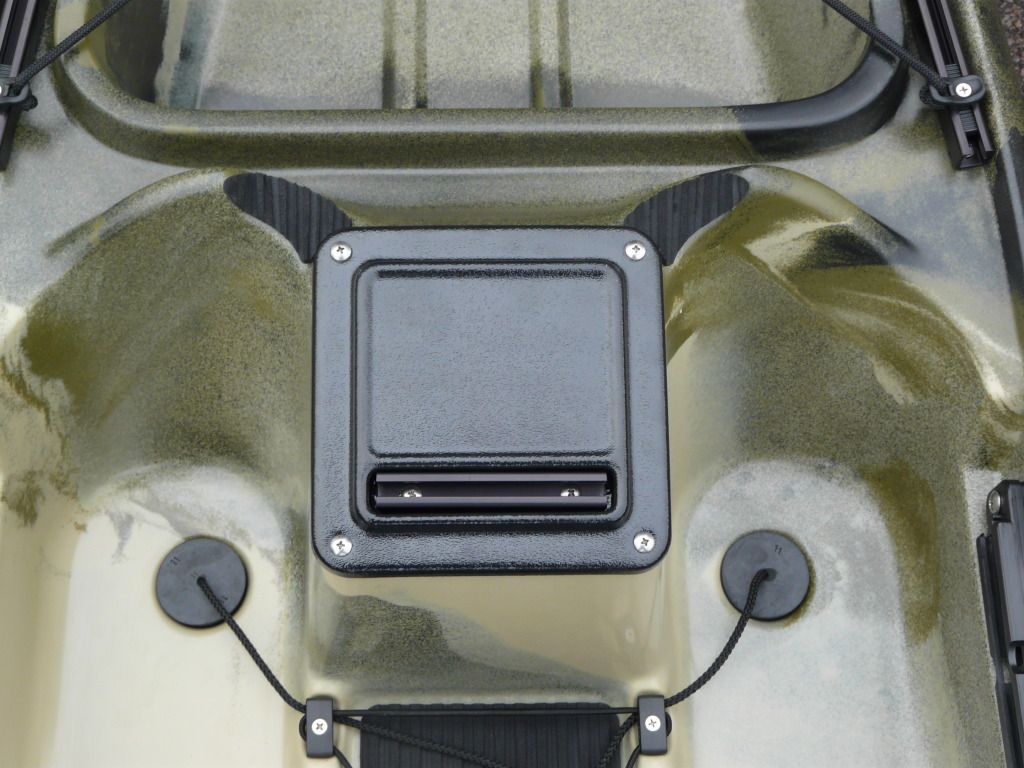 Encapsulated threads ensure security with repeated unscrewing.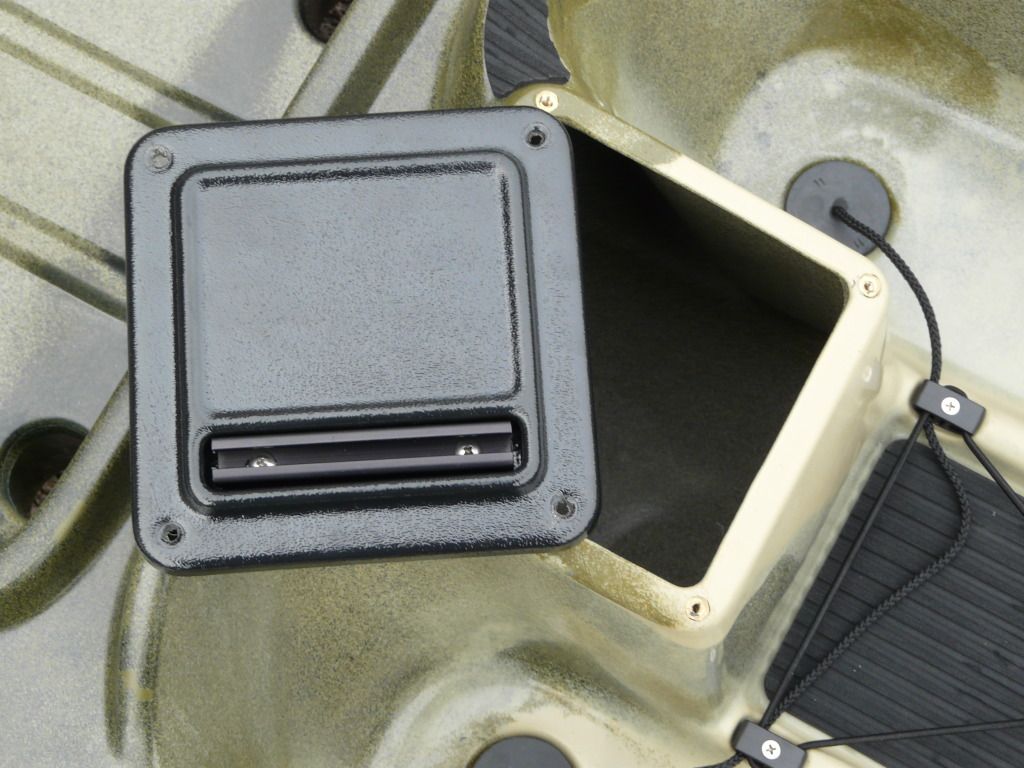 There is a very large cockpit area with a surprisingly flat floor, ideal for those that want to stand up for fish sighting or casting.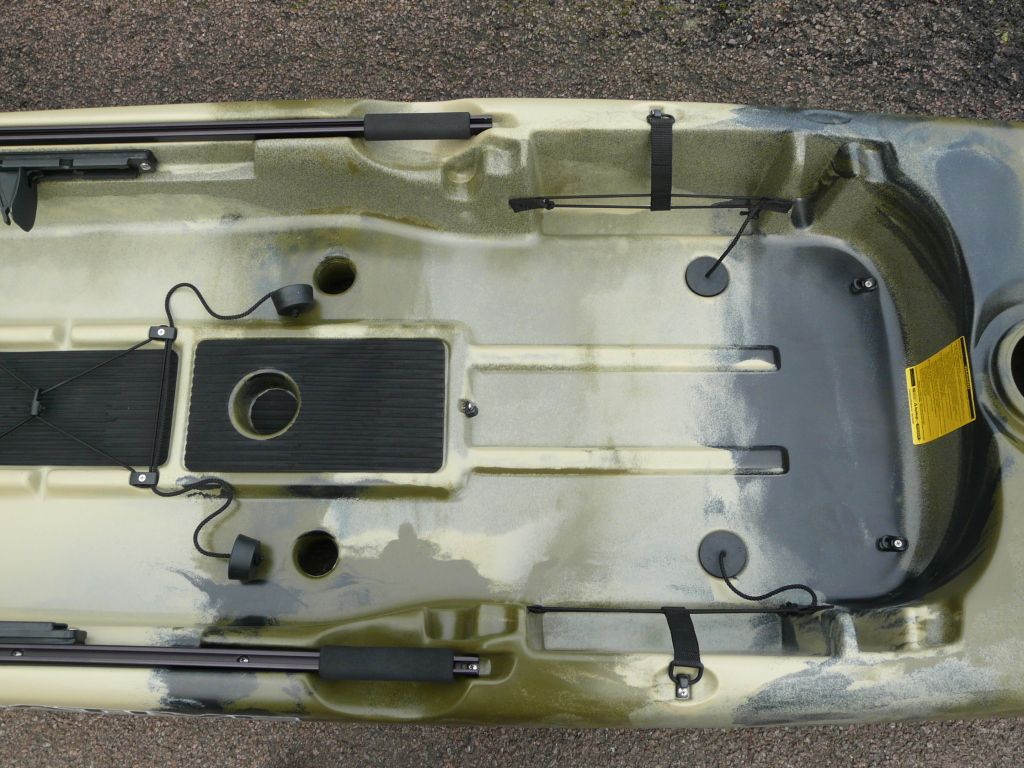 There are six large scuppers here all with supplied scupper bungs if you need to keep all water out. Again along both sides of the cockpit there is the 'Groove' system for all your Scotty bits and pieces.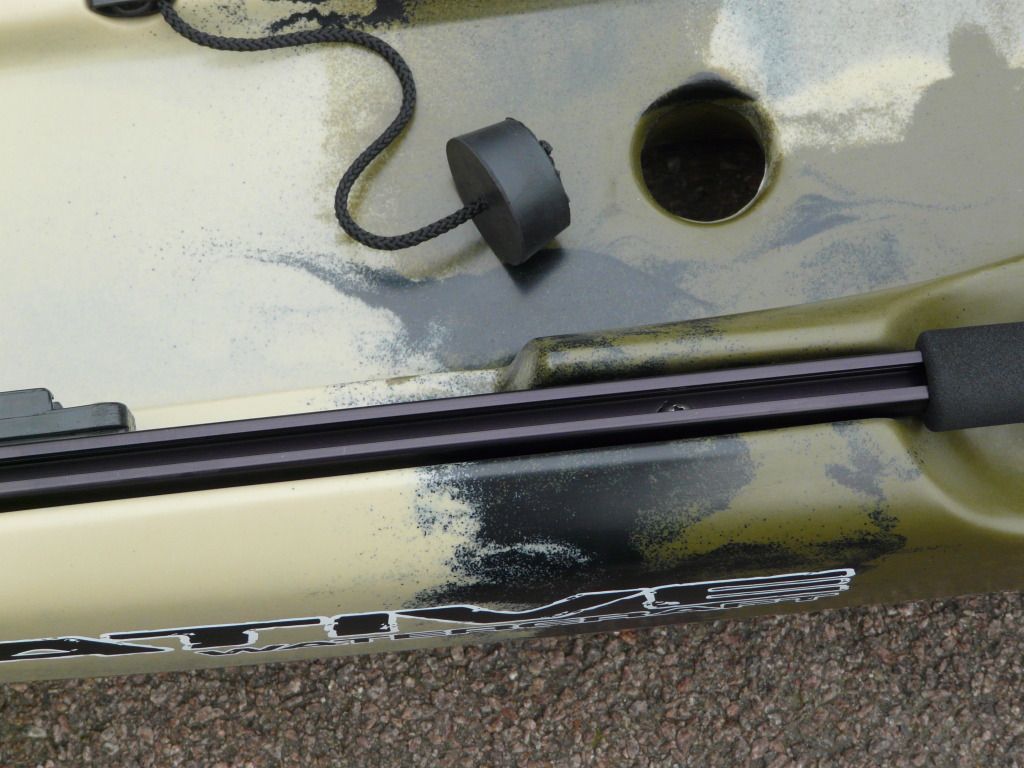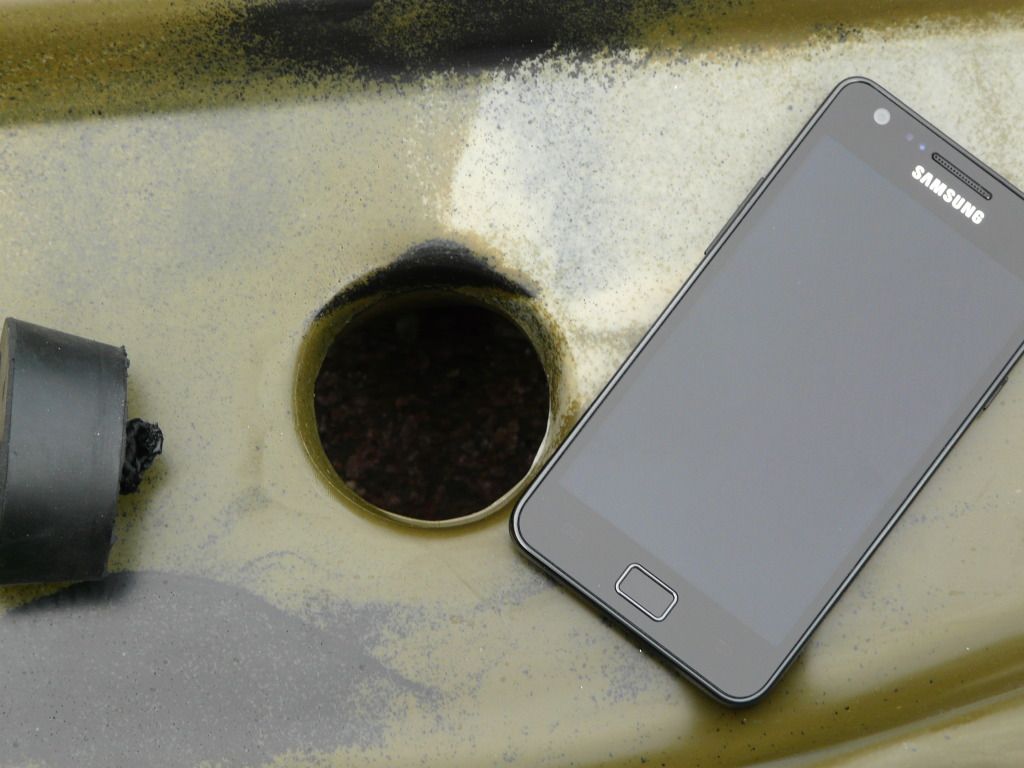 There is the obligatory cup holder and a flat area with rubberised base and bungee for tackle box holding.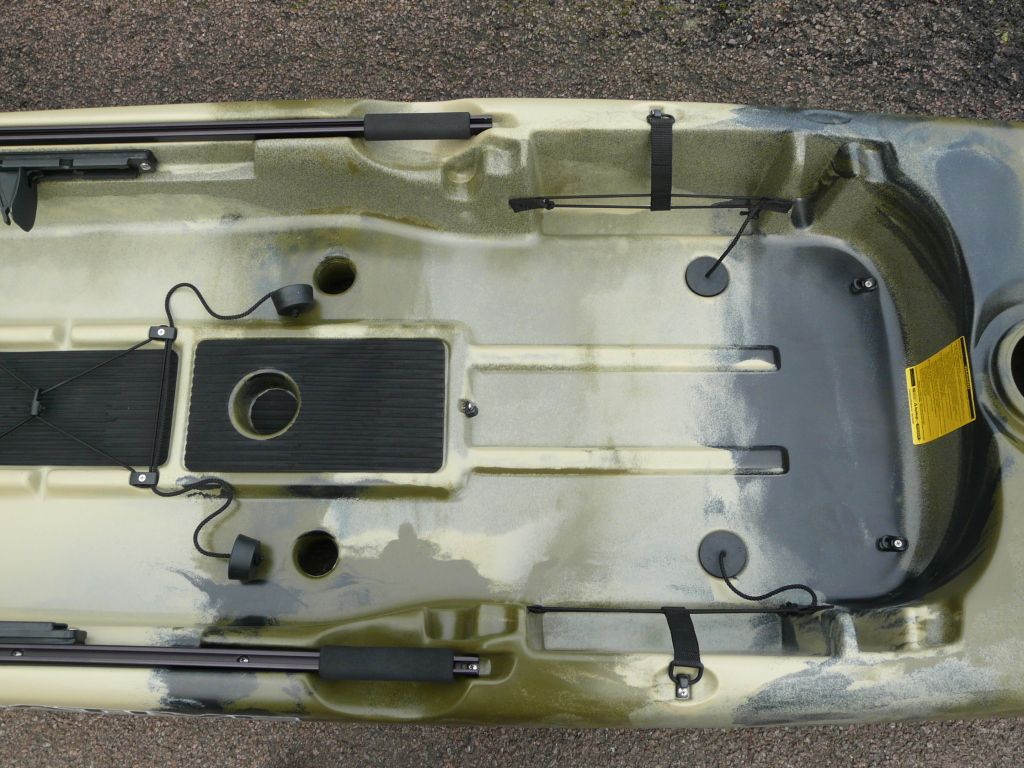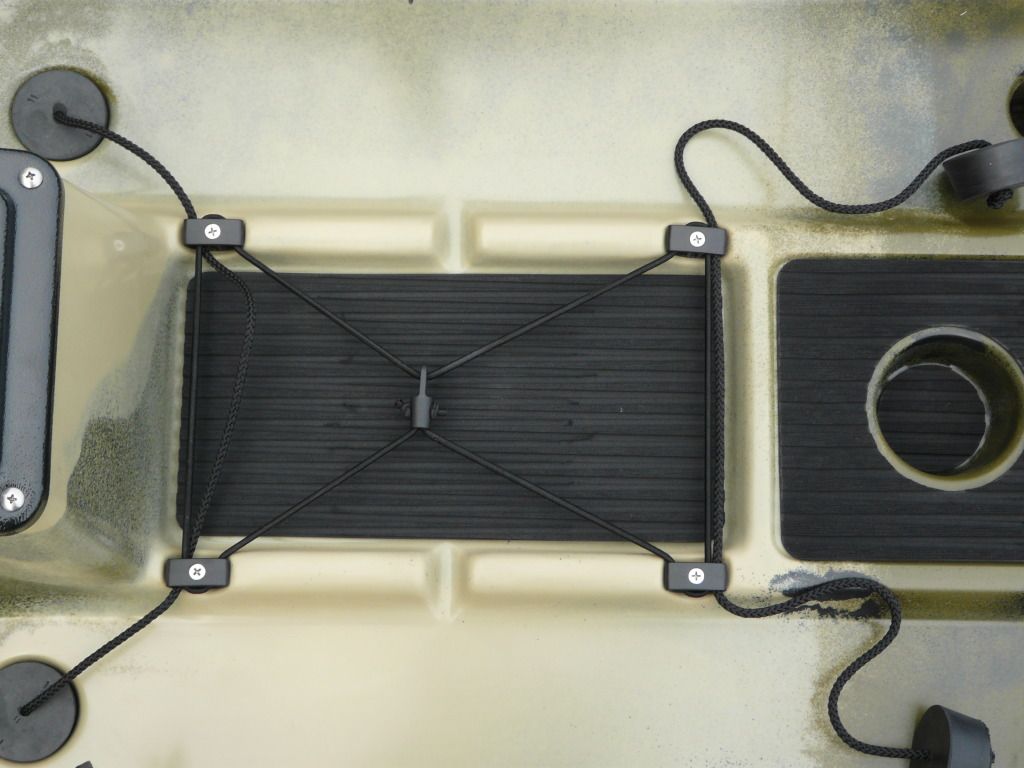 The bungee is just long enough to hold the Flambeau box favoured by P13 owners, but for convenience you would probably use a 2" longer length of bungee if that is the size of box you use.
Either side of the battery access area is a grooved ruburized are which is great for laying a rod on.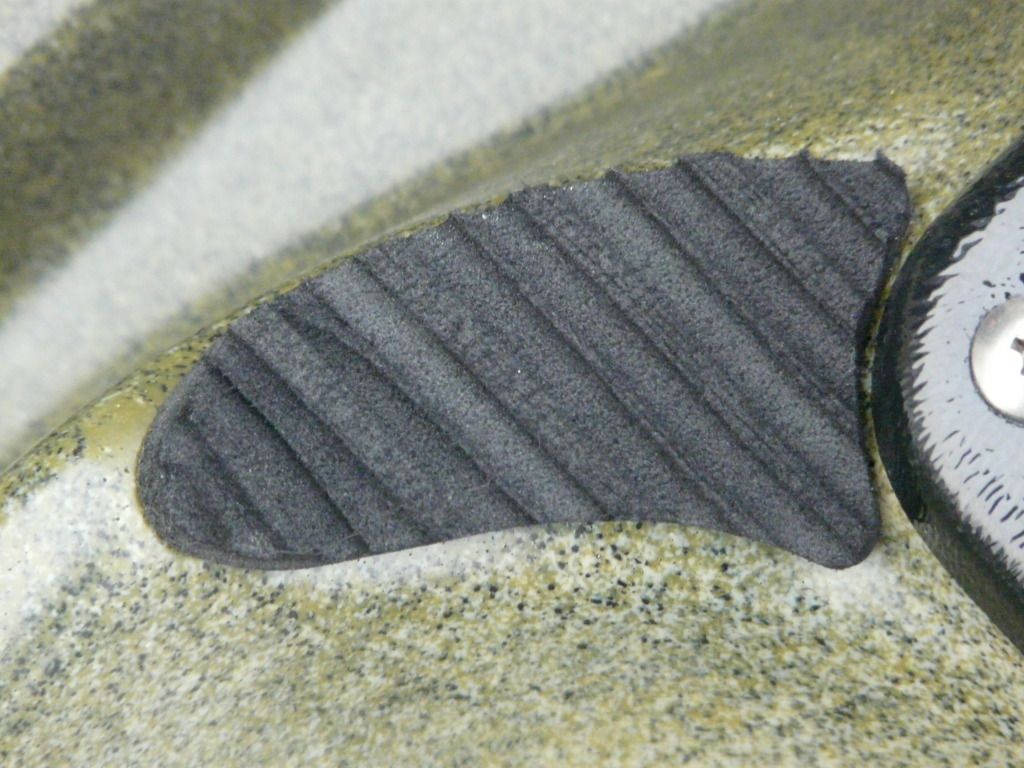 A pair or adjustable foot pegs replace the usual 'wedges' keeping the floor flat.
Moving back to the rear area, immediately behind the cockpit is a black rubber cover which when opened exposes a white plastic 'cup' for storing smallitens, the cup in turn can be lifted out to give access inside the hull if required for accessory fitting.
The rear storage is very large and more than adequate, again two large scuppers and an embossed ring shape in case you use a bait bucket.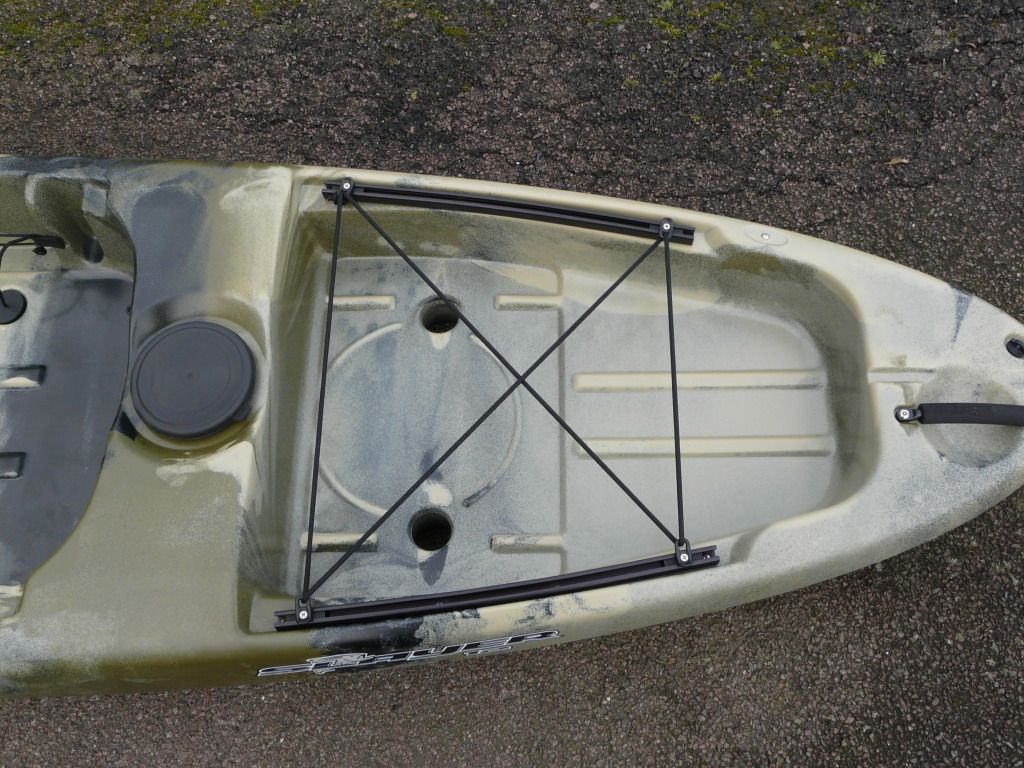 As with the bows there is a bungee secured by moveable clips in the accessory 'Groove' track.
There are solid carry handles front and rear.
Central carrying handles are also rigid and rubberized and at the point of balance making carrying easier.
At the reat there are three large screws into encapsulated threads.
Some like these some don't but having tried it on tarmac it does what it is supposed to do.
When you look closely at the stern there are two recesses in the hull suggesting the screws may be for an optional rudder.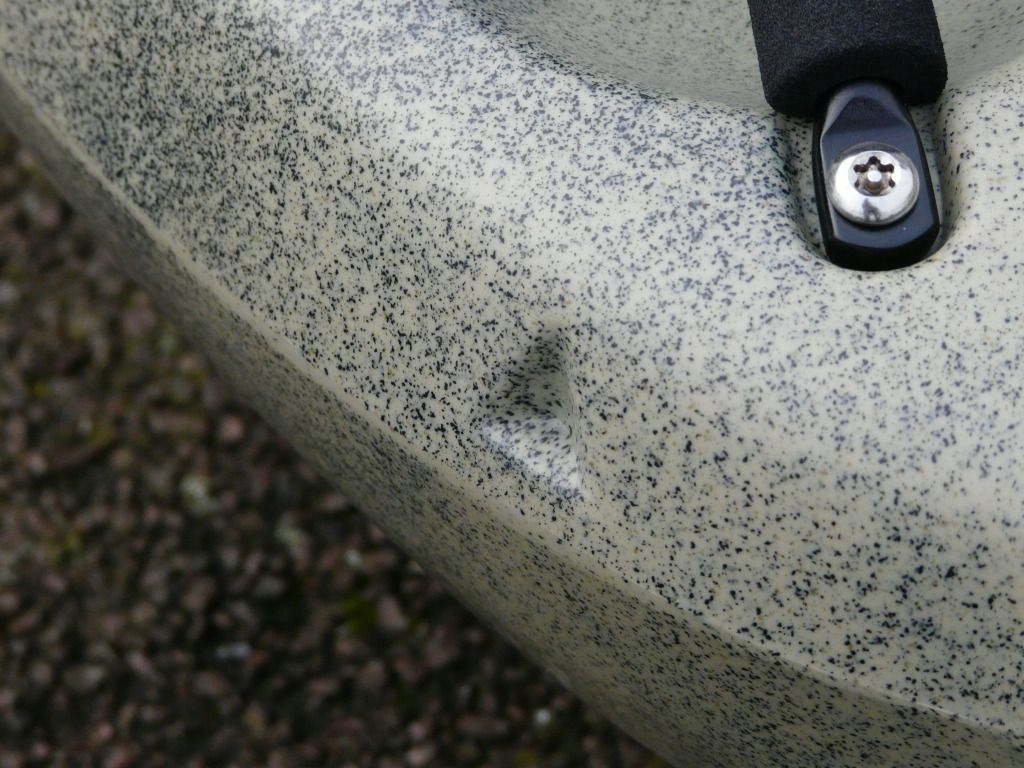 Now we come to the luxury part of this kayak ....the seat. Some will criticise this but others are going to love it.
This is a very solid seat that will have you smiling when you sit on it. It is designed to be a hi-lo seat. The above pic is low and this is the high which along with the chance to stand may appeal to fly anglers.
Seat and back are padded and of a similar material to that which is now being used in garden chairs.
The seat is securely fixed front and rear with clips.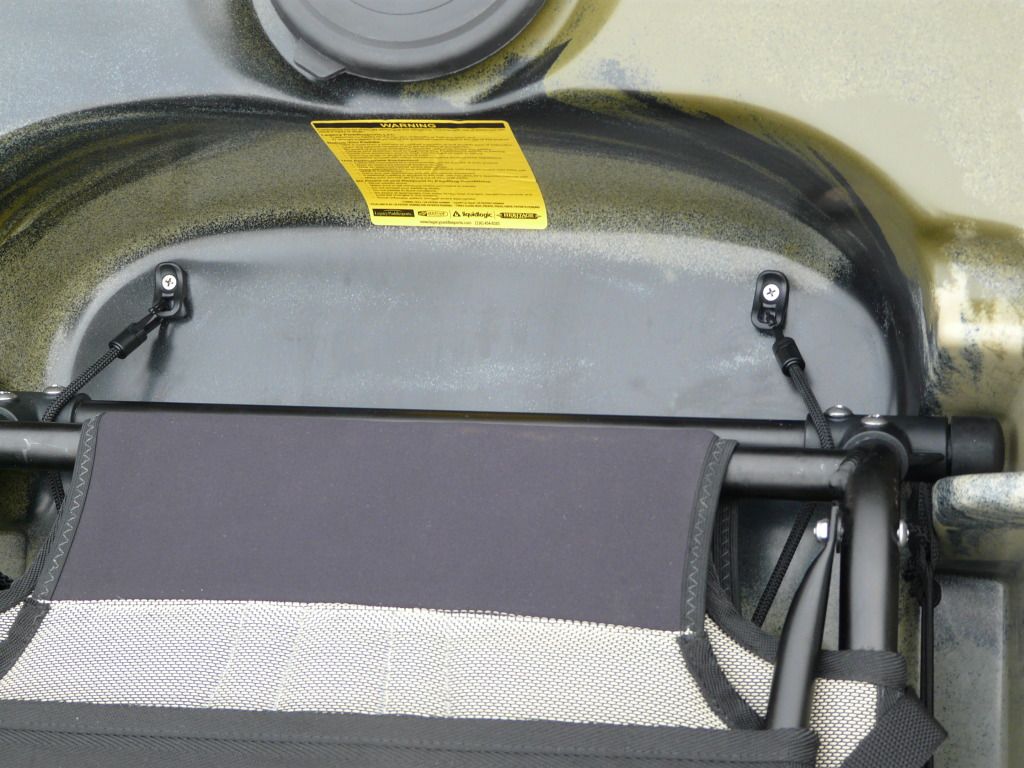 You may have noticed the lure box alongside the chair. This is another clever feature there is a recess in the hull either side of the chair with a bungee across it.
Depending on the size of box it can be stored portrait or landscape. With taller boxes a extra pice of bungee could be added to the webbing to go over the top for additional security.
Oh yes....the question frequently asked........
You CAN fit a Ctug in the front hatch.
This looks like a great kayak that will cover a wide range of applications and not just coarse anglers. Looking at the bow and hull shape I suspect it should rise over the surf when doing a beach launch.
Once surprising omission is a paddle keep. But a couple of minutes with a rivet gun could soon sort this.
I guess the anchor trolley could make use of the stern screws to achieve a central fixing point.
I hope to get her onto the water over Christmas or the New Year. I will let your know when and where in case you can make it. Regardless it will come to the next CKF meet for everyone to have a try.
This is the first of it's kind in the UK and as such it is not in the UK pricelist. I am expecting details soon and will post when I have them.
If you have any queries or comments do not hesitate to ask.
BTW......I LIKE IT !! I cannot wait to get her wet.
Terry