Another early start to meet up with Bazza Luxton for a days fishing.
Barry did text me at 02:56 that the M26 was closed, i was already i the car and did not pick it up.
Signs were up on the M20 but said M26 closed Junction 2A thought would have to go up to Swanley and join M25.
But a couple of trucks and cars pulled off on to the M26 in front of me so though it was just the exit J2A that was closed.
No such luck, diverted immediately  off followed diversion for a couple of mile then the signs disappeared, in pitch black and pouring rain i had no idea where is was.
So just went straight straight, no signs for Motorway anywhere. Eventually joined M25 near Clackett lane !
I was now going to be late, got to Gosport and about a mile from the port i got flashed by a camara, i looked down and was doing 35 in a 30, crap.
Joined the crew on the boat and was immediately handed a sausage sandwich, most excellent. That's when the ripping from the crew began,
which lasted all day. They had plenty of opportunity as it was a 2.5 hour steam out and 3 back.
Little lumpy on the way out and did not notice my ruck sack had knocked and fallen onto the deck. It got soaked along with my camara.
Which refused to turn on and even now does not. Sea water fried it it's now dead.
50 miles out and sea was quickly flattening off, which was nice as i was experiencing de ja vue from 2 weeks ago.
Turned out a nice  sunny & warm afternoon.
The fishing, not a red letter day, but plenty of these came out for everyone....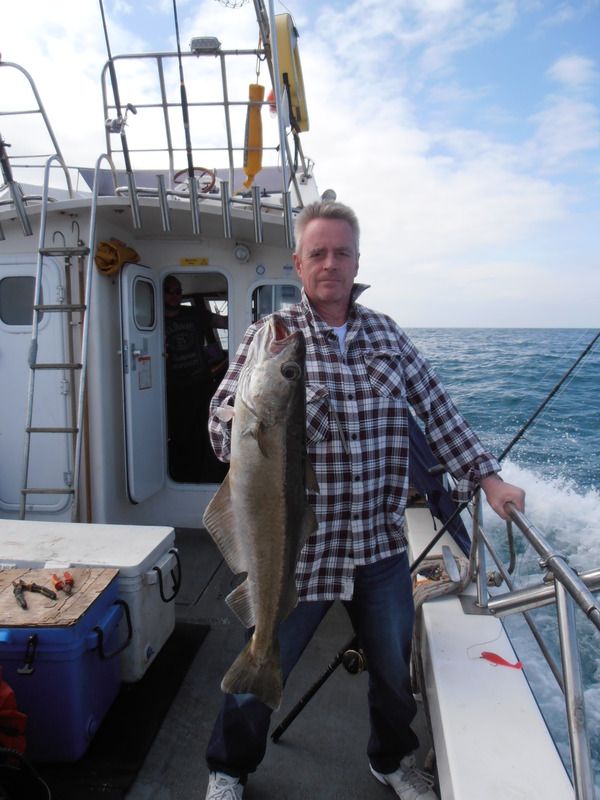 The surprise, we had just cleared a drift over a wreck, when the skipper asked bring in the lines for the next drift.
I had made about 50 turns back onto the reel when BANG ! my rod buckled over. What the heck.
A good 5 minute battle and the fish breaks the surface. The skipper shouts "Christ ! it's a Coalfish"
Eh? i think, we are not in Norway.
Sure enough a nice little Coalfish, result....I was well made up. Made my day.
Cheers Barry for getting the photo's for me, saved the day.
Long drive back, delays at the top of the A3, Tpre pressure warning can on on M25, had to stop at Clackett to put air in, more rain on M20
very tired. Did i care ? Nope