27 Jul 2017
Baitwize catch report for Steve Berrington
On Thursday 20th July 2017, I went to my local lakes which is Manor Farm Fisheries, Biggleswade.
The carp where topping everywhere and some anglers were casting to them ( I usually do but not today!) I had a game plan , a bar at 12 wraps but fish in front of it instead.
I was using my usual KD rig with a cut down CS1 hook bait tipped with sweetcorn.
Both rods fished about 1 rod length apart.
I gave it an hour and then spodded 6 spombs over each hook bait with CS1 boillie crush , hemp and sweetcorn...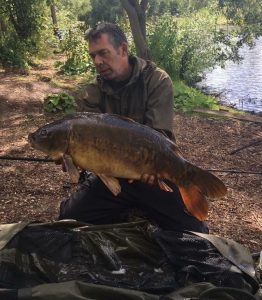 I stuck to my plan and every hour would then stick to spombs over the top ...
At 
3:30 pm
 finally they came on the feed ....
First one in the net a mirror at 23lb 2oz ...
Second one took off 5 mins later , felt a lump but after almost getting it to the net I got a hook pull and that was it ! Gutted
Then after another 10 mins and a couple of spombs over each bait , off it ripped ... a nice 12lb 2 oz common...
Then as quick as it started it ended , a quick 30 min feed and it was over...
Funny how 'the one that got away always feels the biggest !'
Next time...