A 48-hour guest session on Chilham Mill fishery has seen Solar Tackle team member Jake Anderson land two of the 'A Team', the Starburst Mirror at 35lb and The Stunner at 33lb, both over using the new Originals Club Mix and Red Herring baits.
Jake explains: "After arriving at the lake I found a nice clear spot among weed, although the spot wasn't hard as there was still some low-lying weed, but the area was fishable.
"I put in around 6kg of 20mm Club Mix and 15mm Red Herring boilies to start and around 5kg of HOB Chilli Hemp with some 11mm low-oil pellets added too. Two rods where fished a rod length apart on this area. The third rod was placed around 16 yards away from the main baited spot to another clear area, which I baited with around 2kg mixture of boilies and particles.
"The idea of the third rod was that it would be just off the big baited area and hopefully attract the warier carp that sit back from the main shoal. The first 24 hours passed uneventfully for me, but Josh Scoble, who accompanied me on the trip, managed to land an absolute pearler called Ringo at 33lb.
"The second night brought with it perfect weather. It went from hot, humid conditions to overcast, raining with periods of thunder. When I woke up at around 6am I was puzzled as to why I had not caught during the night. I had seen fish fizzing over the bait, the weather was perfect but a carp was missing.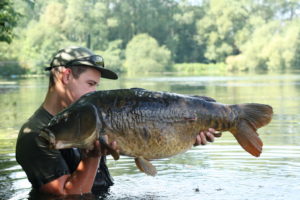 "It got to around 10am when my rod placed on the smaller baited area sprung in to life. After a short battle the hook pulled!
"I re-rigged the rod, and this time made some slight rig alterations as I put the hook pull down to my rig rather than the weed or the barbless hook rule. It's all too easy to blame the weed, the rules or anything else for losing a fish, but its only you that can prevent it.
"With the rod back out one hour passed and the same rod screamed into life again. After a dogged battle one of the 'A Team' popped up in the shape of the Starburst mirror, which was at a spawned-out weight of 35lb.
The next 2.5 hours were quiet until I started packing up. Just as I started taking down the brolly one of the rods on the larger baited area sprung into life. The culprit put up an enjoyable, strong fight, but after 15 minutes a fish aptly named The Stunner popped up at 33lb.
So a great session had with 3 30s landed between the two of us and also 3 of the best lookers in the 26-acre, Kent pit!"
Solar's The Originals boilie ranges will be released to the public at the start of September.
Also Available on Amazon