ANGLER'S MAIL print magazine is a must-read this week – and it's got a huge bream, the year's biggest, gracing the front cover. What a fish! Read all about it inside.
This week's issue offers 61 hot lakes for your Bank Holiday weekend. They're picked by genuine, respected regional experts, not journalists in an office mile away from those regions.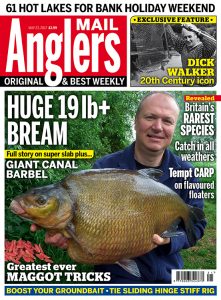 Britain's rarest species are revealed in this week's print copy of Angler's Mail magazine.
Also inside the must-read Angler's Mail magazine this week:
The Specialists profiles the legend, Dick Walker.

Catch More carp off the surface… timely advice!

Biggest eel of the year

The joys of rudd fishing, with Steve Collett.

Greatest-ever maggot tricks

Learn the sliding stiff hinge rig and score on short sessions.
PLUS LOTS MORE!
The must-read Angler's Mail print magazine is out now and just £1.99. Accept no substitute. It's also available digitally.
Get yourself a subscription to Angler's Mail print magazine at a great price – visit www.anglersmail.co.uk to subscribe and SAVE!