Following the capture of a 55lb mirror in May, Solar Tackle team member Julien Porquet has done it again.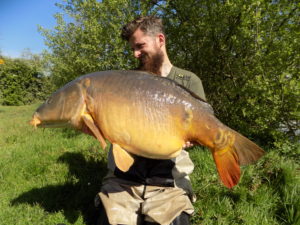 Targeting a huge public water an hour and half's drive from his home in Calais, France, Julien presented an 18mm TunaMino bottom bait, a current test bait for Solar, over a large bed of matching freebies, all soaked in Solar's Marine 17 liquid and was duely rewarded with this huge mirror, which again tipped the scales at 55lb.
My target from this particular water is a known fish that's over 60lb," explains Julien. "I have put a lot of time in to walking the water and baiting up over the past months, and so it's great to be rewarded for my efforts.
I opted for a boilie only approach, because I wanted to try to avoid the smaller fish in the venue, and the tactics seem to be working.