Just for fun, we've decided to test out a competition plug-in for this website. If it works, the prizes WILL get bigger. Honest!
It's been years since we last ran a competition, but we really want to get back into the swing ot it, so please help us out!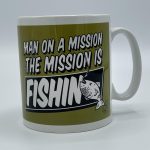 To test the system, here's a Man On A Mission mug that's up for grabs. Simply start stalking us like we're some 30lb carp, basking in the margins….
You get extra entries for following us on YouTube, Twitter, etc.
Hopefully, this will be self-explanatory below. If not, it's back to the drawing board and please accept our apologies!
Currently, we can only post to UK addresses. We may look into changing this in the future, if there's enough demand.
Rewards