ANGLER'S MAIL magazine this week brings you Summer Specials… and at just £1.99 for the print issue, you cannot afford to miss it!
Be sure to read the ultimate guide to summer feeding, by Andy Browne.
Dave Coster helps you master the pellet waggler, a top summer method.
John Bailey is your guide to stalking in the sunshine.
And you'll want read the latest exclusive Angler's Mail feature with Chris Yates – this time revealing his crucian tactics.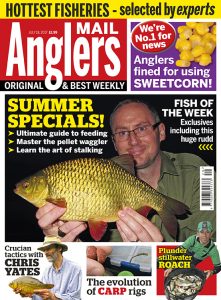 Also inside your Angler's Mail magazine this week:
Meet the anglers in two key predator control jobs

Fish'O'Mania insight with champion Jamie Hughes and Lee Kerry

Steve Collett takes an Angler's Mail reader for a prize day out

Best gear at the EFTTEX fishing tackle show

Catch more stillwater roach – an expert shares his tricks

The best Where To Fish section… it's by regional experts
DON'T MISS IT!
The must-read Angler's Mail print magazine is out now and just £1.99. Accept no substitute. It's also available digitally.
Get yourself a subscription to Angler's Mail print magazine at a great price at www.anglersmail.co.uk