ANGLER'S MAIL magazine this week brings you exclusive news stories, latest tips and hotspots… and at just £1.99 for the print issue, we reckon you cannot afford to miss it!
Exclusive AM columnist Dr Ian Welch teaches you how to use moon phases & air pressure to succeed – it's essential advice you probably won't have read anywhere before.
And you'll want read the latest exclusive Angler's Mail feature with the enigmatic Chris Yates – this time revealing his surface secrets with carp.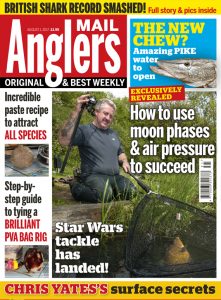 Also inside your Angler's Mail magazine this week:
British record shark shocker

Pike mecca that's set to be 'the new Chew'

Tiny woman catches giant cat

Shop shares CCTV to close net on crooks

Steve Collett fishes with Poles

Lee Kerry on the 2017 World Club Champs
Best advice is in Angler's Mail print magazine:
Andy Browne's great paste guide

Dave Coster's emergency kit

Catch More big bream on pole with Vic Bush

Colin Davidson on how to tie a quick-change PVA bag rig
PLUS the best Where To Fish guide… it's by AM's genuine regional experts!
DON'T MISS THIS ISSUE OF AM PRINT MAG – COMPACT AND FULL OF BRILLIANT CONTENT!
Angler's Mail print magazine is out now and just £1.99. Accept no substitute. It's also available digitally.
Get yourself a subscription to Angler's Mail print magazine at a great price – visit www.anglersmail.co.uk to subscribe and SAVE!