THE new Angler's Mail print magazine is out now, loaded with exclusive material that will brighten up your angling week. It costs just £1.99 and is loaded with essential content.
A new series starts in this issue – BILL RUSHMER'S BRILLIANT BAITS. This new Angler's Mail series gives exclusive insight into highly effective baits that you can make, based upon Bill's many years of angling and science experience.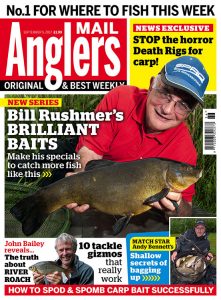 Just some exclusives stories you must read this week:
Stop the shocking Death Rigs!

Star carper Ian 'Chilly' Chillcott battles back to health

Latest Great Catches

Match News – including Evesham Festival, UK Championships and Ladies World Champs
Steve Collett tackles a park lake that others had written off

John Bailey reveals the truth about river roach

Andy Browne's top 10 tackle gizmos

Dave Coster's traditional baits insight

Dr Ian Welch's Secret Lives reveals gender bending fish

Andy 'Bagger' Bennett shares his 'shalla' secrets

Colin Davidson explains how to Spomb carp bait with security

Jamie Londors on how he tackled  the Carp Cup Final
PLUS the very best Where To Fish section – Angler's Mail's mega hotspots guide is exclusively compiled by experts who work hard to help YOU.
 This new AM print magazine is in good newsagents and supermarkets, priced just £1.99.
 Get yourself a subscription to Angler's Mail print magazine at a great price to ensure it's delivered to your door every week – visit www.anglersmail.co.uk to subscribe and SAVE!