30 Jun 2017
Latest issue of Carp-Talk

***RIVER MONSTERS!***
The latest issue of Carp-Talk (1181) is available to download from 6am Saturday https://pocketmags.com/carp-talk-magazine/#57595d02e03f4. And in shops from Tuesday.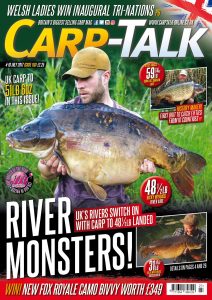 It has been an awesome start to the river season, in particular on the River Aire, West Yorkshire, where Nick Windass has banked the UK's largest river carp at 48½lb. We've got the full, exclusive story of Nick's catch. Also in the news, we've got fifties from Northamptonshire and Essex, we get the low-down on Wales' victory in the Ladies' Tri-Nations on RK Leisure's Wraysbury 1 South Lake, and look back at the Carping4Heroes weekend at Cudmore Fisheries.
Julian Cundiff gives away a rediscovered edge, and Greg Ellis explains how he's found a new buzz in his angling. Stuart Medway takes a gamble and heads over to a French public lake, and Michael Poulter comes to terms with the changing conditions on his syndicate water.
Products from Wychwood Carp, Fox International, Petzl, KODEX Intelligent Tackle, RidgeMonkey, Sticky Baits, Solar Tackle and Gardner Tackle go under the spot, and we've got a Fox International Royale Classic 2-Man Camo Bivvy up for grabs, worth a cool £349.