***THE KING IS DEAD!***
Carp-Talk 1186 is available to download now from pocketmags.com/carp-talk-magazine#57595d02e03f4 and on sale in shops fromTuesday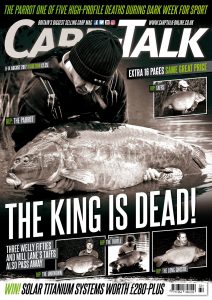 We reflect on what has been a devastating week for the big-carp scene following the deaths of the British record carp, the Parrot of the Wasing Estate, three fifties from Welly, including the Turtle, and Taffs from Mill Lane.
On the catch front, Leon Rohrer lands Ellie at 54½lb from the Avenue, Baden Hall produces a 48lb 2oz mirror, and there are big fish from Nunnery D Lake, Holme Fen, Horton Church Lake, Grenville's, Fryerning and the Essex Manor.
We review the remaining semi-finals in the British Carp Angling Championships and UK Carp Champs. Adam Smith of Sticky Baits talks big-fish hookbaits, the CC Moore & Co Ltd team details the Tuna Stalking Super Mix, and Olly Smith of RidgeMonkey relives a memorable few months. Tim Childs beats the midsummer doldrums, Nathan Bailey of Spotted Fin gets off to a flyer on Lodge Lakes, and we put the KODEX  KX-i rods through their paces.
Products from Sufix UK, Solar Tackle, Blakes Baits, Fox International,  Nash Tackle , Shimano-Tribal, DNA Baits and KODEX go under the spotlight, and we've got two sets of Solar Tackle Titanium Short-Arm Systems up for grabs.