27 Jun 2017
Latest issue of Carp-Talk
***AYE, AYE, SKIPPER!***
Carp-Talk 1180 features an extra 16 pages for the same price!
Find your nearest stockist here: www.carptalk-online.co.uk/store-locator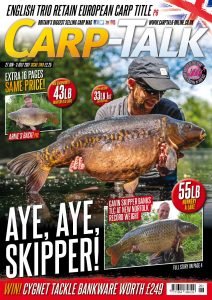 We lead with Norfolk's biggest carp, a 55lb common called TLC, caught from Nunnery A Lake by Gavin Skipper. We've got a fifty from Holme Fen, another beast from Girton, and an awesome brace of forties from Tyram Hall. We also get the low-down on the European Professional Boilie Cup in Hungary, where Billy Flowers, Jamie Londors and Tom Maker made it back-to-back wins for England.
Simon Crow sticks to what he knows and bags up, we review the latest round of matches in the British Carp Angling Championships, Neil Edge explains how he makes the most of his time, and Greg Ellis extols the virtues of the Cell! Roy Russell explains why surface fishing can get you a new PB, Jim Wilson is in the CC Moore  Q&A , and Dan Wildbore keeps his run going on a Bedfordshire pit.
Products from RidgeMonkey, KODEX Intelligent Tackle, Crafty Catcher, Baitology, Shimano-Tribal and Solar Tackle go under the spotlight, the RidgeMonkey Junior winners are announced, and there's loads of Cygnet Tackle bankware up for grabs.