At least I've seen a 'four'
---
River Kennet and K&A Canal, Newbury, Saturday 16th February 2013
Quite a contrast to last week's weather, not exactly balmy but no sleet, no rain and air temps threatening double figures…bliss. The venue(s) were to be different as well, not quite as secluded and maybe less exclusive than last week's but in terms of fish potential the club stretches I was heading for were just as good, perhaps with the exception of dace and roach.
The initial plan was to meet up with Steve on the Lambourn, then head off to the Kennet and then finish the day on the canal. This pattern has become quite a routine mainly because I'm now convinced about fishing for perch at the right time of day. I have caught decent fish at all times but recent successes have confirmed that dawn/dusk are the more productive periods. I'm a slow learner.
Steve called as I was on my way to the Lambourn, the wine tasting he'd organised at home the night before had got a bit out of hand and he was nursing a hangover, he'd come along a bit later. I didn't think he'd make it (and I was right) so I bypassed the Lambourn and drove straight to the river a short distance away, all the time I had this niggling feeling that I'd forgotten something.
Tactics for the day would be the usual trotting red maggot & lobs. I'd also taken along a quiver rod and some bread to see if I could tempt bigger chub from this relatively new swim (the reliable spot downstream was still out of bounds due to the high water levels), I love trotting a float but I do think static baits tend to attract the larger specimens. First cast produced a fish, this was going to be a good day;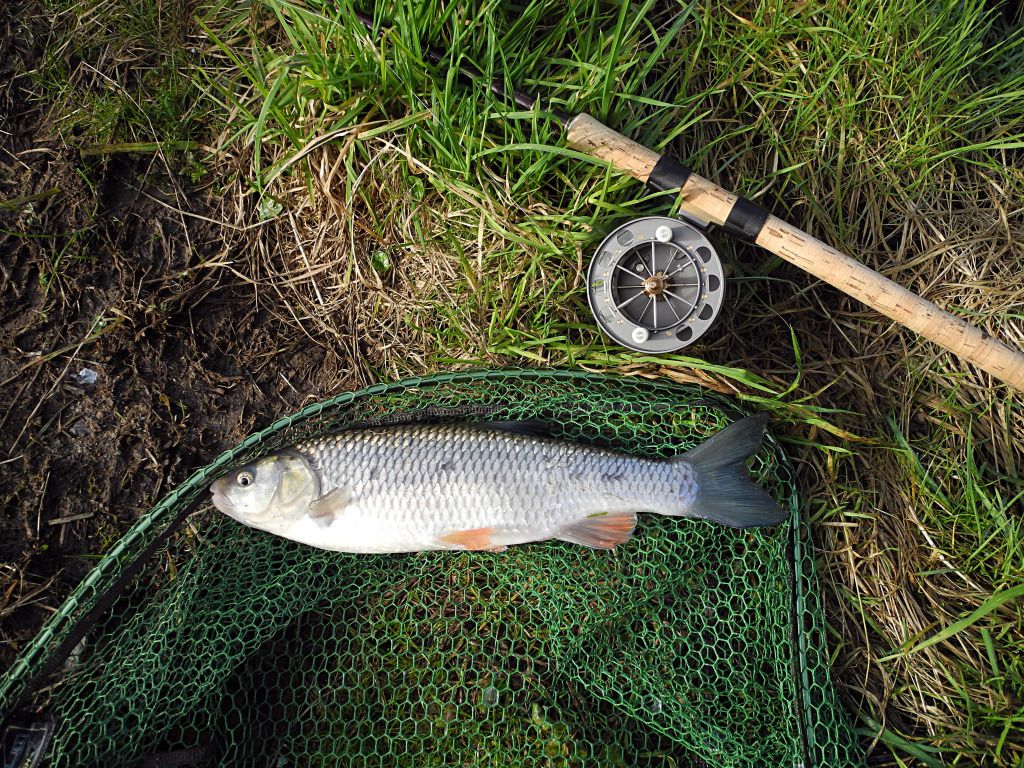 Alas that was the only chub I was to tempt, in fact the following few hours were notable for not much happening, I did have another dace/pike interface when the poor little blighter was grabbed while I was reeling it in. It was quite amusing, I didn't see the pike and there was no splash'n'grab the dace just suddenly developed immense strength and careered off downstream. I didn't get away with this time though which was a shame because the pike felt very strong for the few seconds before the bite off.
The quivertipping plan was put on hold when I discovered that I'd forgotten to bring a fixed spool reel. I did set up the float rod with a running ledger but whilst I'm comfortable casting a float with a centrepin a 1½ oz pear lead is a different matter. In between the birds nests and the foul language I managed a couple of good casts but never really got into the method properly and so had no confidence in it. A picture of a disaster waiting to happen;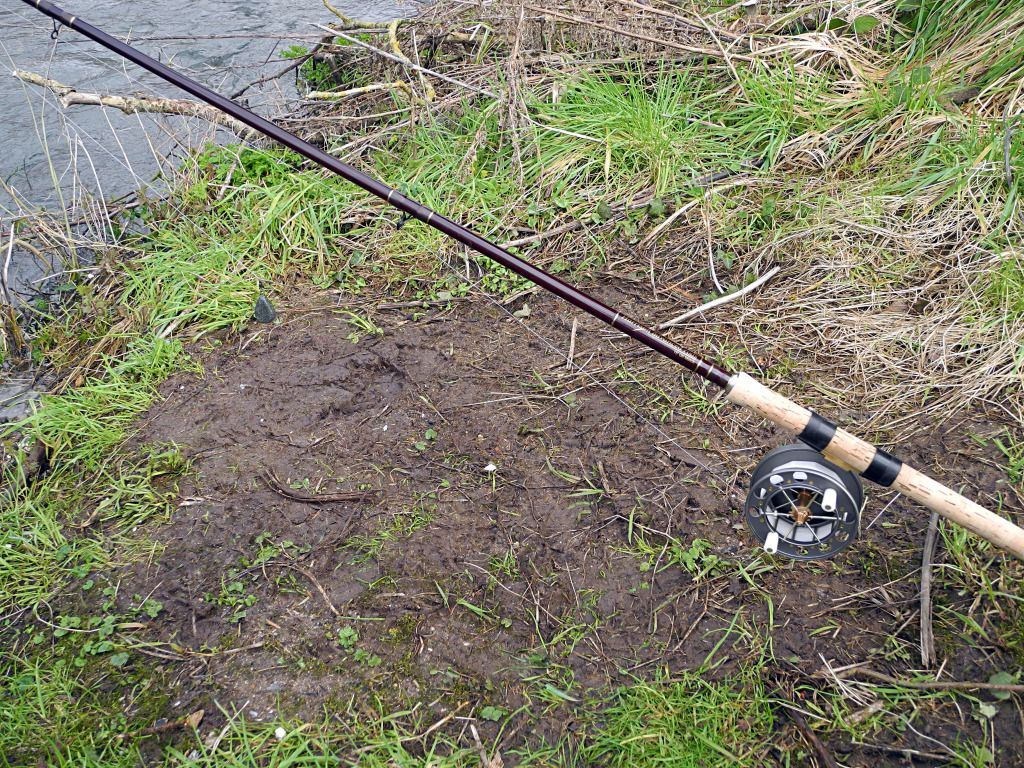 Never mind I still had the canal to come and as the day wore on the conditions felt better and better. On the way to the swim I stopped to talk to an angler who'd just released a 5-13 chub, I've caught small ones from the canal before but nothing that big, we theorised that the high levels and strong flow in the Kennet might be forcing them to seek out calmer water, the river and canal intertwine at several places along their lengths. As I walked on I noticed a familiar hat on the far bank, it was no surprise to see Chris Plumb pitched up for the dusk session. He was downstream of where I wanted to be and I knew he'd also be using lobworms, this worked out quite well, between us we could cover a fair bit of water and intercept any hungry perch.
Chris did the intercepting first…in spectacular fashion, the first I knew of it was when he appeared holding a plastic bag. Inside was the biggest perch I've ever seen, it was huge and in beautiful condition. Chris was visibly shaking and the reason became apparent when he disclosed the 4lb 2oz weight, a PB and his first ever 'four'. See his blog for the account and the photos.
His achievement just fuelled the anticipation, dusk hadn't really arrived so we still had the best time of day to come. Excitement was further enhanced by my first bite, I really thought this was the start of something quite special as I landed what looked to be a very good perch. It was a good fish but no amount of jiggling the scales or looking at the dial from different angles would get the needle around to the 3lb mark. Chris was also struggling to make it a 'three' so we settled on 2lb 15oz and a little bit.
For the second time in the day initial success flattered to deceive. Chris left just as it was getting to be proper dusk, I fished on eagerly awaiting my next bite but hope slowly ebbed away as it got darker and into the time that you wouldn't expect perch to feed. The window of opportunity had been short with just one fish landed each, I suspect Chris isn't too bothered about that though, his perch was magnificent, well done indeed!