Rivers Thames and Kennet, Friday 26th to Sunday 28th February 2016
Three consecutive days fishing, each with a different reason for going.
The first day out was Friday, it'd been a chaotic week at work so I took the day off and headed to the Thames for some casual roach fishing. I didn't want to think about it too much, just take the float rod and fish where I knew they'd be. Water levels were falling and the colour was dropping out so it wouldn't be long before the roach left the sanctuary of the lock cut and dispersed along the river. Matt Simmons arrived shortly after I'd set up and we spent a very pleasant afternoon catching our target species of roach and pike, we agreed that we were angling gods. Matt did really well breaking his PB on two occasions, the first 10½ lb pike set a new PB but it wasn't long before it was usurped by this thirteen pounder (note the bloodied hand);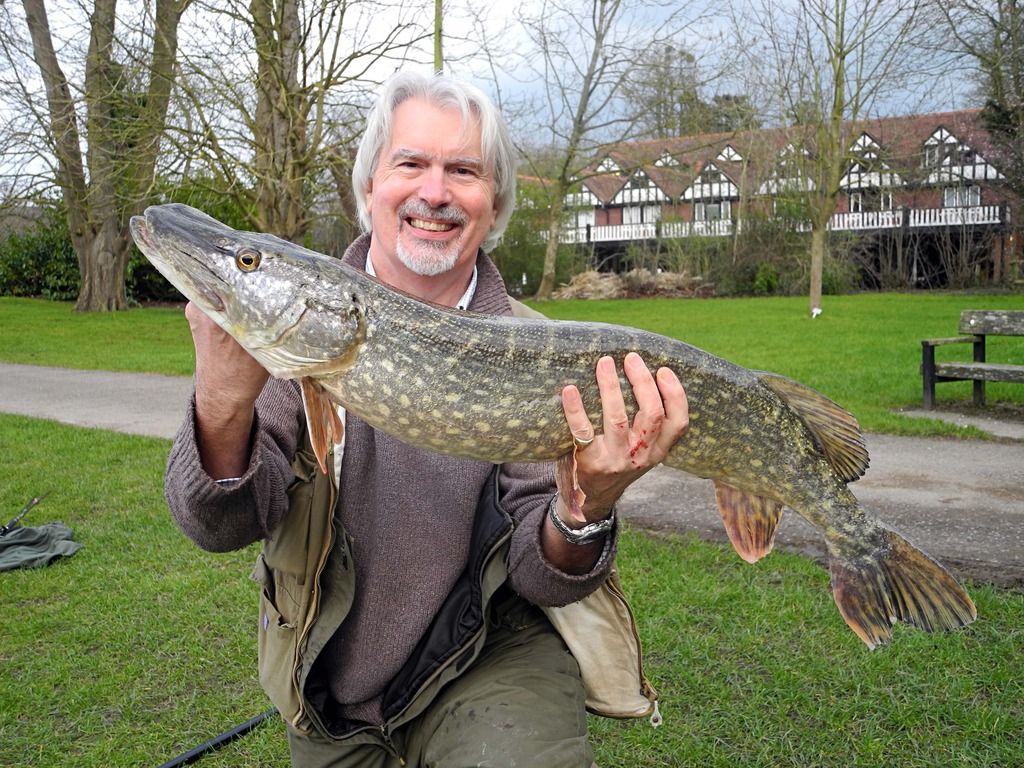 Saturday was a social occasion. Steve Walker, JV44 and I met up at the Waterfront Café Benson mid-morning for a full-on cholesterol laden breakfast before driving the short distance to Carmel College. This is a syndicate section of the Thames which hasn't produced much for me since I joined but its trump card is easy car access to the swims. The first hour or so was spent catching livebaits from a crystal clear pool stuffed with small roach, perch and the odd jack pike (which we failed to tempt with lures). Then on to the main river where a variety of baits were deployed, lobs, maggot, bread and the aforementioned livebaits……..all of these were ignored. We had more success in the afternoon with lures and by the time we all agreed that it was getting too cold to fish we'd each landed a small pike or two. We didn't set the world alight and we didn't care, that wasn't the point of the trip, thanks to JV44 for setting up the day.
Sunday was different again, I'd been invited to fish a Middle Kennet Estate water. This is a rare event for me and I really could've done with putting on my serious angling head but I don't have one, the best I could muster was a plan which I hoped would make the most of the day. Other than instructions to avoid the carriers (and hence the trout) we had free reign of the fishery, I knew of several places which would be reliable but wanted to try a new spot made accessible by the construction of a nice new weedrack. Sadly the old structure is no more but it was as rotten as a pear and well overdue for replacement, I'll miss it though. The small fishing hut is still standing but I fear it won't be long before this too becomes firewood.
The walk was just as long as I remembered, a trek which had put the other guests off so when I finally arrived at my chosen spot I found that I had it all to myself. It is a bit of gamble, if the fish aren't co-operating there are few backup swims available without a long trudge back to the car, my fingers were firmly crossed. The brisk north easterly wind would've made float fishing the usual bank pretty much impossible so being able to cross the river was a godsend, I now had the wind at my back which made it easy to cast to the far bank trees and guide the float downstream;
Red maggots were the selected hookbait, everybody tells me how good red corn is for chub but I haven't caught anything on it yet, the tin in my basket would remain unopened for the moment, if I managed to bank a few fish then I'd give the corn a try. And bank a few fish I did, first trot accounted for this 4lb 6oz chub;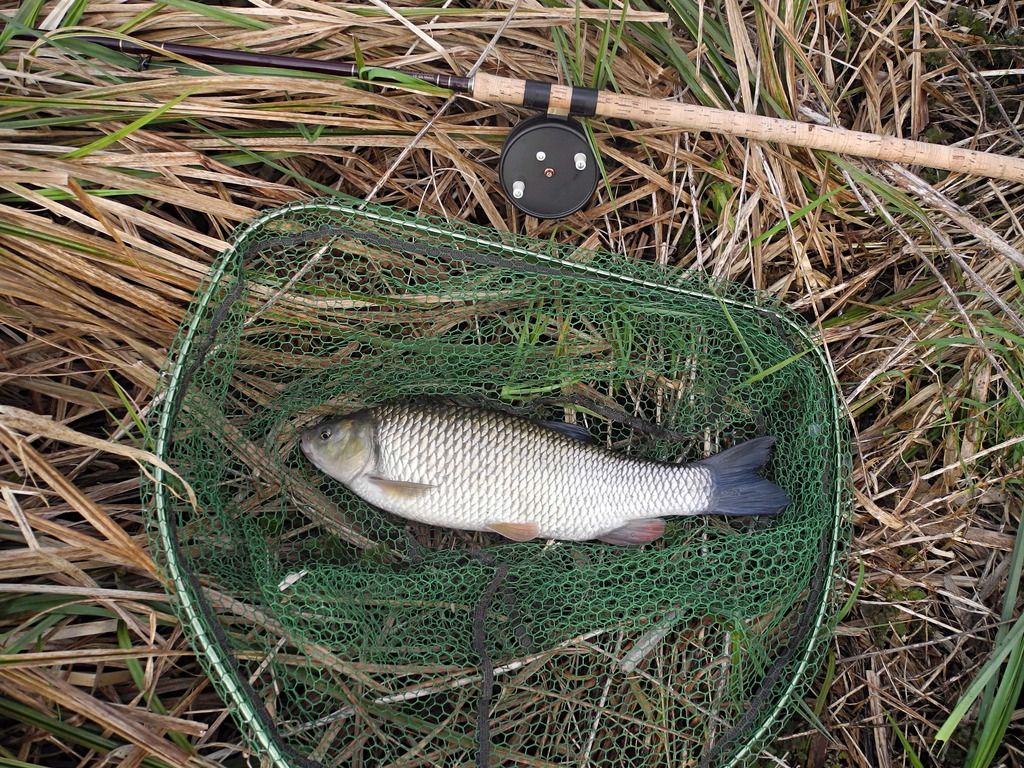 Only about ten minutes later the second chub of the day was in the net, this one weighing 4lb 10oz;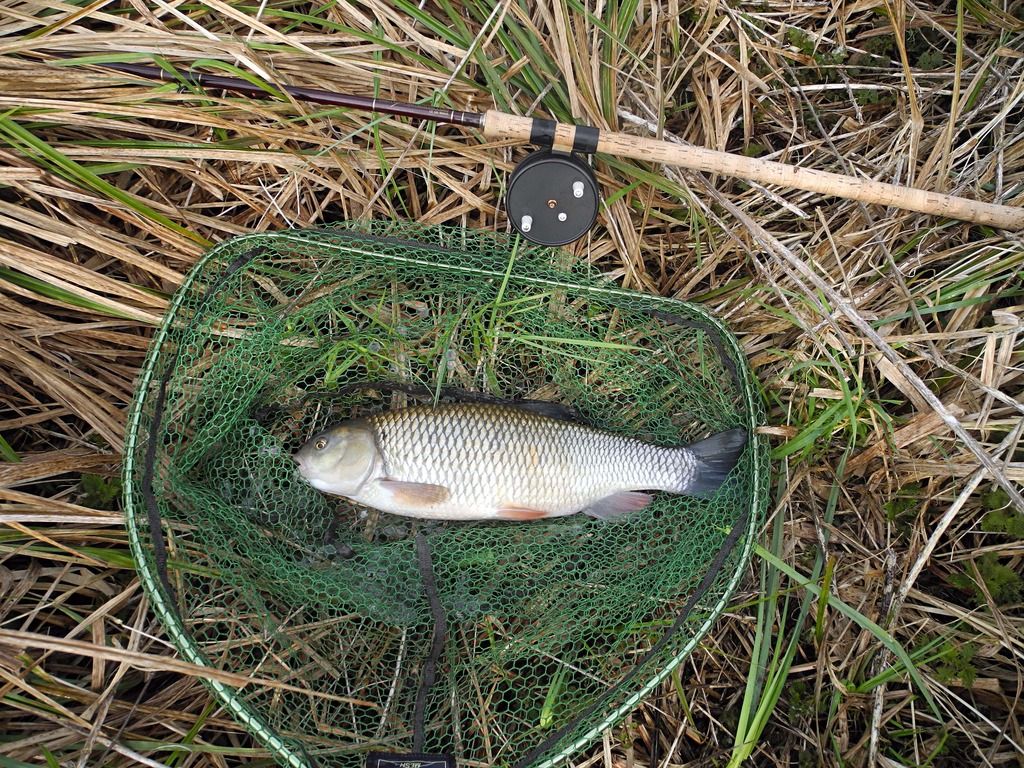 I really thought I was in for a bumper session but bites stopped as quickly as they'd started. I wasn't too worried because I could drop downstream and fish the weedrack while I rested the main swim. To be honest it was quite a relief to sit behind a rod huddled down against the wind rather than standing up and being battered by it, behind me the landscape was open fields with very little cover;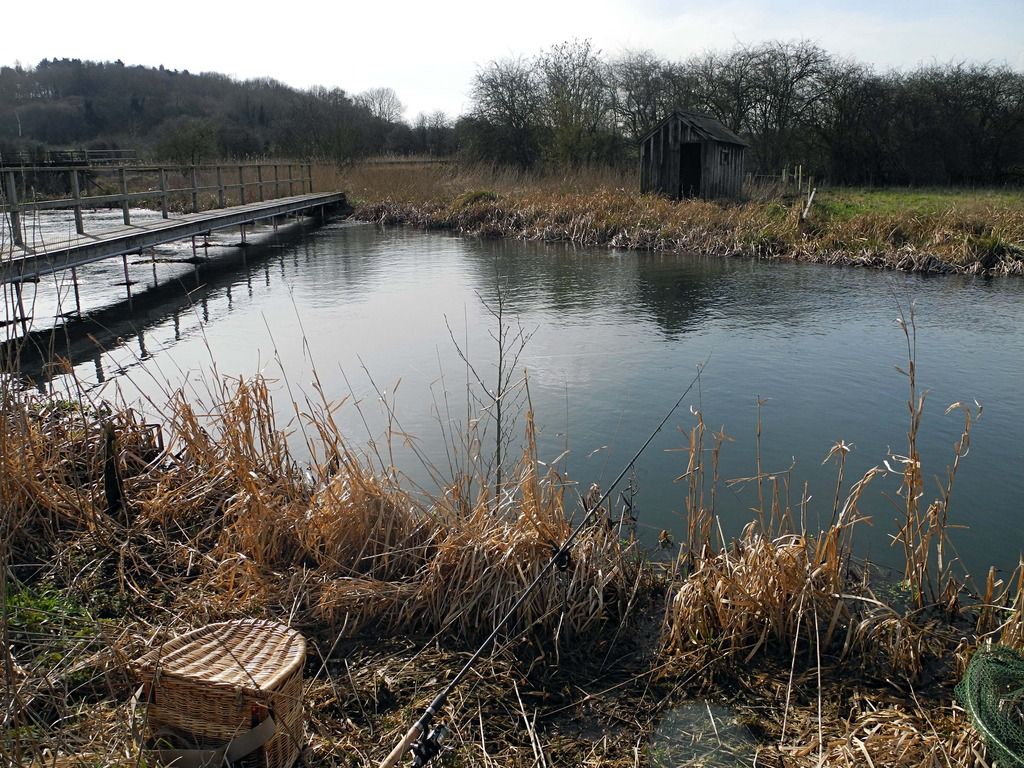 So that set the pattern for the day, I alternated between the two swims when it went quiet at the first choice. Surprisingly I caught nothing at all from the weedrack, even below it where I know chub reside failed to produce any bites despite trying every combination of bait and tactics I had at my disposal. All fish came from the upstream swim to a moving bait and by the time the wind had beaten me into submission my final tally was six chub. In addition to the two pictured I caught a 3-08, two three pounders (one on red corn!) and a 2-12.
I got back to the car with enough daylight left to carry on but I was pretty tired by then and the swims in my immediate vicinity would almost certainly have produced trout. I'd managed to avoid them all day and didn't want to blot my copybook.