Entry posted by Rusty ·
1313 views
Ok a bit of a cheat title because it was over two sessions but it was from one swim during consecutive dusk/dawn periods. I had no intention of spending a night by the K&A Canal.
Saturday 5th January, River Kennet, Newbury and the K&A Canal, Thatcham
At last an opportunity to get on the river trotting. The Kennet has been pretty inaccessible with all the rain so the few short sessions I've had have been on the Lambourn catching grayling, nice but I was beginning to miss catching chub. Chris Plumb's blog indicated that there might be a chance at one venue so that's where I headed for the late morning session, the afternoon would be spent on the canal trying to take advantage of the perfect perch conditions.
As I drove over the bridge first impressions weren't good, despite the dry spell the river was still way over its banks and I wondered whether it was actually higher than when Chris had fished it. Walking the venue revealed just one fishable swim but it looked a corker, sure there was loads of water but it wasn't coloured and the increased flow on the far bank had created a beautiful glide between the middle of the river and the near bank. Trotting commenced and I'm pleased to report that it was interrupted on several occasions by fish. The first two were chub with 3lb being the largest, unfortunately a trout put an end to those but small grayling, roach, dace and perch followed over the next few hours. Exactly the sort of session I was after.
So off to the canal buoyed with enthusiasm, that is until I spent an hour in my chosen swim with no sign of any perch being present. Thoughts of my local pub and dinner started to enter my head as it got darker and creepier, I phoned Steve to let him know that somebody has stolen all of the fish in the canal and that I was thinking of going home. He made the valid point that I may as well stick it out through dusk until it got proper dark, I just needed to be careful about the ghost of an axe murderer who'd drowned in one of the locks (it was a heavy axe and he wouldn't let go apparently).
I couldn't fault his logic and also couldn't remember the last occasion Id fished for perch at the 'right' time of day so I pressed another lobworm into service and cast out. Not long after that fry started showing on the surface, not in large numbers but it was activity at last. It was like a switch had been flicked somewhere, my float shot under and I lifted into a solid lump of a perch, I haven't yet caught a tiddler from this swim and that trend continued with this 3lb 2oz beauty;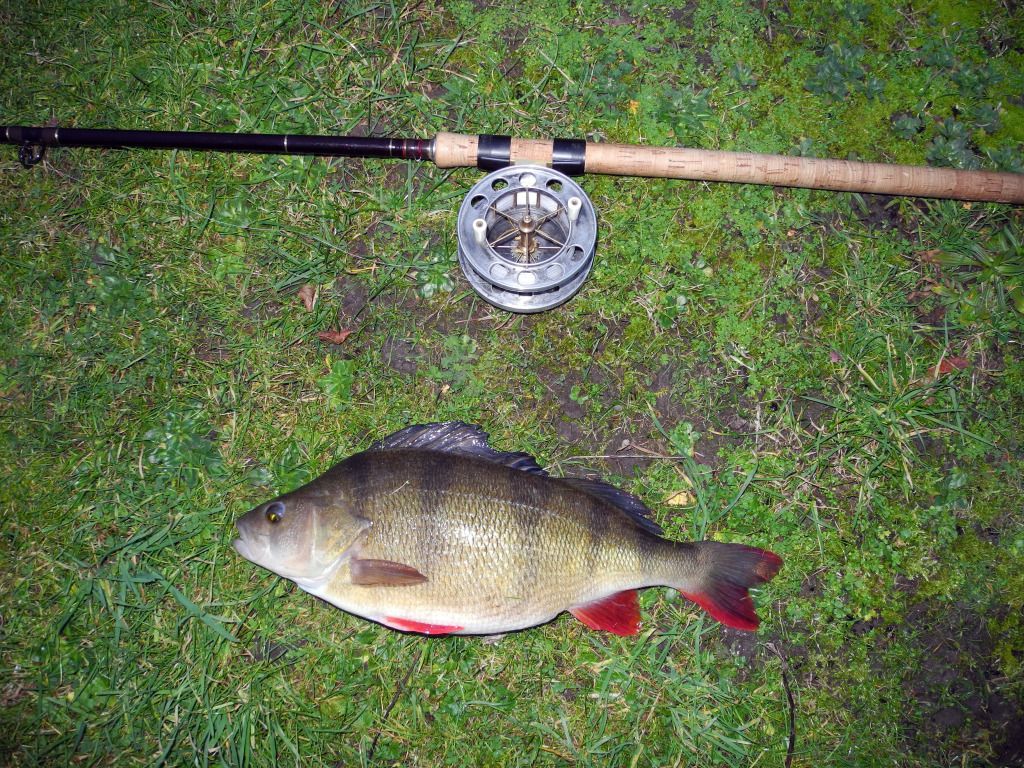 About 20 minutes later another bite and another 'three' but no spare ounces this time, 3lb exactly;
I was both elated and speechless but amazed myself by retaining enough composure to re-bait and cast out in rapidly fading light, sadly there was no more action, the feeding spell had only lasted half an hour. Fumbling around and packing up was a tricky business (I'd forgotten my headtorch) but I got back to the car in one piece and contemplated the evening ahead. Forget the pub, early dinner and early to bed, dawn was only a few hours away.
Sunday 6th January, K&A Canal, Thatcham and the River Kennet, Newbury
Back to the same canal swim and at 7:30am on the dot I could just see well enough to fish. I'd been feeding maggots for half an hour by then and the time had come to lower in the first lobworm of the day. I thought the float had disappeared as soon as it hit the water but in the gloom I wasn't sure that I could trust my eyes, a tentative strike provoked something at the other end and a couple of minutes later the first perch of the day was on the bank, 2lb 12oz;
I won't go into chapter and verse about the following two hours, suffice to say it was the best perching session Ive had and included a new PB. The next fish, 2lb 15oz;
And the PB, I'm really pleased that this looks noticeably larger than the other fish. Sometimes I look at my perch photos and wonder whether they really look the weight, this one does at 3lb 8oz;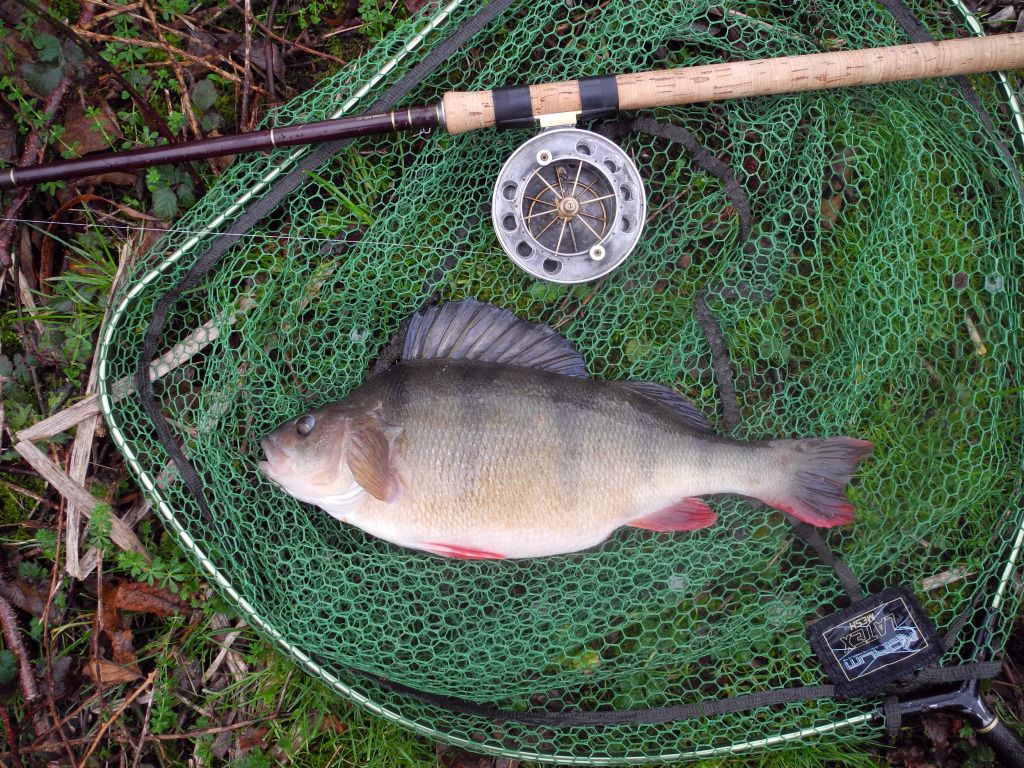 Finally 2lb 7oz to round the morning off;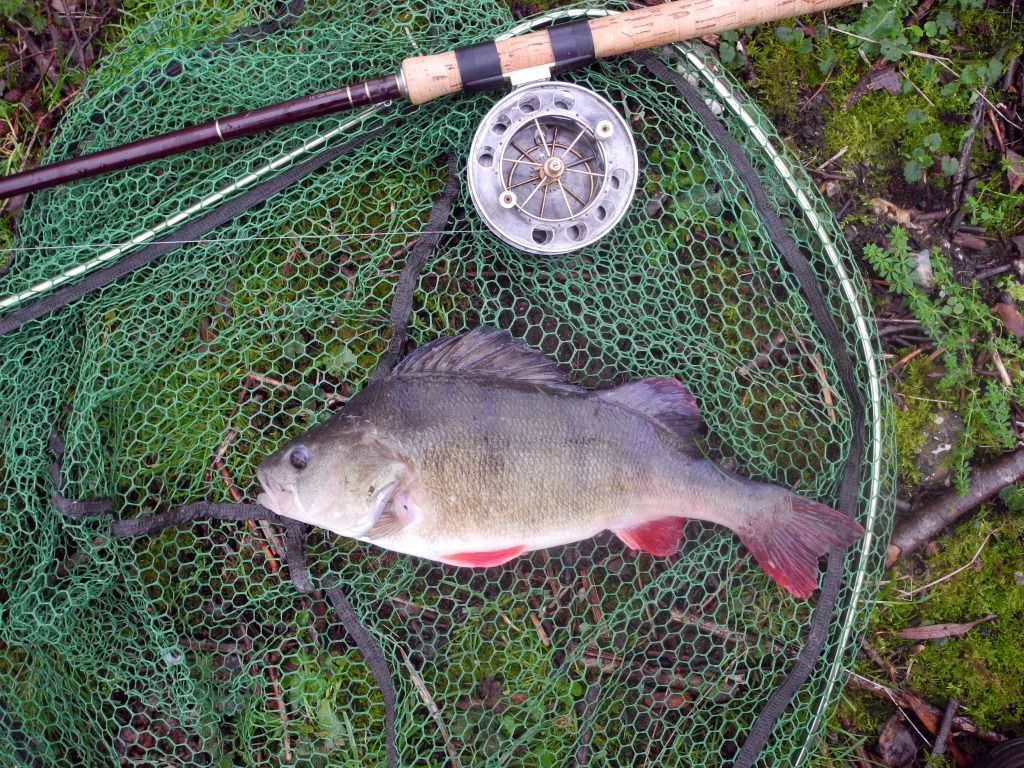 At 9:30am I hadn't had a bite for a while so I concluded that the morning feeding time had come to an end. The canal was getting busy with canoeists, dog walkers and pesky anglers so it seemed a good time to move back to the river. The sun came out for a bit and the chub and dace came out for a bit longer, nothing large but it was really pleasant to finish the day on running water.
It had been a memorable weekend, the perch weren't full of spawn yet so itll be interesting to try that swim nearer the end of the season, I wonder how much heavier a 3-08 will get?
2