02 Apr 2019
Mark Lloyd to take up new role as CEO of The Rivers Trust
The Angling Trust & Fish Legal are to recruit a new Chief Executive following the appointment of Mark Lloyd as the new CEO of The Rivers Trust. Mark has announced that he will be leaving the Angling Trust & Fish Legal this summer to take up his new role leading the umbrella charity for more than 60 member river trusts, working to protect, promote and enhance freshwater ecosystems.
Mark has headed up the Angling Trust & Fish Legal for 10 years and oversaw the historic unification of angling organisations in 2009. He had previously served for 5 years as the Executive Director of the Anglers' Conservation Association, the forerunner of Fish Legal.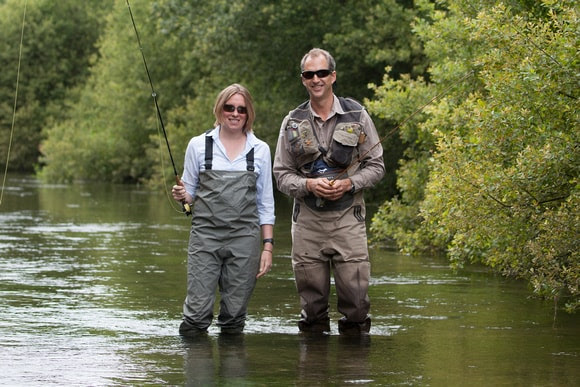 Mark Lloyd said:
"It's very difficult to leave an organisation which I helped create 10 years ago and have seen grow and develop into a powerful and influential voice for all forms of angling.  Of course it will be very hard to say goodbye to the staff, volunteers and members who have all helped make the vision of a united, professional representative body for all anglers become a reality.  However, I am very excited about my new role at The Rivers Trust and the opportunity to focus on finding solutions to the environmental degradation of our precious rivers, which is where my career started.
I'd like to thank everyone who has supported the Angling Trust & Fish Legal over the past decade and I am confident that both organisations are well-placed to continue growing to meet the challenges for fish and fishing long into the future.
We have built a solid financial foundation with several, important long-term funding agreements in place worth more than £1.5 million annually.  We have a really strong senior management group, leading teams of highly-committed staff and volunteers, working towards a clearly-defined strategy, so I feel confident for the future of these fantastic organisations."
Mark will continue to work closely with the Angling Trust & Fish Legal to influence public policy in his new role through a collaborative initiative with WWF-UK and The Rivers Trust to restore healthy river catchments which is being supported by a number of charitable funding organisations.
Martin Salter, Policy Chief for the Angling Trust said:
"When I was the Member of Parliament responsible for liaising with angling bodies from 1997 to 2010, there was a hopeless mess of disparate and often warring organisations which made angling look pretty amateurish. Ministers made it clear that they wanted to see increased unification in sport and so I worked closely with Mark and others to support the creation of a new unified body that could represent all forms of angling with professionalism and real firepower. Mark has brought in significant new funding which has allowed the Angling Trust & Fish Legal to grow and offer new services and support for both angling and fisheries. He leaves behind a strong and effective organisation and it's good that we will be continuing to work with him on improving the health of our rivers."
George Stephenson, Chairman of the Angling Trust said: "We are very sad to see Mark leave a job he has carried out for 10 years with huge personal commitment, sacrifice and dedication.  The Angling Trust & Fish Legal wouldn't be what they are today without Mark's outstanding leadership. We wish him all the best in his new role and look forward to working closely in partnership with The Rivers Trust to continue fighting for a healthy future for our water environment."
Keith Arthur, Angling Trust Ambassador and veteran broadcaster added: "In 10 years the Angling Trust has accomplished a lot more than I thought it ever could: certainly the whole has proved to be significantly greater than the sum of the disparate parts which represented different facets of coarse, sea and game fishing that went before.
"Mark's decision to leave will make The Rivers Trust far stronger, of that there is no doubt and gives the Angling Trust the opportunity to find someone to take the baton from Mark and run the next leg of the relay. That person must have a vision that will take angling towards even greater unity. The single representative body has provided the bedrock, now it needs someone to inspire more anglers of all disciplines to come together and help the sport push its way towards greater recognition and influence. Mark's legacy is an excellent one: Angling is in a far better place as a sport than it was 10 years ago and that cannot be wasted."
Details of how to apply for the role of Chief Executive of the Angling Trust & Fish Legal are on the Angling Trust web site at www.anglingtrust.net/vacancies. The closing date is Monday 29th April, 2019.