If you are looking for good quality fishing rods and reels that aren't going to break the bank we have a look at the Fladen Maxximus 3lb Carp Rod and the Maxximus FX1150 Reel.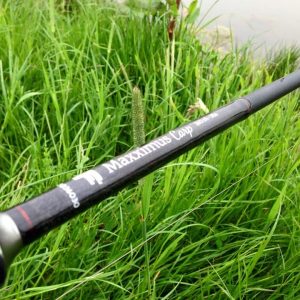 The rod has a lovely natural feel to it without being too heavy, the reel seat has a professional smooth feel to it, the handle has a very comfy feel to it and looks very smart and the guidelines also feel nice and solid with a smooth professional finish to them.  All in all a very impressive rod for the money.
The reel feels really nice with its reduced weight graphite body and aluminium spool and handle.  The handle and the spool turn very smoothly with 10+1 stainless steel ball bearings, there is a spare spool with the reel and the handle has a deluxe EVA foam handle grip for comfort.
The look and feel of a product is always an important part of it but how the product works is always the most important part.  Anthony has been using his rods and reels for a good 11 months now and has had lots of carp upto 14-15lb (that's quite big for the lakes he fishes) and several catfish upto 26lb on the combination.
As the rod is only 3lb tc we don't recommend using it to catch catfish over the 50lb mark but as the lake Anthony fishes only has catfish upto 34lb in it, there is no problem using this strength rod.
The catfish put a serious bend in the 3lb rod and line was being taken from a reel with the clutch set as tight as possible but that would still allow line to be taken before the line snapped.  You can expect to get a superb fight from a 10lb plus carp or a double figure catfish will have your heart in your throat as you feel every muscle movement of the fish and every lunge and turn that they take.
If your looking for a good quality rod and reel for your fishing, Anthony highly recommends the Maxximus range from Fladen, he is seriously impressed with them.