2017 is a massive year for Bait-Tech as we celebrate our 10th Year Anniversary. To help mark this milestone Bait-Tech launch what we regard to be the strongest line up of new products ever produced. Catch more with Bait-Tech in 2017!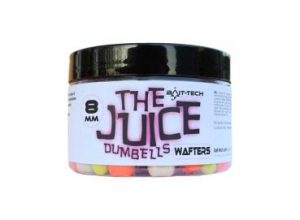 After the massive success of The Juice Liquid it was only a matter of time before this amazing fish attracter was used to make hookbaits that stand out from that crowd. Already capturing the interest of anglers, these super sweet and creamy baits offer endless hooking options. Available in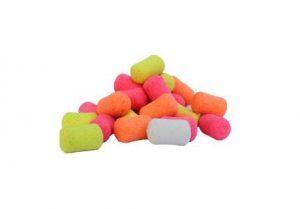 8mm and 10mm versions and in 3 different buoyancies, Sinkers, Wafters and Pop-Ups there is something for everyone. 4 fluro colours in each pot, these baits are perfect for method and bomb fishing and suit bayonets, spikes and hair-rigs perfectly.
RRP £3.75 The Juice Dumbells.

Special G Dark has finally arrived and after years of development it now sits alongside Green and Gold completing the trilogy. Produced without dye, G Dark benefits from a brand new ingredient. This won't wash out like other dark mixes, won't stain your hands and won't leave you using a mix that's vastly different to the one you thought you were using.
Not only that but G Dark has all the attributes of its brothers making it the best and most pungent Fishmeal bait available. A fine mix that can be used in almost any format from feeder fishing to being balled and cupped in on pole even as a paste.
RRP £4.50 Special G Dark.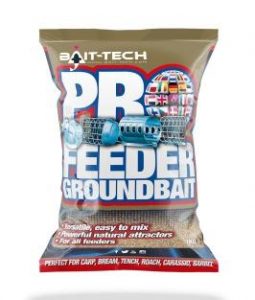 Pro Feeder is brand new pair of groundbaits that as its names suggest suit feeder fishing perfectly. Having studied speciality feeder anglers' needs we realised that two mixes were needed to achieve best results. International feeder anglers quite often use two mixes on two different lines, one sweeter mix to catch everything from Roach to Carassio, Skimmers and a host of
mixed species, the other, Pro Feeder Dark fishmeal is used to target the bigger fish, often further out, such as bream, carp and barbel.
Pro Feeder, yellow in colour is a wonderfully sweet and herby mix that benefits from a sweet gingery note. An active mix that will attract a host of species. Pro Feeder Dark Fishmeal is the dark more inert mix that is used for the bigger more wary fish. Both wonderful in their own right and perfect for any kind of feeder fishing including method and flatbed feeders.  RRP £3.49 Pro Feeder.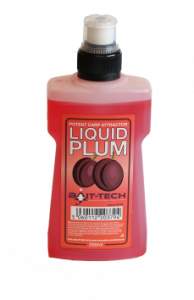 Liquid Plum, a new addition to the massively popular liquid range is sure to be a winner in 2017. The sweet fruity plum liquid can be used in almost any situation and works brilliantly when added to pellets or added to water to pump expanders or mix groundbaits. Unlike some liquids, Plumb can't be overdone meaning you can use plenty safe in the knowledge it is doing nothing but good when in your swim. RRP £3.49 Liquid Plum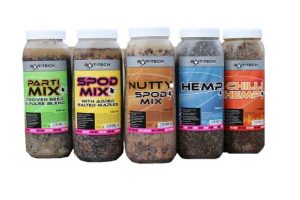 Particle Jars Are Back!
Absolute quality and freshness assured the Bait-Tech particle Jars deliver a product that is without doubt the best available. Cooked in the jar to seal in every last drop of goodness, the grade A product is saturated in high quality minerals that the fish are so attracted to. ZERO preservative, 100% attraction.
New to the 2017 range is the Nutty Spod mix – a blend of seeds and nuts with added nut meals to create a milky cloudy liquor.  RRP – £10.99  Particle Jars
Nutty Glug
Nutty Glug contains a blend of Roasted nuts coupled with a sweet liquid food base. This is pure attraction and tests have proved that fish adore it. PVA friendly and packed with nutrients, this glug will give any hookbait, spod mix or PVA stick or bag a real boost.
RRP £6.99
Super Cloud Zig Mix has been developed, as its name suggests, for spodding or spombing over Zigs. A cloudy mix that will attract from long distances at all levels in the water column.  RRP £10.99
Hi quality oils that are blended and infused with our herbs, spices and essential oils to make this range a best seller. The New Hot Chilli Oil and Super Fish Oil are already making their presence felt. These natural ingredients are the highest quality and pack a punch to match.  RRP £6.99
​​​​​​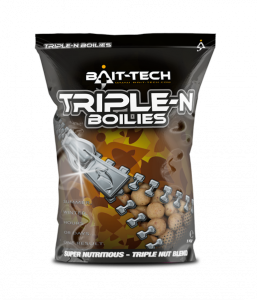 Triple-N
Triple-N Pricing…
• 15mm & 18mm Shelf life &Freezer 1kg RRP £10.99
• 10mm Shelf life & Freezer 1 kg RRP £11.99
• Pop ups 15mm & 18mm RRP £4.99
• Wafter 15mm & 18mm RRP £4.99
• Hard hookers/ Dumbells 18mm RRP £4.99
• Stick & Bag Mix 1 kg RRP £5.99
• Stick Mix liquid 500ml RRP £8.99
Hardened 18 mm round & 18 mm Dumbells
• Matching 15 & 18 mm Wafters
• Triple-N Stick mix liquid 500 ml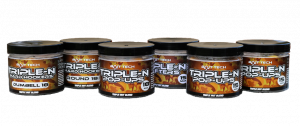 Triple-N contains a unique trio-blend of nutmeals & flours. The highly attractive blend of Peanut, Tigernut and Hazelnut are mixed at the optimum ratios and combined with high quality bird foods and refined milk proteins to produce a high-quality, easily digestible food source boilie. The addition of our unique liquid food adds a sweet & creamy back note and even greater attractiveness. To complete the totally nutritional elements of the boilie we added a dedicated feed stimulant, known to trigger a feeding response and aid digestion.
Super Fruit Pop-Ups are ultra-buoyant and highly visual. The Pink, White and Yellow Hi-Viz colours are prefect standout hook baits for an instant response. They include high levels of liquid attractor and powdered palatants for continuous leakage.
Available in 10mm & 15mm or 15mm & 18mm.
RRP £4.99 Super Fruit Pop-Ups.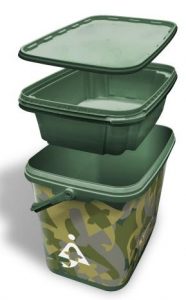 8L Utility Bucket. Designed with Bait-Tech's unique camo pattern this rectangular bucket is modular design offering a utility tray that fits snugly inside the lid. Perfect for bait and rig bits without having to carry more luggage.
RRP £7.99 8L Utility Bucket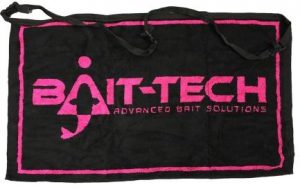 Apron Towel
The Bait-Tech Apron Towel is 100% cotton and washable. Measuring 80cm x 50cm this towel has the benefit of a removable, fully adjustable waist tie. A must have when on the bank.
RRP £9.99