05 Jun 2017
Baitwize catch report from Martin Holmes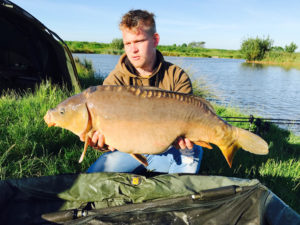 After arriving on the syndicate of my local I dropped on a peg that I thought would be taken, the weeks before a few nice carp came from after getting a lot of liners and boils from spooked carp (pretty close in) I decided to drop a bait close and the result is this 24lb on the nose mirror fished over a bed of crushed 18mm prototype baits.
I had a nice early wake up call with the carp heading straight to my left before I even got to my rod!
This lake is pretty weedy so I opted for a chod size 8 Korda barbless ready made chod link and fox leadcore topped with fake corn happy days still could bag a few only time will tell.