18 Jul 2017
Glen Heinke catch report for Baitwize
The hunt for one of the big resident river carp threw up a welcome surprise.
Myself and a good friend simon who I have been fishing with for years decided to go for one of the quickest over nighters I have probably ever done.
Finishing work at ten that night I was picked up by simon in the city centre of Nottingham with all his gear ready to go, a quick pit stop at mine saw me run in grab all the gear for the night ahead.
After a quick chat in the car we had come to an agreement to fish a local stretch of the river Trent in Nottingham were he has had great success fishing for barbel and a stretch I knew held a decent number of double figure carp and even a couple going over the twenty five mark.
As it was now pushing 
11 o'clock
 at night we settled for a nice beach area not to far away from the car as we knew that we needed to be leaving for about 6 in the morning.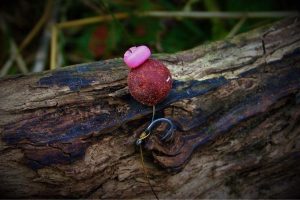 To the left of me I had spotted a deep margin that seemed to be collecting all the scum and debris from up stream, surly if a carp was going to enter the area for a 
midnight
 snack it would be here.
I scattered about 2 kilos of Baitwize RF1 boilies into the scum and then flicked two rods over the top on a simple 6inch hair rig with matching RF1 baits and using razor sharp fox edge wide gape hooks.
Now time had passed we decide to flee from the swarms mosquitos that had been feasting on us well setting up and retire to our beds for what we hoped wouldn't be long until the first bite.
After 30 minutes I had heard Simons alarm go off and looked out to see him playing a fish that he had hoped was a barbel, it turned out to be a 4lbs 7oz chub.  Back to bed I went away from the Mosquitos again, the night stayed silent with not a lot of action after that.
All of a sudden just minutes before the alarm clock would go of signalling time to return the the real world of work all hell broke loose, my left had rod had screamed into life and the receiver inside the my bivvy was singing a single tone as the fish stormed of downstream.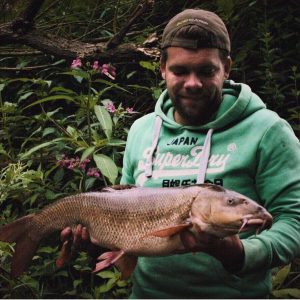 Quickly jumping out of bed and picking the rod up I was faced with a fish that really didn't want to see the bank, a fight that must have lasted no less than 15 minutes with a few times thinking the fish had been defeated to then watch it nearly flatten my rod out as it made a run for freedom yet again.
Eventually I had seen that the fish was a good size barbel just as it was netted. After getting the fish out and into the sling ready to be weighted we zeroed the scales and watch it push to bang on 13lbs.
A few picture and a good rest in the net for the fish well we packed down saw this river beauty ready to fight another day.
After I had got to work I couldn't believe my luck in the last two sessions I had managed a very beautiful specimen barbel and days before on exactly the same set up and again on the Baitwize RF1 I had a lovely old mid double common from a few miles upstream.
To see more of my catches and keep up with what I've been doing give me a follow on Instagram
GlenHeinke