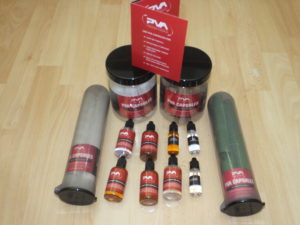 We saw something on facebook about a week ago, the product was something different from all the other products we see and was unique enough to peak our interest.  The product is a 'pva capsule' from a  company called PVA Fishing Tackle
 There are a couple of different type of capsule which are plain, chilli infused and there is even a green coloured capsule for when your working in weed, etc.  The capsules come in a choice of a 1000ml tub or a large capsule container which in our opinion is more suited to be carried in a tackle box/bag.  There are also a range of flavourings and accelerators to help enhance and speed up the melting time of the capsules.
The first thing we found out after interrogating the company was that they aren't a fly by night overnight company that has just appeared, they are a division of a much larger company 'PVOH Polymers' who specialise in bespoke polymer development and manufacture of Bio and Water Soluble Polymers and work within the pharmaceutical, MOD chemical defense and household cleaning products industry.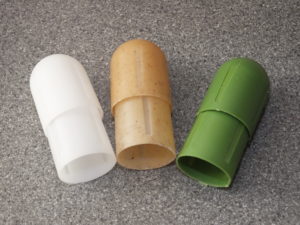 So they are definitely qualified to create a pva capsule for use within the fishing industry but what makes these unique capsules so special?
Firstly, the capsules are made from over 50% salt (try licking one you'll soon taste the salt lol) which as you know is a well known fish attractant.
This means that not only are you getting a precise bait delivery system but you are also getting a constant salt release as the capsule dissolves.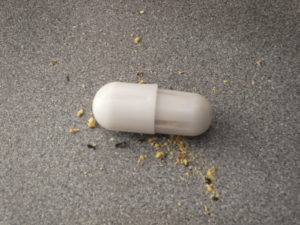 The capsules aren't designed to be a quick release system and can take up to twenty minutes to fully dissolve but during this time you will be getting the salt release as well as a release of any liquids you have included within the capsule itself.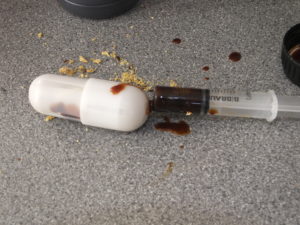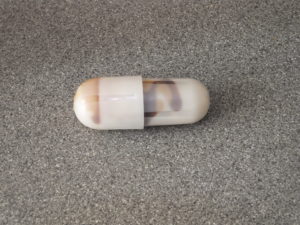 If you look closely at the capsules you will notice pop out holes in the top and the bottom of the capsule to allow air out for controlling the speed the capsule descends and also for inserting a syringe for adding liquids to your particles.
There are also thin veins running down the length of the capsule which dissolves in two to three minutes allowing the release of the liquid attractants within the capsule (it also allows your hook to be released quicker if you hook it through one of these veins) whilst still keeping the larger bait particles in one place within the capsule allowing for two different timings of bait release around your hookbait.
After four minutes the capsule will be soft enough for  feed to actually start feeding on the capsule itself and will resemble leaf matter in texture.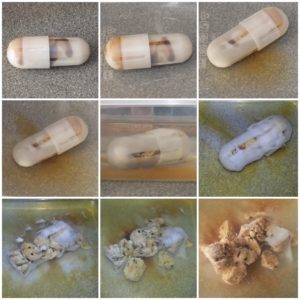 Okay so the formula is unique, the design is unique but is there anything else that makes this product stand out from the crowd of pva products available?  Well it can be used with any liquids and/or particles so you don't need to use pva friendly baits or liquids and because of the way the product is designed to work you can guarantee your free feed won't be released until it is on the lake bed even in deep lakes such as in Thailand.
The formulation ensures that there is no sticky residue guaranteed and because of its design you could actually put your hook and hookbait inside the capsule ensuring a tangle free cast and descent which is ideal for weedy swims.
This capsule can also be used with wet hands and is rain safe so you don't need to worry what the weather is doing when you are filling your capsule up and lastly you could add just liquid into the capsule giving you a huge release of liquid attraction around your hook when it's on the lake bed.
Yep you guessed it we were pretty impressed with these rather unique capsules you can find them on their website here –> http://www.pvafishingtackle.com