As anglers we quite often find the need to use a lighter whether it is to light a cigarette, start a camp fire or blob the line on a rig.  Traditionally we have always used gas lighters and struggled with the flame in windy conditions.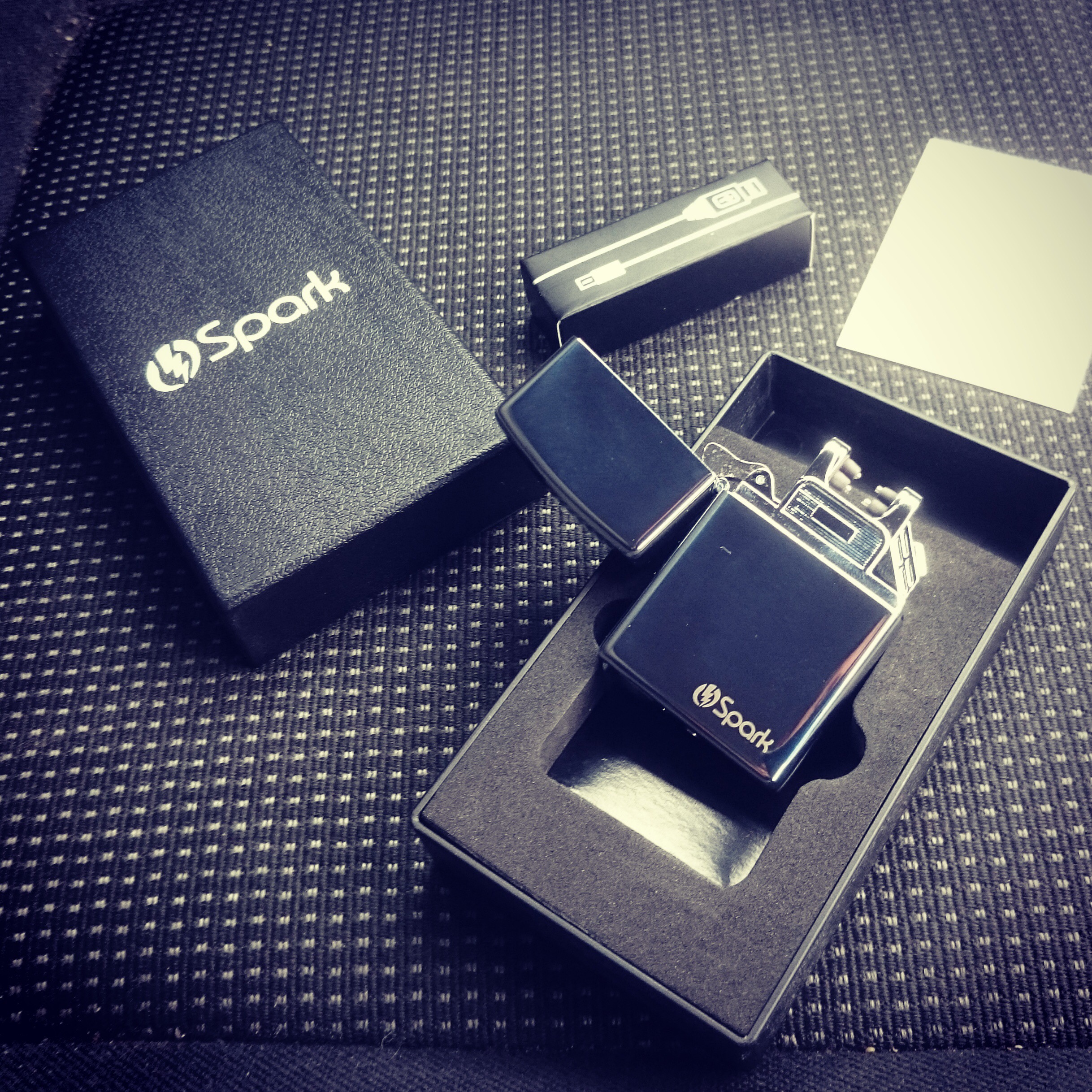 This USB rechargeable lighter from Spark is made from premium metal which makes it strong and robust, it also comes with a USB charging cable (although you don't need to worry if you lose the cable as it is a standard micro USB cable), it doesn't require any lighter fuel to work making it environmentally friendly and fully charges in just 60 minutes.
​​Using double arcs of intense electric heat you can use this lighter in any weather conditions and as most of us carry either a portable power pack or have a USB charger in the car, you should always have a recharging point nearby.
Although you will find cheaper ones on the market the extremely well built design and quality of this one justifies the extra couple of pound you spend, this one even comes with a 30 day money back guarantee they are that confident you will like it. (Anthony loves the one he got). All in all for less than £15 this is a very impressive lighter that doesn't require you to smell of lighter fluid or carry big bottle of lighter fluid around with you.
You can buy directly from their eBay shop here –> http://ebay.to/2pweVnz
Find out more on their website –> www.sparklighters.co.uk
Follow their Facebook page for the latest news –> www.facebook.com/sparkincuk
BERLS Universal Power Cable, USB to DC 5.5 * 2.1mm Jack 5V Charging Cord with 10 Selectable Connector Tips(5.5*2.5, 4.8*1.7, 4.0*1.7, 4.0*1.35, 3.5*1.35, 3.0*1.1, 2.5*0.7, Micro USB, Type-C, Mini USB)
1 new from £8.99
Free shipping
as of 22nd September 2020 1:51 pm
Features
【Extra Tip】: Our line voltage is fixed to 5V, which cannot be adapted to equipment other than 5V, such as laptops and other high-power shop equipment. It supports up to 3 amps of chargers. If your charger or other device USB port only has 0.5a current, the final output is only 0.5a, which is determined by the rated current of your charger.
【Universal Lightning Compatible】: Can Be Used with 5V USB Adapter, External Battery, Power Bank or Computer USB Port.The original DC cable connector is 5.5mm*2.1mm, we also provide 10 extra connectors(5.5*2.5mm, 4.8*1.7mm, 4.0*1.7mm, 4.0*1.35mm, 3.5*1.35mm, 3.0*1.1mm, 2.5*0.7mm, Micro USB, Type-C, Mini USB) to help it work with more 5V devices.
【Premium Craft】: Great performance both in Hardness and Smoothness pleases your skin. Survive Over 8000-bends tests in Quality inspection laboratory, which is much firmer and more tenacious than others. Durable cable for protection, strength, and flexibility.
【Safer Charging】: Built-in Security Chip : Anti-high voltage, anti- high current, anti-overheating. Powerful Fast Charging Cable supports output of 3A current(Max) .
【Reliable Guarantee】: One Year Warranty. Worry-Free after-sale service. Just place your order! If you have any question, please contact us by the email, we will fix your issue as soon as possible. What's more, you can also find other cables in our shop.
OTIUM USB Car Charger Cigarette Lighter Splitter, USB C Power Socket adapter with 2 Separate Switch Sockets(12V/24V) 80W Replaceable 7.5A Fuse Dual 2.4A USB Adapter one Type-C Port Voltage Display
1 new from £13.99
Free shipping
as of 22nd September 2020 1:51 pm
Features
[Two Cigarette Lighter Sockets & Independent Switch] Expand your car cigarette lighter socket from one to two 12V / 24V sockets provide total power up to 80W, with independent switch for each cigarette socket,you will no need to plug in and out your charger repeatedly. It is perfectly supports your GPS,seat heater,cooler box,handheld vacuum cleaner and other car products (Two cigarette lighter sockets could NOT light the cigarettes)
[Type C Port & Dual 2.4A USB Ports] 1 Type-C charging port with Max 1A output current at IOS or 1.5A output current at Android. 2 USB charging ports (Each is 5V/2.4A) with total Max 4.8A output, with the Smart IC that can accurately control charging current,You can safely charge 3 devices Simultaneously,such as iPhone iPad Samsung ect
[Voltage Monitor & Low Voltage Reminder] With LED display for monitoring your car battery automatically once the vehicle power center is on. Let you can check the status of your car battery all the time. And the LED number on the display will flashing when the voltage is under 12V so that you can notice the various anomalies of your car battery
[Complete Security & Replaceable Fuse] Certified by RoHS, CE & FCC, Our product has comprehensive security measures. Built-in replaceable 7.5A safe fuse, smart control chip and complete protection circuits. These components can cut off the current in time when necessary to prevent the product and your devices from over-current, over-voltage, over-heating and short-circuit
[Integrated Design & Flexible Wireless]:This product uses an integrated design, all-in one mode with flexible rotation(90 degrees adjustable angle), Wireless design frees you from the trouble of tangling as well as makes your car neater. Cigarette lighter built-in blue LED light also allows you to find sockets in the dark easily
PowerA Wired Controller Officially Licensed by Microsoft Compatible with Xbox One, Xbox One S, Xbox One X & Windows 10 - White
as of 22nd September 2020 1:51 pm
Features
The wired controller PowerA-Controller for Xbox One offers our latest ergonomic design and is compatible with all your games.
Two analog sticks, precisely tuned to eliminate dead zones. Enlarged 8-way directional pad. Standard ABXY key arrangement
Left / right bumpers and triggers (L / R / ZL / ZR). Double rumble motors. 3.5mm stereo headset jack
LED display for power supply and programming of buttons for advanced game functions. 2.4 m long detachable micro USB to standard USB cable.
2-year limited warranty.
DIVI Car Charger, USB Car Charger 12V/ 24V Car Adaptor with Mini Size Dual Port(5V/4.8A/24W), Fast Charging for iPhone XR/Xs Max / 8 Plus, iPad Air, Galaxy S8/S7/Edge, Note 5/4, Huawei (Black)
1 new from £8.99
Free shipping
as of 22nd September 2020 1:51 pm
Features
Compact Size: With tiny thumb-sized body, DIVI USB charger perfectly blends with most of car cigarette lighter and sits comfortably with the edge of the outlet. Our smallest car charger yet, you can take it everywhere. (Suitable for 12v/24v car). (Please kindly know that DIVI mini car charger adapter perfectly blends with most car cigarette lighter. However, some car cigarette lighter is too short, DIVI car charger may not fit)
Efficient Charging: Charge two devices simultaneously at full speed with 2.4A in each USB port. With a total power of 4.8A, the car charger with dual USB port works for all USB enabled devices. (Note: The charger is not QC3.0 which doesn't support Qualcomm Quick Charge.)
Stylish Appearance: Excellent design of the soft LED light makes it effortless to find the charging port in the dark. The advanced full aluminum alloy body features scratch resistant will keep it sturdy and let your car charger always looks like new.
Safety Guarantee: DIVI car charger will provide protection against over-current, overcharging and will not be overheating at high temperatures, which will guard the safety of you and your devices.
Warranty & Customer Service: 12-month guarantee and reliable Customer Service. Please email us first if there is anything wrong, we will be sure to serve you until you are 100% satisfied.
iPhone Charger Cable, iPhone Cable [1M 3Pack], Aioneus MFI Certified Lightning Cable, Nylon Braided Fast Charging Lead Compatible with iPhone SE 2020 11 Pro max Xr Xs max 8 Plus 7 Plus 6 6s 5c SE,iPad
1 new from £7.99
3 used from £5.90
Free shipping
as of 22nd September 2020 1:51 pm
Features
❥[Wide Compatibility] Our iPhone charger compatibility with X/ 8 / 8 Plus/ 7 / 7 Plus/ 6s Plus / 6s / 6 Plus / 6/ 5s / 5c / 5 / SE, Pad / Pod Nano 7th gen;
❥[Three colors] Three cables of vivid color, it is easy to distinguish and find;
❥[Incredibly Durable design ] Aluminum shell and Tangle nylon braided jacket build the cable more sturdy, It is flexible pull resistant, softer, lighter, more durable than original device cables;
❥[Fast charging and synchronizing ] The connector is adopted a heat-resistant aluminum alloy terminal, it has good conductivity, data loss is kept to a minimum, charging and synchronization can be done by a single cable at once;
❥[What you get] Nylon-braided charger cable for iphone 1m-3pack(blue,orange,green); 18-month warranty and 24-hours friendly support.