1
Back to the target water.
Posted by tomhaggett , 27 November 2014 · 179 views
3rd July - Berkshire Stillwater
Yet another after work session that leaves me rushing around to find some fish and get everything sorted before darkness.  This particular session I'd walked almost the whole way around when a really good fish crashed out close to the island in quite an unpopular peg.  That was all I had to go on so I set about getting a rod on the money which only took a couple of casts before I was happy.  
Then the now almost guaranteed drama started.. I couldn't reach the spot with my catapult so reached for the throwing stick... which I'd left at home.  No problem, There's always a spare spomb in the bag so I tied that onto my marker rod, wrapped it around the banksticks to get it clipped to the right distance, filled it with whole and crumbed baits and let fly.  Half way out there I heard a rather large crack and watched as my only spomb sailed into the island and the braid hung limpy in a tangled web at the rod tip!!  
I'd just about had enough by that point so decided on a move, just up to my right into the swim that I'd caught Starburst from a few months previous.  There had been a bit of fizzing up there and I knew the spots well so, despite being in a race against the rapidly fading light I was confident I could get everything sorted with relative ease.  That was until a tufty decided it fancied my little pink pop up, that I'd forgotten was even still out there, and duly nailed itself in the centre of the bottom beak.  Could anything else go wrong?!?! 
After releasing the troublesome little fiend I set about getting the rods clipped up in the new swim and thankfully, or I may have turned to self harming with my hook sharpener, they went out nice and easily.  A good bit of bait was spread over and in between the two and finally I could settle down, put the radio on and unwind after being on the go non stop for 16 hours that day.  As if to reward my efforts and to console me a little a fish showed bang over the left hand rod only an hour or so after casting so I went into the night confident of some action.
When I woke a few hours later at first light and nothing happened I was a little surprised to be honest but there was the odd bit of fizzing out there so I sat back confidently.   
About half an hour later I'd noted a spot that seemed to have constant pin pricks coming up over it so wound in the right hand rod ready for a recast but before I had chance to get it out there the left hand rod pulled up tight and the clutch started ticking away.  
I tell you, I'm glad I'd wound that right hand rod in because the ensuing scrap was nothing short of ridiculous.  I'd wound it straight in under my feet like a dog on a lead and there it stayed, for over half an hour, completely refusing to give up.  Luckily I'd seen it early on so knew it wasn't anything special otherwise my knees would have been a' knocking. 
23.12 it went, a real fighting machine covered in abrasions from spawning.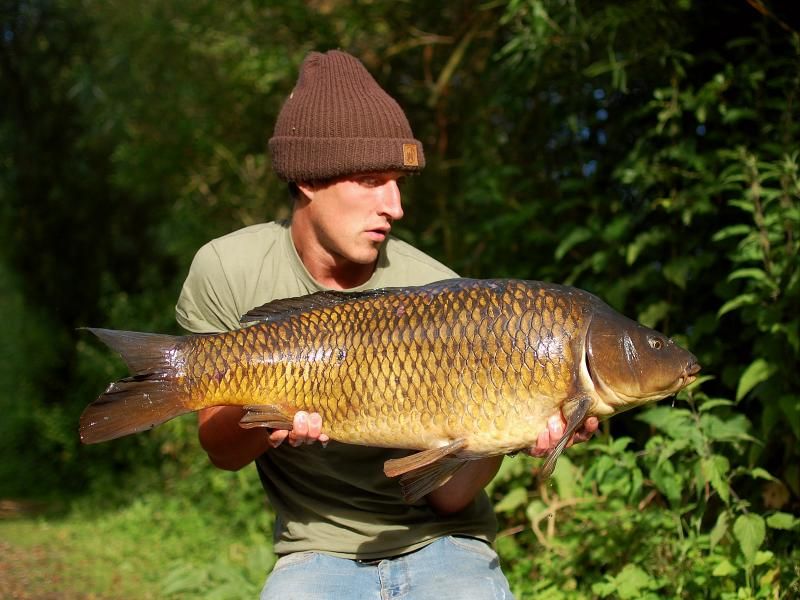 I added a nice tench of 7.4 an hour or so later on the rod that I eventually got around to re-positioning on the spot I'd noted earlier.