River Kennet, Newbury, Saturday 9th February 2013
One of three accounts of the trip
A long awaited visit to this Middle Kennet estate water. Most of the 'official' days have been cancelled due to high water levels and I was beginning to wonder whether this season was going to be a total blank as far as this venue is concerned. Paul Goulbourn and Chris Plumb came to the rescue with an invitation via another route (thank you gentlemen), we just had to pray for a relatively dry week. Any other venue and I wouldn't have bothered to get up so early, the forecast was for low temps and light rain but such is our enthusiasm for this place that Steve and I arrived at 7:00am on the dot. It was cold, wet and sleety, the river was just within its banks and due to a last minute constraint we'd be fishing an unfamiliar section. Our plan fell apart….well it would've done if we'd had a plan but we seldom do, on these trips we sort of make it up as we go along.
Paul and Chris again stepped up to the plate with suggestions as to where Steve and I might start, it wasn't lost on us that these places were about 180 degrees away from where they would be fishing but we had far more important things to consider, what time was lunch? We settled on 12 o'clock.
Our base for the day, this used to be a swimming pool and to the right of the wooden seats you can just make out the structure which used to support the diving board. The hut was to provide welcome respite throughout the trip;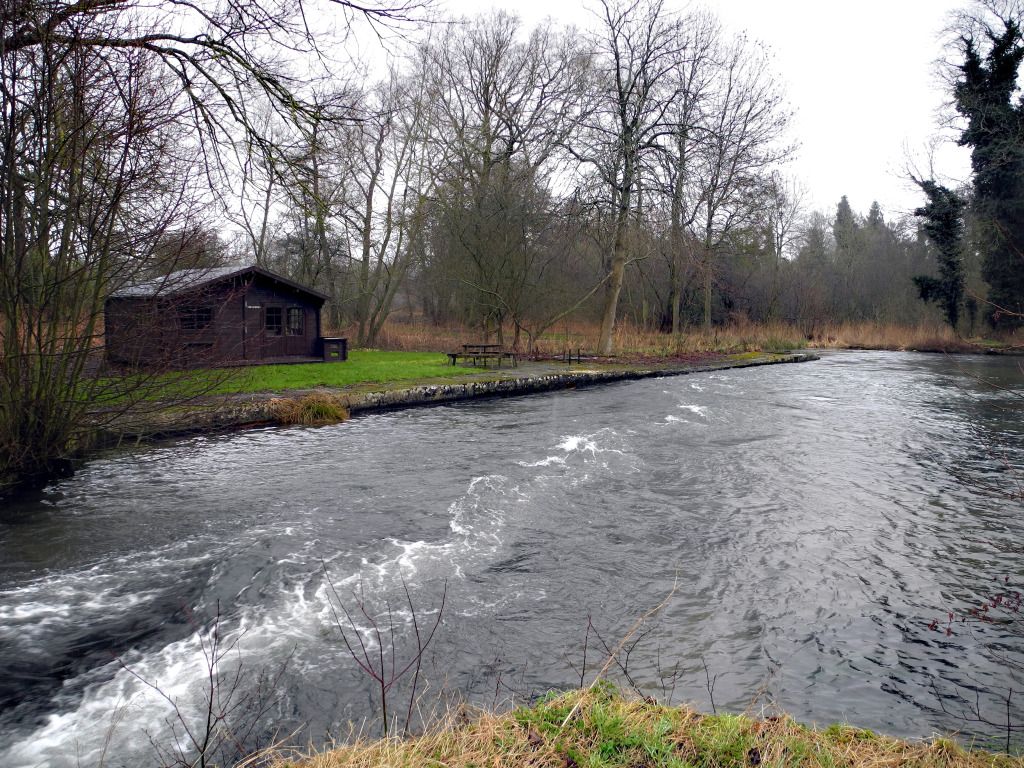 So the four intrepid explorers set off in search of slack water. They were the tactics and in my mind at least we were really looking for chub. I don't think perch would've fed in those conditions and I'm not sure where the dace would've been. Roach were a possibility and that's were Paul and Chris headed first but their later reports confirmed that the extra water had changed the swim and it far too fast for any realistic chance. And of course there's the unavoidable trout, the rule is that if you start catching trout you move swim. The next three hours saw us explore a large part of the fishery leapfrogging as we went trotting likely looking spots, the aforementioned slack water wasn't as obvious as we thought it would be. The extra flow had changed the character of most of the pools and where we could reach slacks with the float it was hard to keep it there. Nevertheless we were fishing and that was a lot better (if a little wetter) than doing the chores. One of the pools;
And a nice far bank feature, difficult to keep the float in the right place though;
A quick board meeting and lunchtime was revised to 10:30am. We'd walked a lot by then much of it along sodden banks and we only had a couple of trout to show for our efforts. We needed to re-think, reports came in of Chris's early chub so that heartened us as did the freshly brewed tea and the most excellent sausage rolls. Re-vitalised we decided to change tactics, Steve would set up the pike rod and pitch up with deadbaits and I decided to ledger breadflake at this chubby looking swim;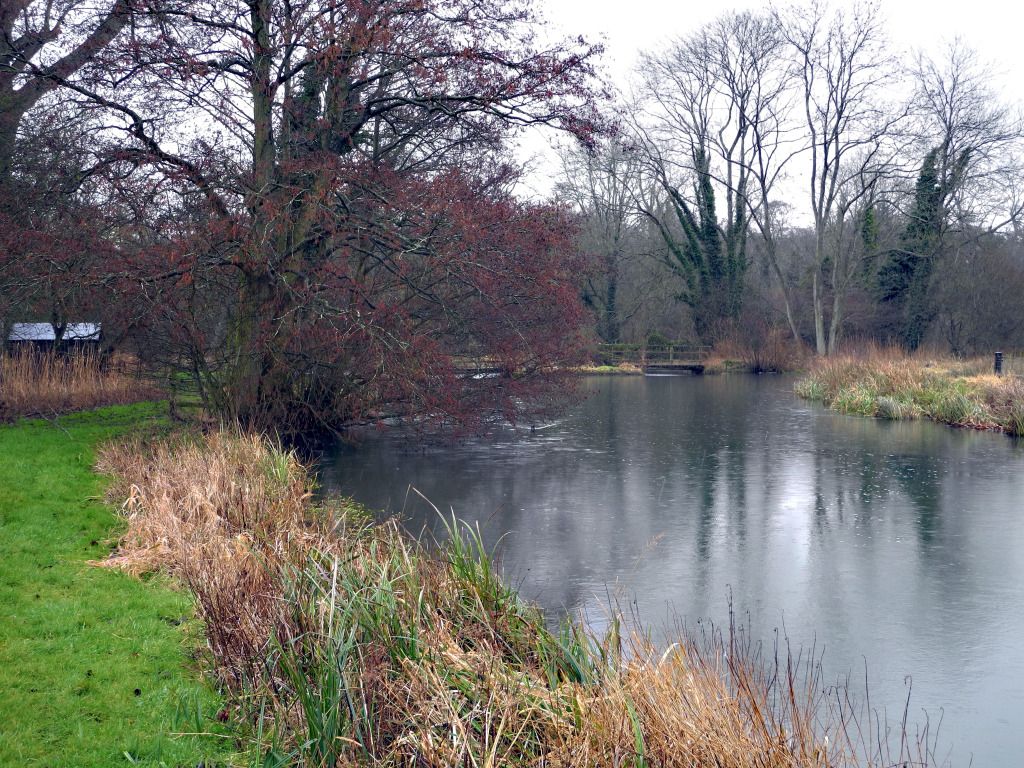 I suppose the feature is a bit obvious, no self respecting chub would stick around in such a giveaway place and so it proved. The trout, however, had no such qualms and after a couple of stonking rainbows were landed I decided to move on, it was nice to see the quivertip doing its job though. Steve wasn't fairing much better, his sardines were being molested by troot, on one occasion when he was retrieving the bait. He'd also managed to lose a rig when the brain/hand interface was a fraction too late in clasping the spool. Between us we hadn't yet had a bite from a coarse fish, the drizzle hadn't let up all day and at one point we had quite large snowflakes….so what to do? More tea and sausage rolls that's what. There was no question of us calling it a day but in deference to comfort we decided to stay near the hut for the remaining couple of hours, the cars were parked there so it was very much a decision of convenience. I went to a swim which we'd recce'd earlier but not fished and Steve re-rigged the deadbait rod targeting a close by pool.
My final swim, slack water at the far bank which was at the limit of my float casting range. Ledgered flake it was then;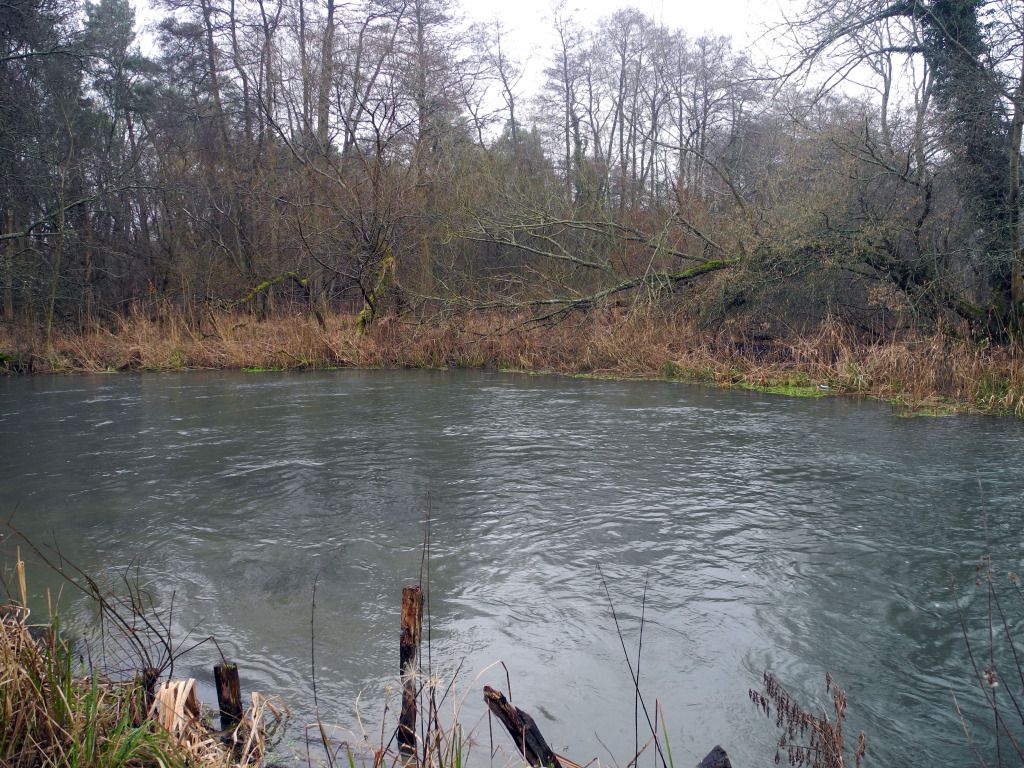 No sooner had I put the rod in the rest than the tip bent round and the baitrunner started screaming. In a mild state of panic I managed to hook the fish and play it to the near bank. Although I couldn't see the culprit it was definitely a chub, I did catch a glimpse as I reached for the net but it then spat the hook…bugger! The fish were there though so out with the flake again, a couple of minutes later another bite and this time success;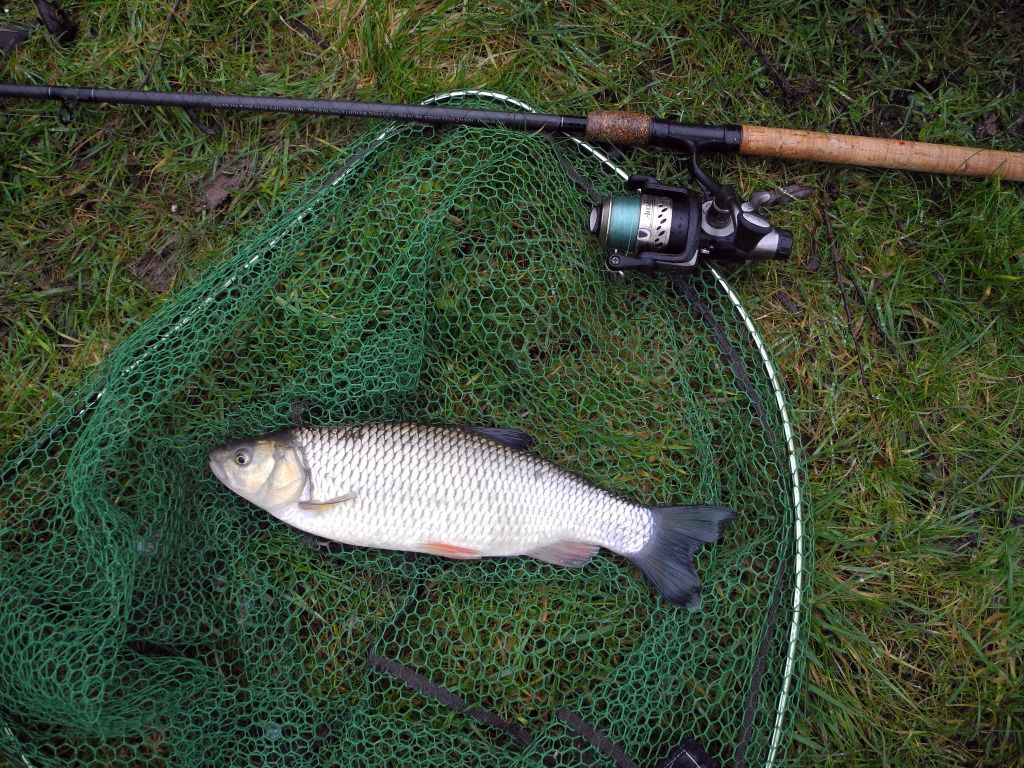 I'd done it, I'd caught a chub in less than promising conditions but not on the 'pin and that was niggling me a bit. After a few practice casts upstream I reckoned I could get the float to the right place so back to the swim. I could cast the float to where the fish were but I'd only get a few seconds before it would be drawn into the current and off downstream. That was enough time though to hook and lose one fish (maybe a trout) and land another chub. Chris Plumb kindly assisted with the netting;
After that the trout moved in with a vengeance and the chub cleared off. A couple more monster rainbows convinced me to call time on the mini session, it was getting towards the end of the day anyway and packing up wet gear is never any fun.
As ever these days out are great social occasions as well as enjoyable fishing days. Chris did well with the chub, I had a smidgeon of last minute success which saved my day but I think Paul and Steve struggled a bit. It was a hard slog to be honest but I'd do it all again tomorrow.
Thanks once again to Chris and Paul for the invitation.