Different lake same result....
---
NAA Stillwater, Pallets, Monday 25th May 2015.
…….no silvers! Is it really too much to ask to spend a day fishing just catching small fish on a club water? It seems so because today I tried a previously unfished venue known to contain lots of small rudd. My plan was to fish maggot on the float and see if any reasonable examples came along, nothing too scientific or ambitious. Clearly the angling gods frowned upon my idea for despite being reassured by a couple of anglers I spoke to yesterday when I walked the lake I didn't so much as see a rudd let alone catch one. I did catch three small perch and I did see a kingfisher and I did see an enormous great carp leap twice so the day wasn't a total failure but a rudd or two would've been nice.
This is a lovely little lake right next to the Kennet, I often pass it when I'm fishing the river and always make a mental note to visit but never quite manage it. It's a lake of two ends, a shallow end with lilies & reeds and a deep end with not much in the way of vegetation in the water. I chose to fish the shallow end first and this is where I witnessed the carp leaping out of the reeds on the left, the water's only three feet there but it's probably where they hang out. The event was logged in the memory banks later for floating bread tactics but that aside there isn't much to report, three perch no bigger than 4oz and a stationary float for most of the time;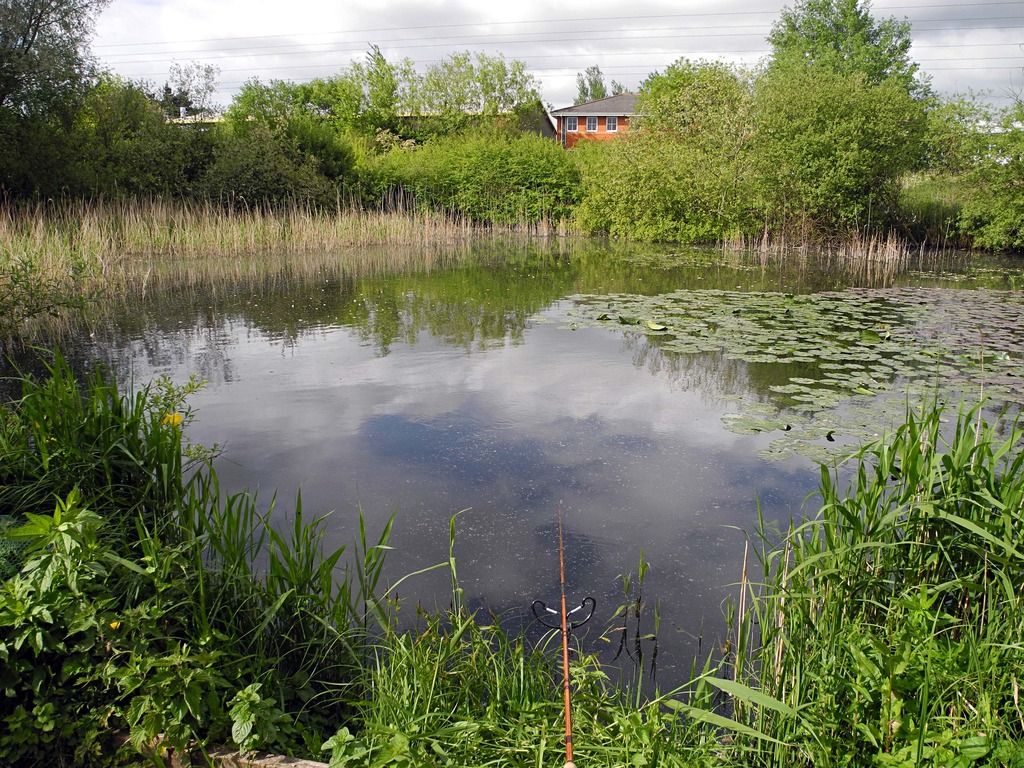 After about three hours I upped sticks and went to the deep end (the beauty of travelling light), it was a lot easier to fish here because my line wasn't picking up stuff off the surface when I reeled in. The fish weren't here either though, no bites at all in the time that I spent in this swim.
I went back to where I'd started and tried different methods. The Polaris float produced sucked maggot but no bite indication which was a bit disappointing so I swapped to a conventional running ledger to try and improve matters. I was quite proud of my bankside fashioned bobbin but no matter how long I stared at it admiringly it refused to budge.
Thoughts of how England were doing at Lords started to creep in, eventually temptation got the better of me and I packed up and drove home with Test Match Special blaring out over the radio. As I write England need one wicket to win one of the best test matches I've ever listened to.