A bit of a marathon blog entry this but I always forget how much planning and organisation is needed when you intend to fish several different venues in a short space of time. I haven't had time to write individual entries. One venue would need a bivvy and the kitchen sink, one would need waders, one maggots, one lobs, one trotting gear, one quivertip rods etc etc. and I still haven't managed to squeeze in a tenching trip to Marsh Farm or a visit to Speen Moors.
Monday 15th June - River Thames
An early arrival at this first time stretch. With permissions in place and pre-baiting taken care of over the previous week I was all set up by mid afternoon, Keith and Steve were planning to arrive later on. I killed time by visiting the various ale houses on offer, no real hardship then. When the others did arrive their set ups provided an indication of how we were all going to fish.
Steve - as usual the subtlety of a howitzer. He didn't want to waste Keith's pre-baiting efforts so would be strategically placing hair rigged boilies (soaked in various noxious concoctions) far bank, mid river and near bank. With that, a set of alarms and his easy exit bivvy how could he fail: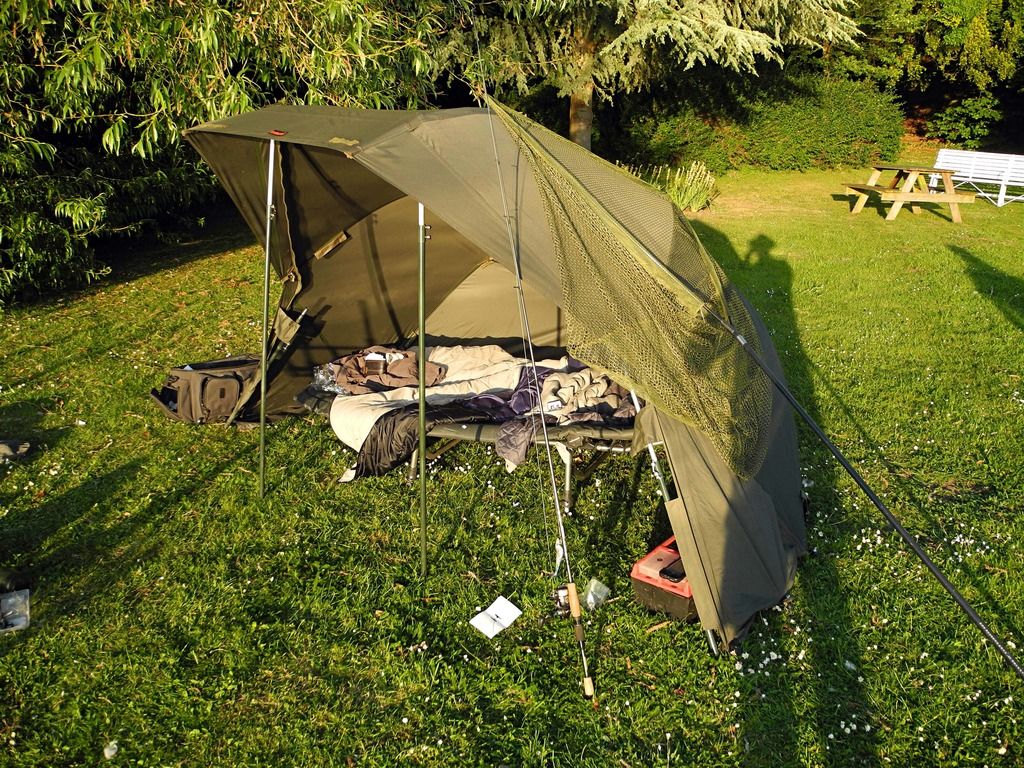 Keith – the elder statesman of the group put us to shame. He would be staying awake and fishing through the night with his quiver rod and isotopes, hence no bivvy. I thought he'd do well to stay up until midnight, I'd gone to bed well before then:
Me – I wasn't going to be fishing until dawn….probably well after. Having just spent a small fortune on a bivvy and bedchair I wanted to damn well sleep in it and anyway I'd spent way too much time in the pub(s), it was a nice sunny day after all.
Tuesday 16th June – River Thames
The new season arrived and I couldn't have been more thankful. Sleeping on a bedchair is an awful experience compared to my bed and it was made far worse by waking to find Steve poaching my swim with a spinning rod. Mind you poor old Keith had put up with stereo snoring all night and whilst we admired his determination we didn't think that his paltry haul of a few snots was worth it. Steve had to leave to prepare the boat for his forthcoming holiday, Keith fished on for a bit and did a lot better during daylight hours ending up with a mixed bag in his keepnet, a 4lb bream being the best of the bunch. My master plan of lobs for perch and bread for chub failed miserably, in the end I resorted to feeder fishing maggots just to get a bite and I did…..another 4lb bream, I was in no rush to find the camera.
By mid morning I had the venue to myself and started to get that familiar first day anti-climax feeling. It'd been great fun fishing with a couple of mates but they'd be the first to acknowledge that we'd hoped for better results particularly as the swims had been pre-baited for a week. By mid afternoon I'd had enough, I'd been visited by another keyholder to the venue and it was obvious that she didn't know that we had permission to be there and that she didn't want us there. I politely explained the position and assured her that we'd leave no sign of us ever having fished, this seemed to placate her and she left but when Steve arrived for an afternoon session we decided that it would be best to call it a day so we packed up.
So that was my opening day, not quite what I expected but great to be on a river again.
Thursday 18th June – River Kennet, Thatcham
Wednesday had been a no fishing day, my trotting gear had been stashed away since March so I spent the day re-loading 'pins, setting up both rods and attending to chores.
Come Thursday I was chomping at the bit to go fishing with less than a hundred weight of gear stashed in the car, a rod, net and wicker basket, that was it. A leisurely start meant that I avoided the Thatcham rush hour traffic and the ridiculously conservative timings of the level crossing closure, on occasions I've been sitting there for ten minutes with the gates closed and no sign of a train, compensation came in the form of an empty car park when I arrived at the venue. I love this place, it's where I caught my first ever barbel back in 2010 and although I've never repeated that success (and wasn't about to) there are so many varied trotting swims it's always a possibility. What I have started to find though are the chub, good ones too and the trend continued today as I dropped the float into a familiar little pool, first cast produced this 4-06 chub.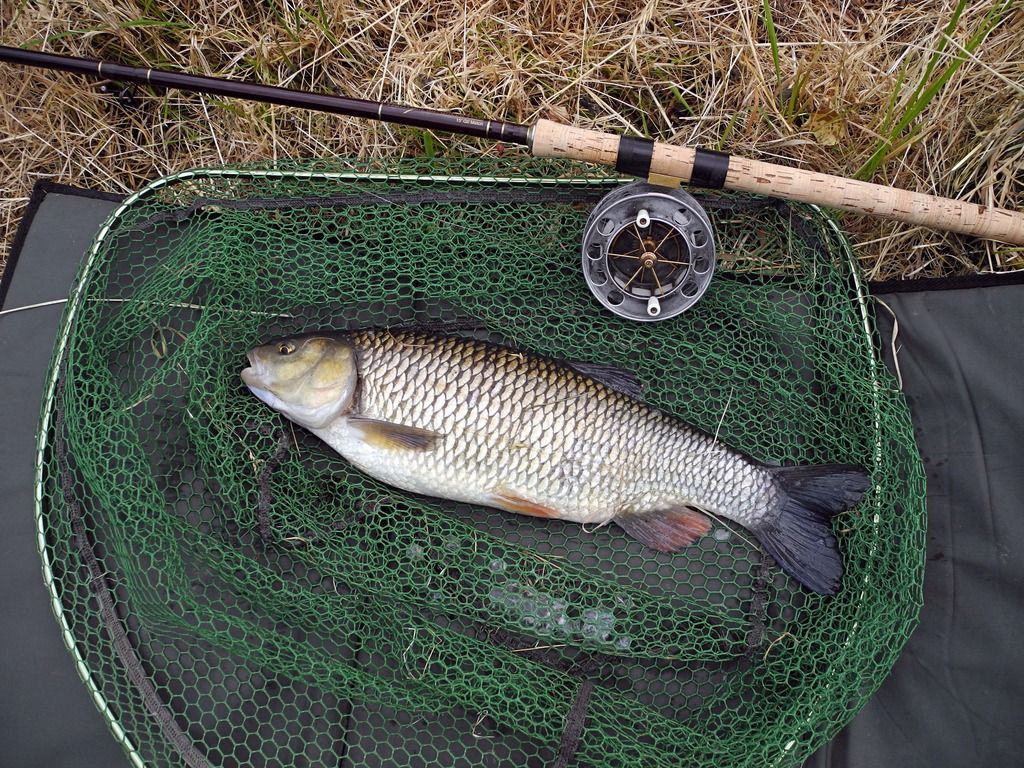 As previously it proved to be the only fish from that swim so I moved downstream to trot a float under a rickety footbridge. This swim has produced barbel and chub for others but in all the years I've fished it I've only ever caught trout and minnows. Today was slightly different in that dace put in a welcome appearance but still nothing to test Mr Harrison. Still a wonderful day's trotting though and it was good to be back in familiar territory.
Sunday 21st, Monday 22nd & Thursday 25th June - River Thames, Wallingford
These three occasions are grouped together because they're all from the same venue and the results of each day were pretty similar, it's a new club that I've joined and I was keen to try it out. The annual fee is very reasonable, there are about 30 swims to choose from and the venue is very well kept, grass cutting is a perpetual during the growing season. The key feature of this fishery though is that you can drive your car directly to the swims, close enough to be able to take shelter if it rains. It's the antithesis of jungly fishing but there are times when I just want convenience, I can load up the car with enough kit to give me options and if I don't want to use a float rod [for example] it stays in the car. The ground is quite level so even during a rain sodden winter careful driving should still provide access.
The one downside to this venue is the rowers, there are a couple of clubs nearby and once they all come out for morning practice the river gets very busy. The first time an 'eight' came past at full chat it was quite an impressive sight but after a few runs up and down the river with the coach bellowing out instructions from little boat in hot pursuit it became frustrating. I've yet to work out if there are any quite periods so I'll have to put up with it until I do.
The fishing was quite good with perch being the predominant species, I caught them up to two pounds on lobs and even had a few takes on a jig head, a livebait experiment is next on the agenda. So far no proper chub have shown, my ledgered flake tactics have failed to impress although chublets have taken maggot so there's still hope. I did hook something very large just as I started to retrieve for a re-cast but it felt a bit odd, it was definitely a fish because I could feel a vague thumping but not the direct feel when the hookhold is in the mouth. I lost it and concluded that I'd foul hooked something.
I'll give it a season and see what happens.
Wednesday 24th June - River Kennet, Newbury and Thatcham
Back to the Kennet for a wading day and a plan to fish two venues, the first of which has been subject to a bit tree trimming recently. There's a particular swim where I've been able to observe barbel and perch from a vantage point, they were in deeper slower water directly below an overhanging tree but the direction of the flow at that point made it almost impossible to send a float close enough to tempt them out. The tree has now been removed and although it was likely that the fish would have cleared off I felt it was still worth a try, it was a new swim after all.
The favoured spot a little further upstream was devoid of chub so it was pleasing to find that the new swim whilst not hiding any barbel did produce a few chub of about a pound, several dace and some small roach. It was nice to see schooly sized chub coming through, it's easy to be seduced into only going for larger specimens forgetting about the importance of smaller fish being present.
Happy with the morning session I then drove to the venue I'd fished the previous Thursday, an empty car park greeted me again. This time I wanted to concentrate on the footbridge swim so tippy toed as quietly as a I could whilst crossing it, I must've looked a bit daft but the caution paid off because not long into the session my first decent catch from under the bridge was landed, a 4-10 chub.
Friday 26th June - River Kennet and K&A Canal, Thatcham
No opening week would be complete without a visit to the water responsible for my two previous 4lb perch successes. Conditions were about as bad as they could be i.e. bright sunshine but that didn't matter, I'm convinced that it's the characteristics of the river at this point which keeps the perch there and if they were present maybe I could tempt one.
The section was quite different from the last time I fished it, the nettles and nasty thistley thing were neck high so I'd taken my winter jacket knowing that I'd have to wade through at some point, but where to jump in? I could see where I wanted to be but it was a thirty yard walk through stingers whichever route I took. Salvation came in the form a vague trail left by a previous intrepid angler (almost certainly Chris Plumb) so in I went eventually arriving at a nicely trodden down swim – thank you Chris.
My few hours here produced dace, lots of them and although no perch were forthcoming the session was notable for the first dace to grace my Waitrose weigh sling. I hardly ever weigh these fish but this one was noticeably larger than others I'd caught that morning and managed to push the needle around to 9oz. I was quite impressed with that and so it seemed a fitting time to move on to the canal…...after the return trip through the nettles.
The canal session was quite different, casual still water fishing sitting on my basket soaking up the sun. My lobworms were looking decidedly dead, something I've since taken up with the tackle shop as they were only five days old and had been kept in a fridge. We looked at several tubs of his 'fresh' stock but none of the worms were lively enough and some were on their last knockings even before being sold.
That said the corpses still produced bites but I couldn't connect because I'd been too lazy to change the size 16 hook I'd been using previously, tying on a size 12 fixed it and I was instantly landing perch, maybe only to a pound or so but good fun all the same. When the lobs ran out a switch to maggot (and back to a 16 hook) provided fine entertainment for the remaining couple of hours with dace, chublets, small roach and a tiny pike being swung to hand.
A lovely day to be out.
Sunday 28th June - River Kennet, Thatcham
The final day of my two week holiday and back to the rickety footbridge fishery, the forecast looked ok but on arrival the gathering rainclouds suggested that the weatherman had spoken with forked tongue. A new swim was on my list, the weirpool at the top of the section and I decided to go straight there rather than work my way upstream.
It's a good job I did, after only a couple of hours the rain came and lots of it but during the time I did have my suspicions about perch being present were proved correct. I need to go back with static bait tactics, the club access is at the tail of the pool so my float was always moving towards me albeit slowly because of the low water and closes sluices. This session was to provide a heart stopping moment when I hooked a brown trout weighing about four pounds, I was convinced it was a perch and started congratulating myself on the choice of swim. To say I was disappointed when I saw it is an understatement.
Rain stopped angling activity and it looked set to stay, I took cover in the car for a while but with no sign of it abating I accepted that my opening of the 2015/16 season had come to an end. It'd been one of my better starts with two good chub, a couple of new swims to try, some reasonable perch and a new club to explore. I wouldn't mind at all if every season started like that.