The stuff that dreams are made of....
---
Having just re-read my last entry, I have to raise a wry smile. I added it just before I set off for a few days fishing with Elton down on the syndicate lake. In the entry and wrote about how I just had a feeling that it was going to be a good session as all the omens were looking good.
Just how good it actually ended up being surpassed any hopes that I might have had before hand, and looking back I still can't believe how everything just seemed to fall into place. That's not to say it was easy fishing, far from it, there was quite a bit of weed about and it took time to feature find accurately in order to locate spots I was happy with, but once I had, it all seemed to go like clockwork – my best ever session, topped by my first UK thirties, and yes, that's plural! – A 30 mirror and a 30 common amongst a whole host of absolute stunners – the stuff dreams are made of!
Sincere thanks to Steve Burke for making it all happen, to be honest, it's still not sunk in yet!
Final tally for four nights was;
27lb 12oz Mirror
27lb Mirror
26lb Common
33lb 4oz Mirror
30lb 8oz Common
26lb 6oz Mirror
21lb Mirror
14lb Common
A few pictures;
Arrived at around 3pm Monday and decided on 'Middle River'. Had a bit of a social with Elt and finally got my rods in just after 8pm;
First action came at 10am the following morning from my distance rod, a stunning mirror at 27lb 12oz.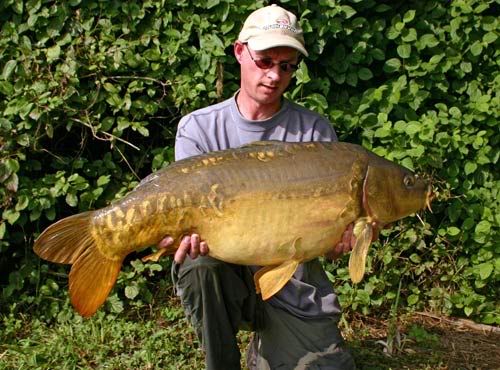 After we spotted a fish boil in the margins during the morning I found a clear spot and dropped some of Mick's new bait on it at around 2pm – two and a half hours later and off it went – 27lb mirror.
The following morning at around 6am the same rod produced another; a mint 26lb common.
During the day Elton banked the 18lb 4oz, then, at around 11pm my distance rod produced the big fella, all 33lb 4oz of it!!;
After a bit of a celebration I baited up again and the same rod produced the big common at 6.30am the following morning!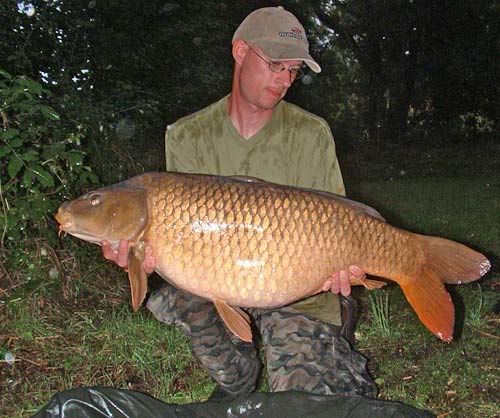 10.00am and the same rod produced this stunning 26lb mirror;
Elton snuck the 21lb common minutes after and his stunning linear came later in the day. I then had this 21lb mirror at around 8pm.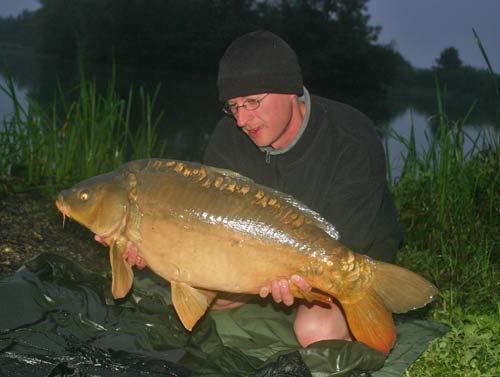 My final fish came just after 1am on the Friday, a small but stunning common of 14lb which fought well above its weight.
Big thanks to Elton for all the piccy's and to Steve for the hospitality, a session I'll never forget!