River Kennet and K&A Canal, Sunday 20th December 2015
Today's itinerary consisted of three venues all fairly close together so travelling between each on foot was the order of the day (I was to regret that decision). The high temperature felt at odds with the low sun and although there seemed little need for waterproofs I donned them anyway, the stiff breeze would've cooled things down bankside.
The first venue may not be available to me for much longer, it's one of two up for re-consideration by the club committee. The rent is due for renewal and although a minority of members fish there the numbers might not be sufficient to justify the outlay. It would be a shame, the stretch was responsible for my first 4lb perch on the last day of the 2013/14 season so I have fond memories. Today's memories were a little different, fright was the sensation as the only fish caught (a grayling) was targeted by a large pike as I retrieved. Its head was huge and I'd estimate that it was certainly a good double perhaps getting on for twenty, whatever the size it made me and the grayling jump out of our respective skins. Fortunately for the latter the pike missed.
After that excitement I wandered off to the canal for a short session. I had planned to be here at dusk but it was so close I thought I'd chance my arm early for perch. Nothing at all at this spot, no bites or any signs of fish, that didn't matter as I'd be returning when the light had faded.
The walk to the next venue turned out to be quite a jaunt and I did wonder whether I'd done the right thing in not loading/unloading the car. It was pleasing to see that I had the venue to myself and made a beeline for what's turning out to be a banker chub swim.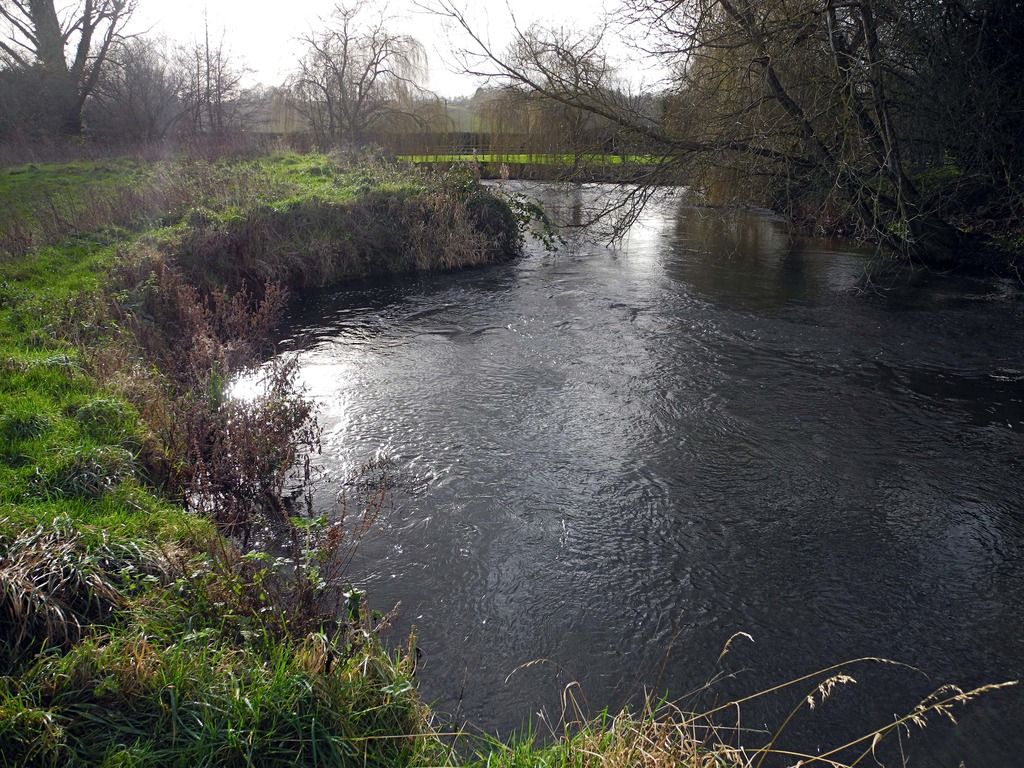 If the chub are in residence in this swim they usually show themselves very quickly and today was no different, after only a few trots through I was into a decent sized fish….briefly. The hooked pulled and at that point I thought I'd spooked them and blown my chance but after resting the swim for five minutes (listening to JV44's tale of woe about having to put up the Christmas decorations) it turned out that chub were still there. This 4lb 4oz example proving the point;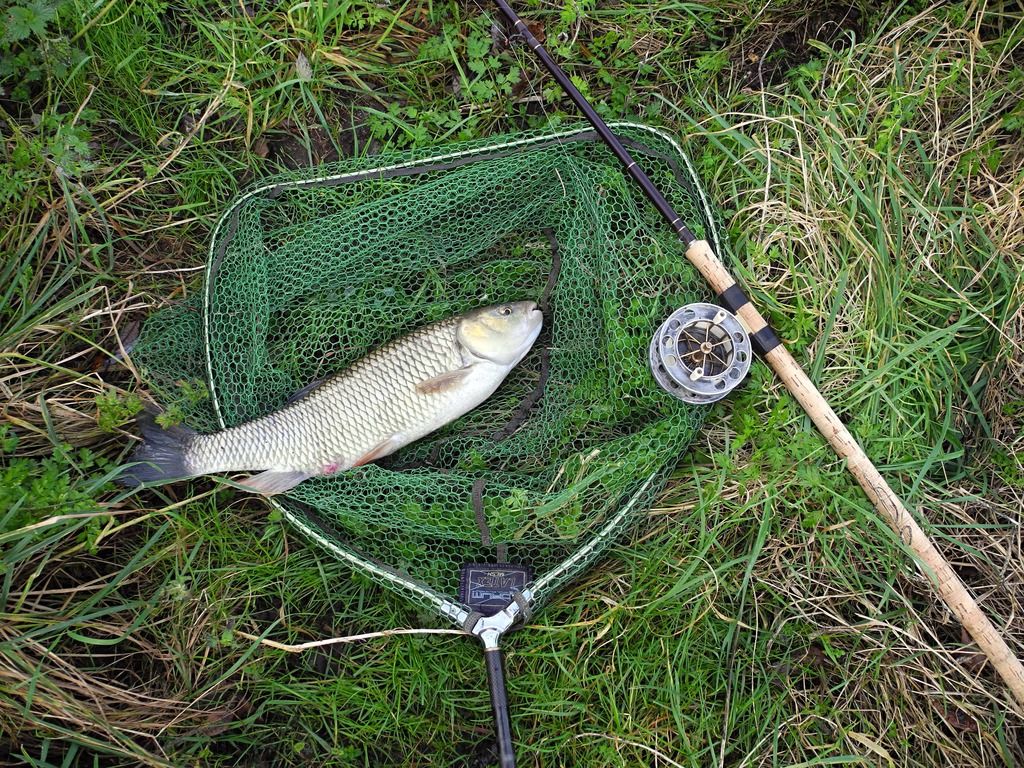 Same venue next swim. This is the weir pool at the top of the fishery and in times when barbel were caught regularly at this venue you'd always find this swim occupied, usually by an angler with a bait cast into the pool. These days, however, it's often vacant and when levels are low a large area of slack water is created just in front of you. When levels are normal the water flows straight towards you so it's difficult to float fish, today was ok though;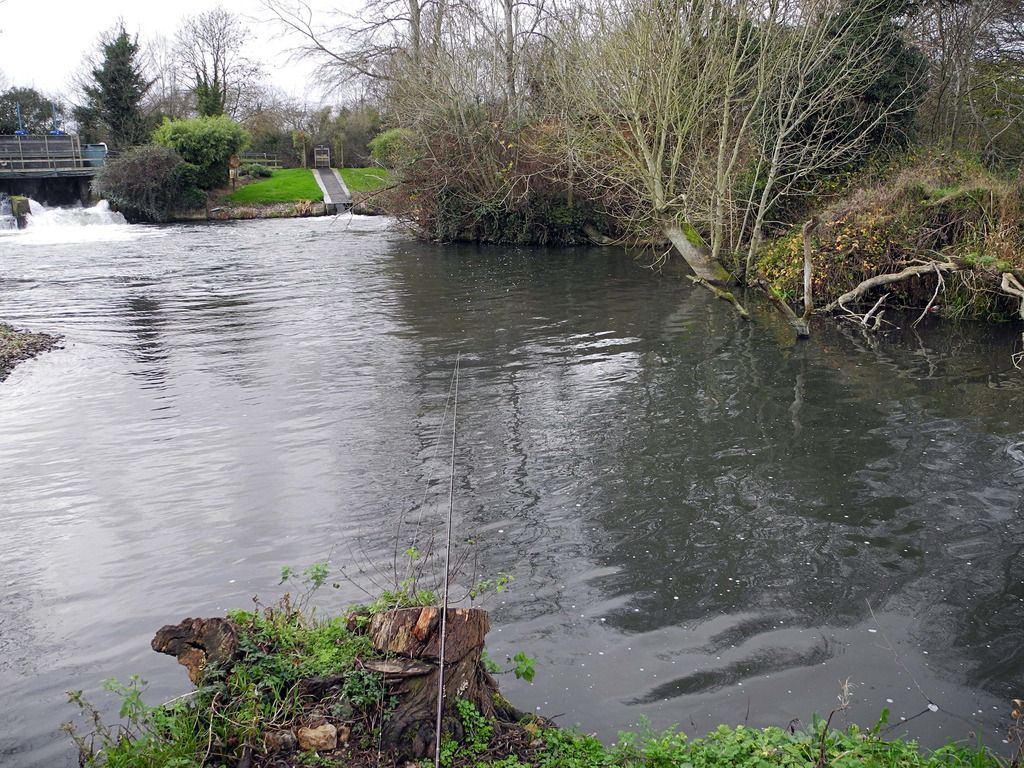 I've always thought that this swim had perch potential and so with the clouds darkening overhead I decided to get my fix here. A small jack pike arrived first and took a worm without registering a bite, the float hadn't moved for five minutes so I wound in to re-cast, I'm not sure who was more surprised, fortunately I was able to get at the hook with forceps. It took a while and a few torn up lobs to get the perch interested but my efforts were eventually rewarded with some good fish all needing the net, the best of the bunch;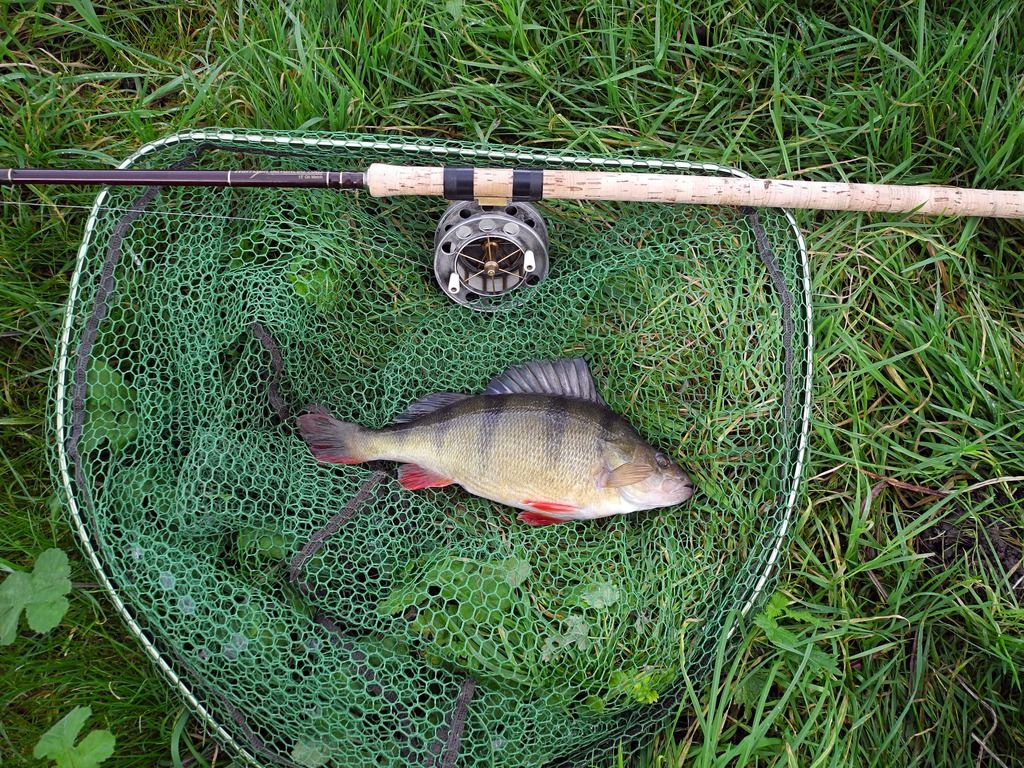 It was getting towards mid-afternoon and time to head back to the canal for the last hoorah. The forecast was for light rain and I wasn't too bothered as the drops started to fall but the rain got heavier and the car was ten minutes away. By the time I got to the car the rain was horizontal and I was soaked through, maggots were escaping and the contents of my wicker basket were wet (to be expected I guess). Blue sky was on its way but I felt pretty miserable by then and decided to bail out in favour of a late afternoon roast beef Sunday lunch.
So I didn't make the dusk session but I'm off work for a couple of weeks now so will be making a return trip no doubt.