River Lambourn, Newbury, Wednesday 13th January 2016
"Hello mate, happy birthday, I hope you're out fishing somewhere, I would be". I wasn't out fishing, I was at work at 9:00am trying to figure out why I was listening to Steve's voicemail message and had missed the original call. My Windows phone has a mind of its own.
Steve had made a good point and after a quick conversation with my boss I was heading back down the M4 towards London wondering where to fish (I hadn't been sacked). The Kennet I knew was high and coloured and whilst there would've been a couple of places which might have been ok the obvious choice was staring me in the face. The Lambourn is remarkably resilient to heavy rainfall in terms of both colour and water level, it takes a lot for it to flood and a lot for it to lose the crystal clear water favoured by its inhabitants. An afternoon grayling fishing it would be then.
I haven't fished the Lambourn for at least a couple of years preferring to target chub and perch elsewhere, neither of these species have established a foothold in this river despite the EA constructing fish passes at its confluence with the Kennet. Grayling have moved downstream through the passes but no 'new' coarse species have moved upstream. That's always puzzled me but it didn't matter for now, the sun was doing it best to brighten up the day and my right wellie had dried out after a full on, leg in the water dunking on Sunday.
This is all you need to go river fishing, probably less if you can do without the basket but I like it in a retro sort of way and it does actually support my weight when pressed into service as a seat.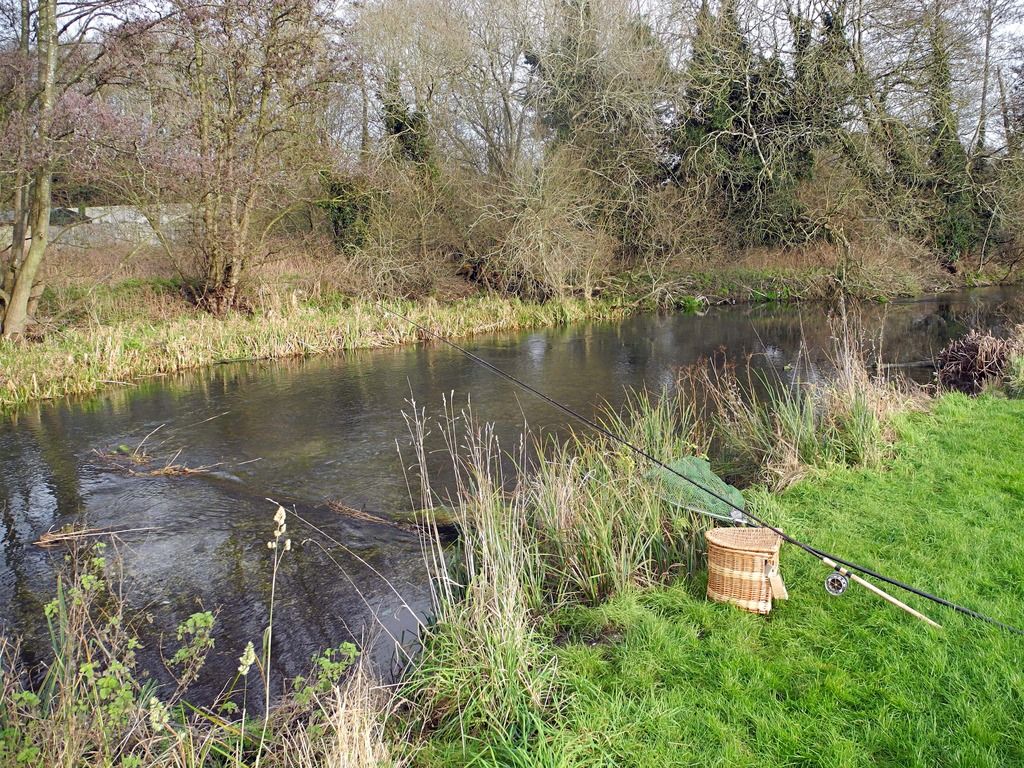 Impromptu sessions can often be surprisingly good and today was one of those occasions. I caught 21 grayling - mostly in the 10-12oz bracket with a couple of larger fish approaching a pound - and 5 brown trout. I've never had a session like that on this river, every spot I tried produced fish and by the time the sun could no longer keep me warm it didn't matter, I'd already had a wonderful day. A pint of ale in front of an open fire in my local rounded it off nicely.