1
Totally unexpected.
Posted by tomhaggett , 07 December 2014 · 258 views
5th December - Berkshire Stillwater
So, when I got in the car this morning the temperature gauge read 0.5 degrees... hardly conducive to catching carp but that was what I planned to try my hand at, for a few hours anyway.  The plan really, was to lob out a couple of rods while I waited for the light to drop so I could go perching late afternoon - dusk.  Never did I actually expect to get a bite on the lake, it was just a better place to waste the day than home. 
I arrived just after the day had dawned and had a quick chat with a guy I knew on one of the other lakes.  He'd blanked for a couple of nights, as had everyone else and "the lake seemed dead".  Anyway, I pottered off down the path to have a quick look at another lake, taking my lure rod with me and having a few casts here and there while checking the fettle of the river and looking for signs on the lake.  A few different patches of fizzing were coming up over an area I've caught from before, and one that I expected the carp to be in given the weather so off to the car I went.  When I got back to the other lake I spotted a guy on the other bank with a fish in the net so nipped round and sure enough he'd just landed a nice upper double common... perhaps they would feed after all.   
A long walk later and I was in my plot with slightly more enthusiasm having seen one on the bank.  Rod number one went straight out onto the fizzing, casting well past and winding the lead back until it was just behind before letting it drop down on a tight line.  Rod two went to a favourite spot that's ideal for the colder months, deep, silty and close to a significant snag.
Obviously I wasn't expecting anything to happen so I didn't even bother turning the alarms on while the line settled for five minutes.  I wasn't even paying any attention to the rods and whilst sorting my stove out for a much needed, warming coffee I heard a quiet click, turned round and saw the rod buckling in the rest as a fish tried to make the sanctuary of the roots. 
I almost fell over with shock to be honest but after a pretty sedate battle I slipped the net under a typical common.  Feeding spells can be short and sharp in the winter so I quickly unhooked him and left him resting in the net whilst I got the rod back out.  5 minutes later, as I was sorting my camera gear out, the recast rod signalled a twitchy take... from a bream... in December... on a dirty great size 4 hook.  I guess it was 6lb or so.   
Before I'd realised it was a bream I'd had a little panic as the net was still full of carp number one so straight after getting the rod back out I transferred the fish into the retaining sling whilst I got my tripod set up.  Then I realised that I'd left my remote in the car. Nothing else for it then, I'd have to call Jimmy, the lad who keeps getting mentioned that seems to be ending up as my bank bitch too often.  He was already on his way to town so promised to be along within half an hour.  He's pretty good behind the lens young Jimmy and I was extremely pleased I'd rang him as by the time he'd turned up I'd just landed carp number 2, another common, a bit smaller and with a distinctive scar on one side... this was unbelievable.  A December brace.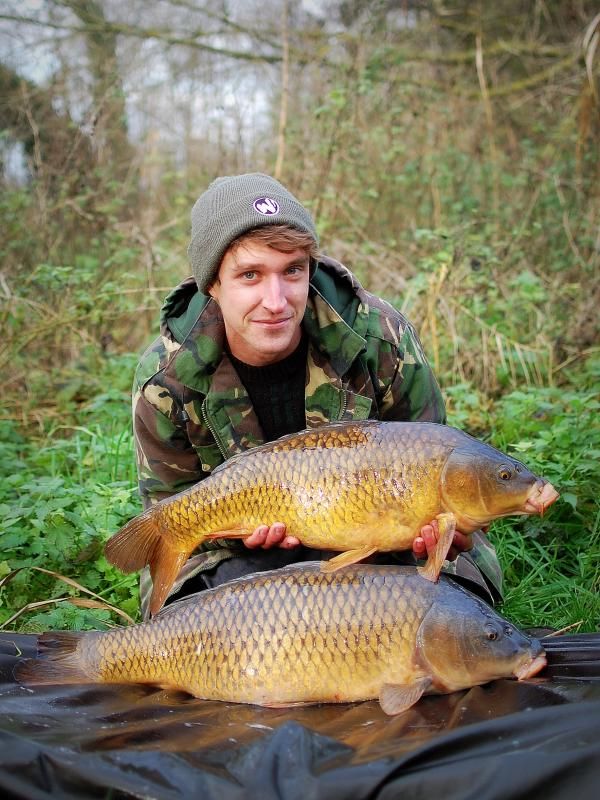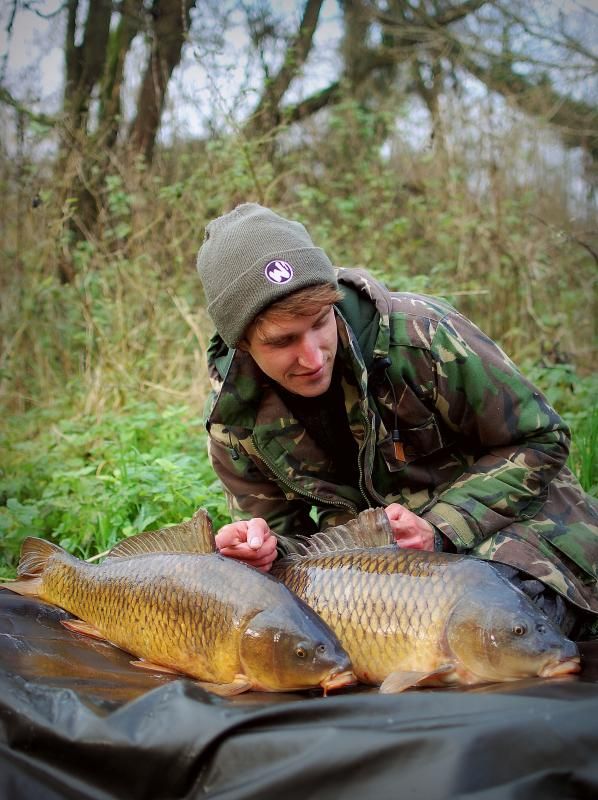 The day just continued to get better and over the next few hours that same rod went twice more leaving me with 4 winter carp for my efforts before they seemed to move out of the area on dusk.  I'd not lost any, I'd not lost any gear infact it couldn't have gone much smoother.   
All the fish were commons, the biggest going about 17lb at a guess.  Needless to say I never went perching in the end. 
The remainder of my bait was spread around the area for a return next week.  The rods are already all marked up ready so it'll hopefully be a case of two casts before sitting down to await some more cold weather action.