The penultimate blog entry for this season recounting two trips to the Kennet, one venue a day ticket water between the months of October and March the other a last minute invitation to fish a Middle Kennet Estate.
Barton Court, Tuesday 12th March 2013
A long arranged trip with Paul, a work colleague who's just bought himself an Okuma Sheffield and he was keen to try it out. Although we both had the week off Paul was limited to the day he could fish, Tuesday it was come rain or shine. We didn't get much rain or shine but what we did get was a howling northerly wind which threatened to freeze any body parts at the merest hint of exposure. It wasn't just a threat either, only half an hour after arrival it was obvious to me at least that trotting wasn't on the agenda, the line froze in the rings, maggots came out of the water solid and my fingers were getting very cold. Paul was coping better by wearing mitts and taking them off for a little time as possible, I'd stuffed my hand warmers down the back of fingerless neoprene gloves but this did nothing to stop the onset of what became excruciating pain.
It really was that bad and I had to resort to plan B very quickly. After a cup of tea I set up the quivertip rod, grabbed the chair and set off in search of chub, I knew some sections were devoid of trout so I targeted those trying several different swims all the time revelling in the newfound warmth within my skiing gloves (hand warmers inserted).
In short I blanked, I had one bite which I think was a chub but I waited too long for it to develop and the fish became disinterested. But for that one exciting moment the quivertip would've remained motionless had the wind not been blowing it about all over the place. Paul fared better with several trout to his account by the time we were beaten into submission at 4:00pm, mind you that's longer than most of the nine anglers which started the day, by 2:00pm there were only four left!
Mt Crabtree will tell you this is a good chub swim…don't believe him;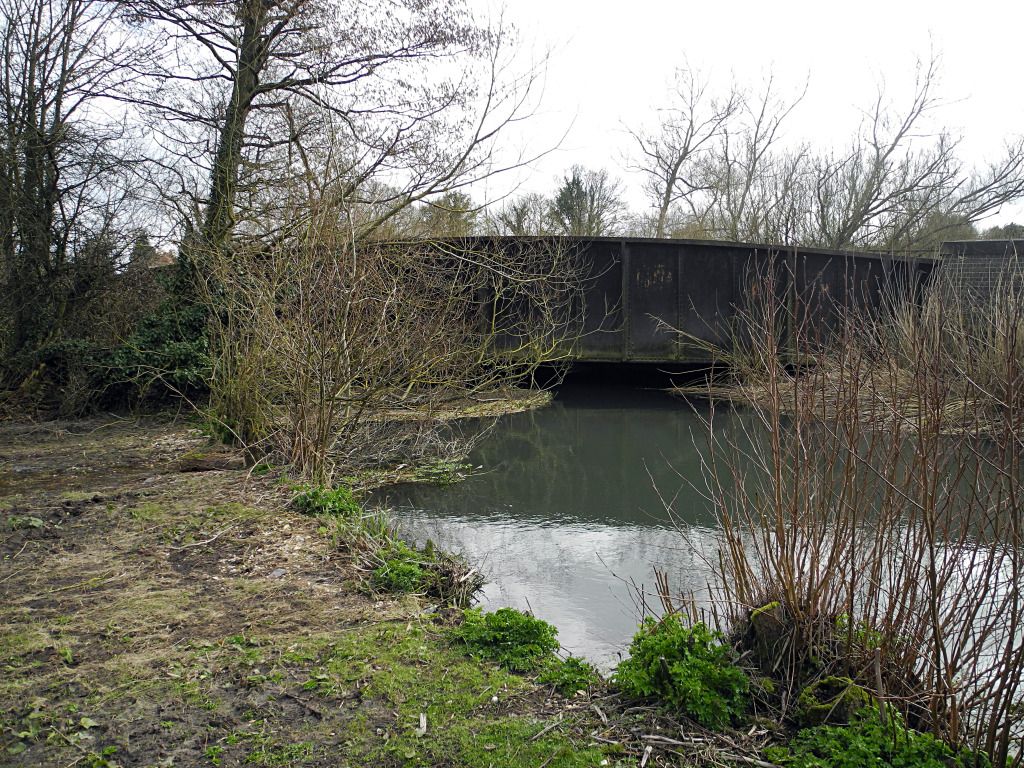 What a day it'd been, I never thought I'd be so glad to stop angling and as I relaxed in a Radox bath listening to Planet Rock perusing the curry menu I wouldn't have cared if continuing bad weather meant that was my last session for this season. Then the e-mail came, last minute access to special place had been granted for the following day, I could've cried.
Middle Kennet Estate, Wednesday 13th March 2013
We anglers are nothing if not resilient but I have to admit that had it not been for two factors I wouldn't have made this trip. The first was a very civilised meeting time of 9:30am and the second was the prospect of some sunshine and lighter winds, still cold but positively blistering compared to Tuesday. I was surprised to see only two other anglers turn up and even more surprised that the Riverkeeper hadn't restricted access to any of the estate. The usual rule of 'catch a trout and move on' applied but other than that we had free reign.
First swim was a place I was sure would deliver, a far bank slack which has produced for me in the past and has been described by Chris Plumb as a 'banker', what more assurance would I need?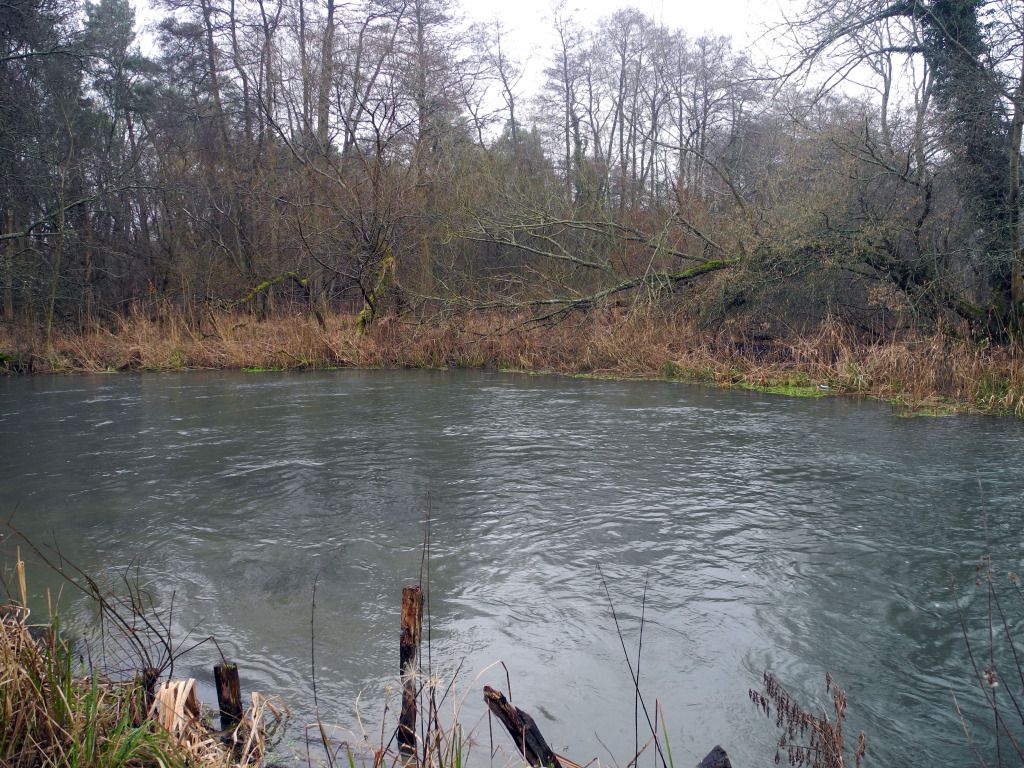 Plenty as it happens because on this occasion the chub weren't there. I tried feeding maggot and trotting and then in desperation switched to ledgered flake but neither method put a bend in the rod…...except when I cast out. Oh dear, my run of fishlessness was continuing but it was early doors and the sun was out, in sheltered places it was really pleasant and I was glad that I'd made the effort.
Those positive thoughts stayed with me as I walked to the next swim and my reward was a beautiful looking chub weighing 3lb 2oz;
Hooray I was out of the starting blocks, with confidence restored I put the gear in the car and drove to the upper section where there was a nice fishermens hut which would serve as the brunch location. Fed and watered I headed off to a swim I've seen before but hadn't given much time, it was a slow glide between two fallen trees and didn't provide a lot of space to get a good run of the float;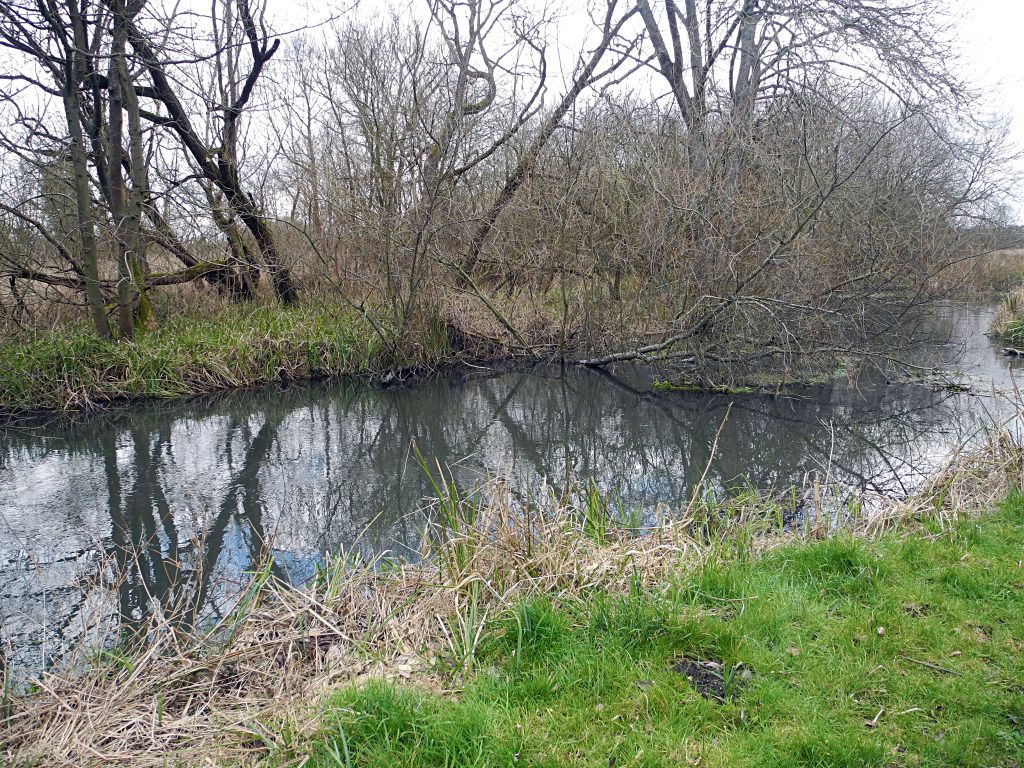 Others had obviously seen the same potential and experienced the difficulty in getting the float in the right place;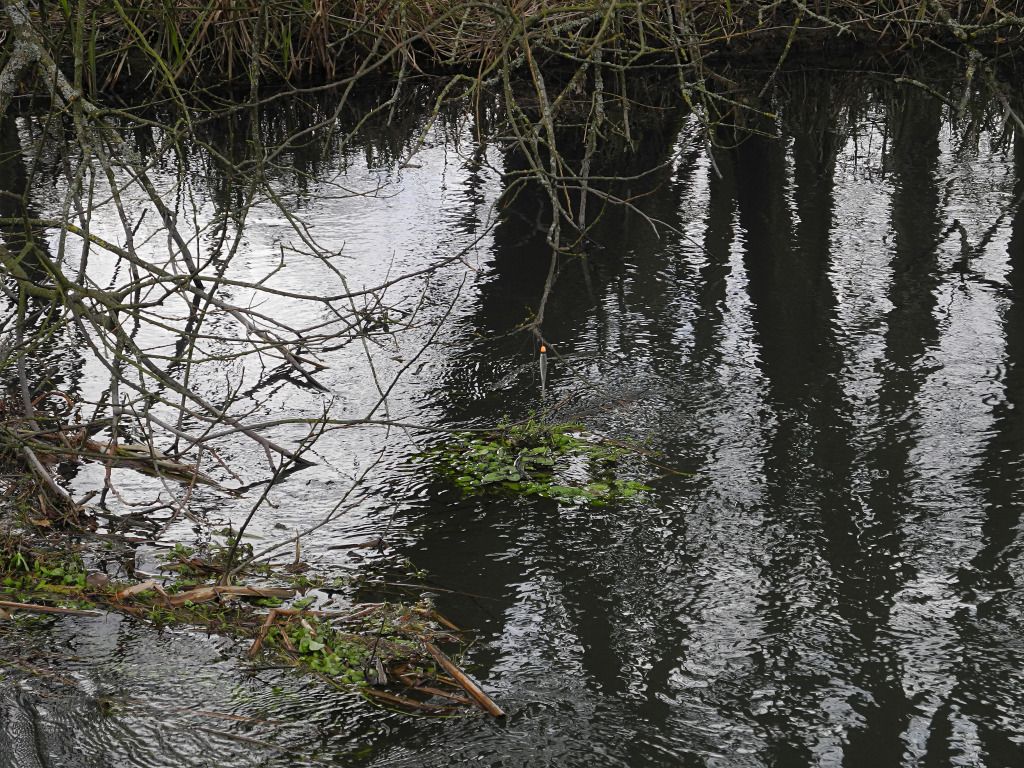 The constant casting and retrieving would've created a quite a bit of disturbance so I fed the swim for half an hour to try and gain the confidence of the fish before flicking out the float. I was on a roll, the plan worked and this swim accounted for three chub, 4lb 2oz, 3lb 15oz and 1lb 13oz. Pics of the two larger fish;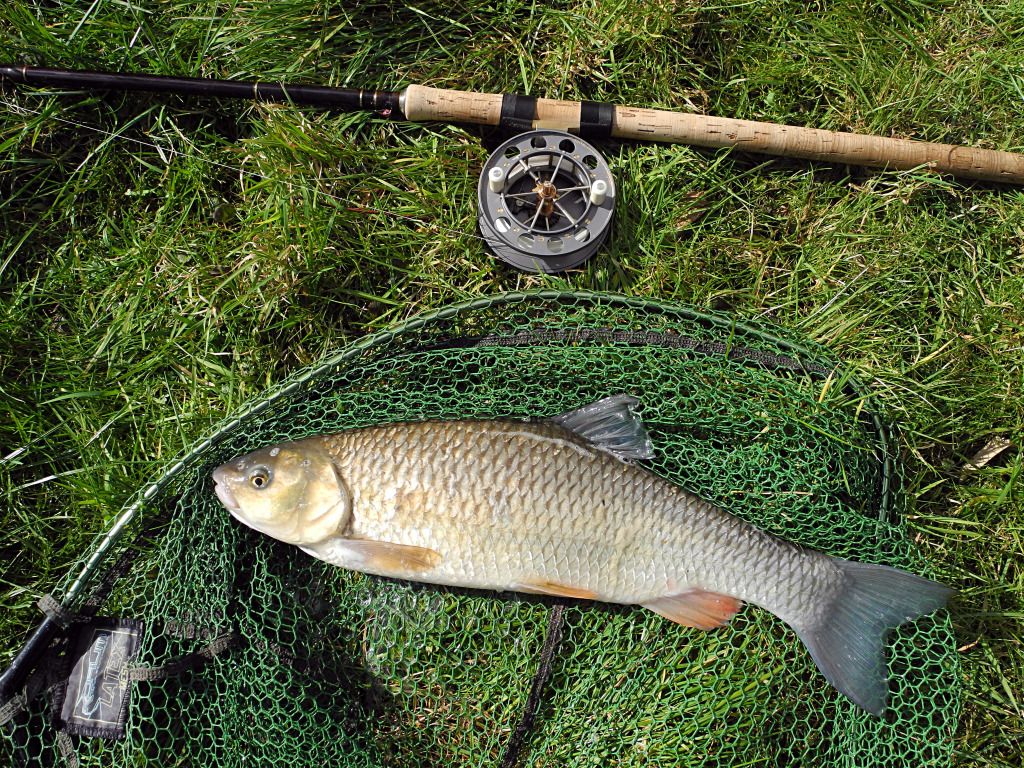 A rainbow trout then put paid to any further activity in that spot but just downstream was another peachy looking swim. All sorts of combinations were tried here, trotted maggot & lob, ledgered flake and lob but all to no avail;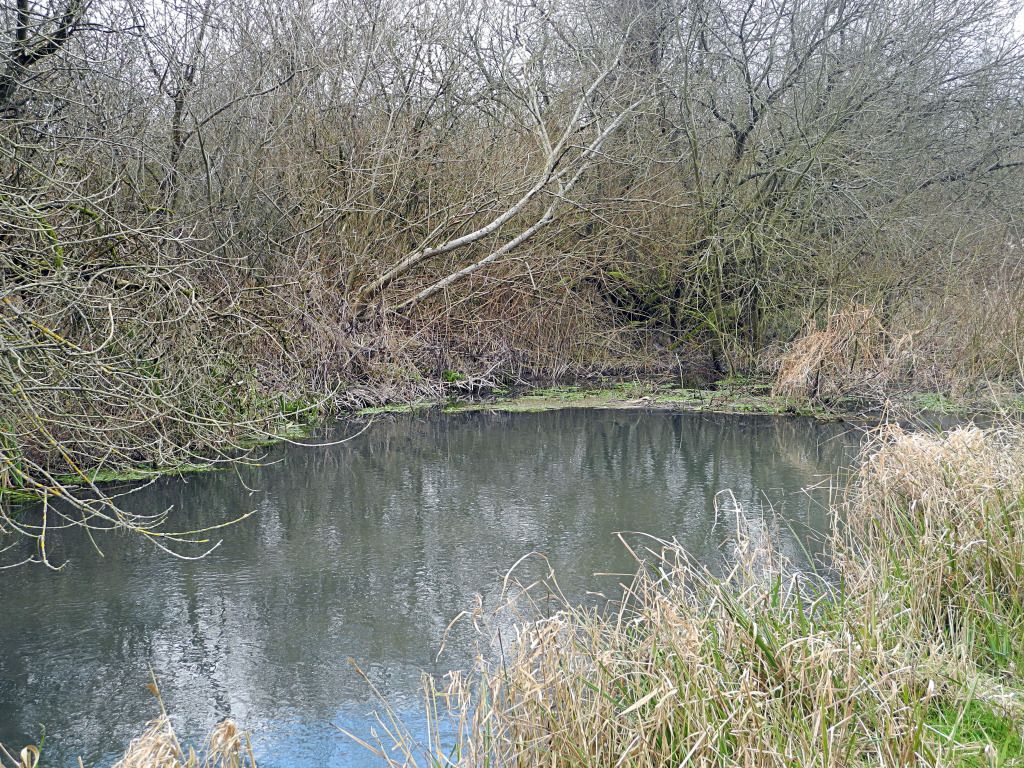 So time to move and the final location of the day was to be The Perch Hole, a delightful little secluded pool which for me has been a good spot for chub as well as perch. Others have also encountered large pike so it really is a bit of a lottery as to what you'll find;
On this occasion it was a 2lb 14oz chub as soon as the float hit the water;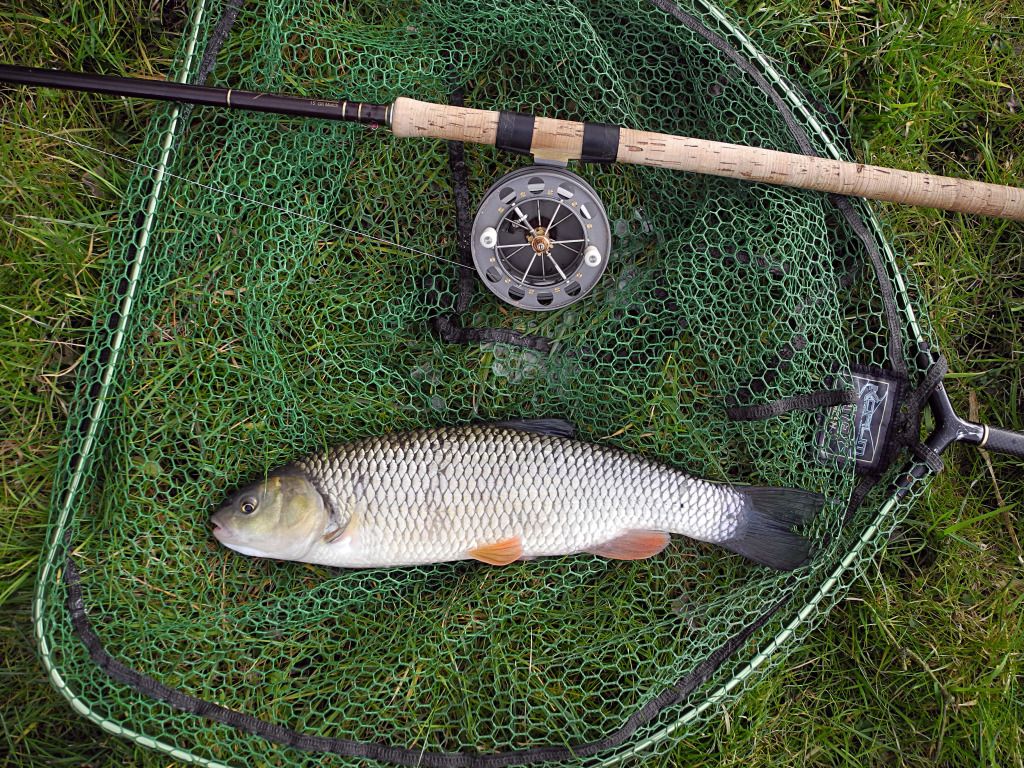 That was my last fish of the trip, there was enough time for a pilgrimage to The Weedrack or a walk to find dace and roach but both would've involved packing up and a drive followed by a bit of a yomp, I wasn't really inclined to do that.
So my plan for the final day? Nothing complicated, I'll wait for the sun to warm the water as much as it can and then have a final dusk session on the canal, this time I have no expectations, it's too cold but I may as well try.