Where's the patent office then?
Entry posted by Rusty ·
7174 views
River Kennet, Saturday 9th July 2011.
A return trip to the swim that caused me so much angst two weeks ago. Again barbel was the target species and from previous experience I knew that this was probably going to be an 'all or nothing' trip. I have caught one chub from here but I regard that as a bonus rather than the norm, the trout don't count.
Making its debut was the prototype bait dispenser, a lazy way to ensure that a regular trickle of hookbait (maggots) was fed into the swim. First job on arrival was to find somewhere to put it, chalk streams are not known for soft river beds and I'd be trotting from a gravelly area so it was all a bit tricky. Eventually I did find somewhere that would take the bank stick and it was roughly on the right trotting line so I filled the bait box with maggots and observed……..no maggots escaping. Either the holes were too small or they'd figured out that they were safer in the box so it was back to the bank to enlarge the holes. This happened three or four times before I got it right and was happy with the number of maggots taking swimming lessons, it's hard to be precise but about 10 a minute seemed ok.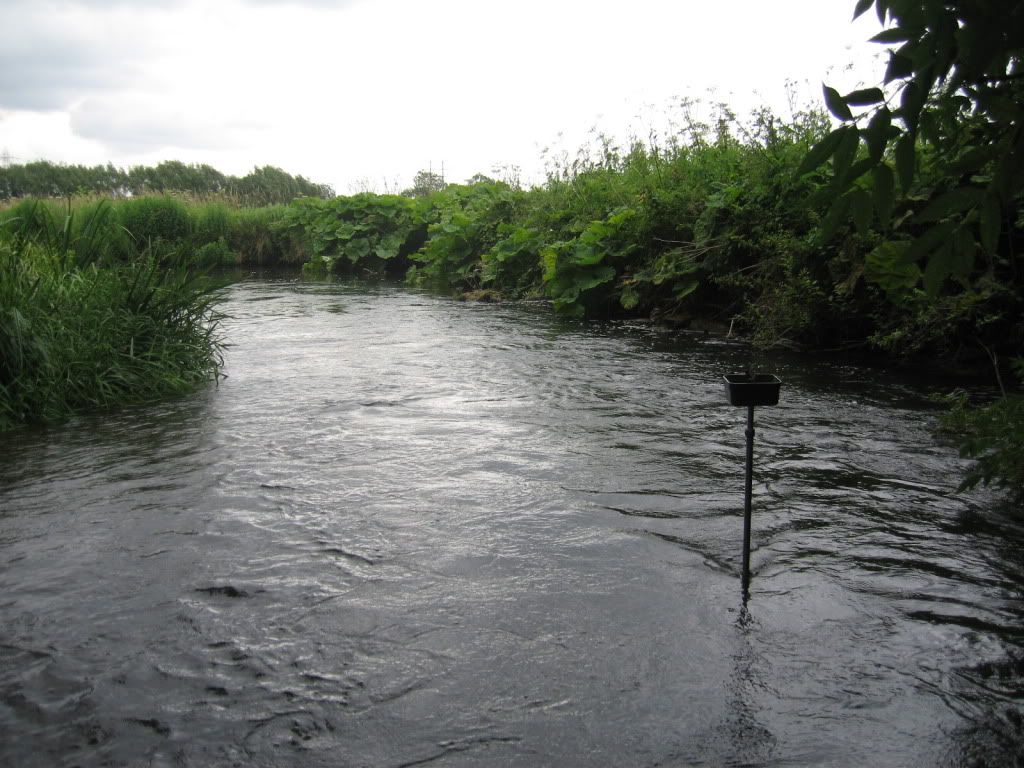 So with that sorted it was time to not do much at all really. I had a few half hearted trots, ate breakfast and wandered around for a bit, a book would've been very handy. An hour into pre-baiting I decided to start fishing in earnest, still too early I thought but Witcher & Harrison were looking a bit neglected and I took pity. As I suspected bites were non-existent, no errant chub this time and even the minnows were playing hard to get, still, it gave me a chance to try different lines and different depths although I knew which line and depth I'd be fishing come the time.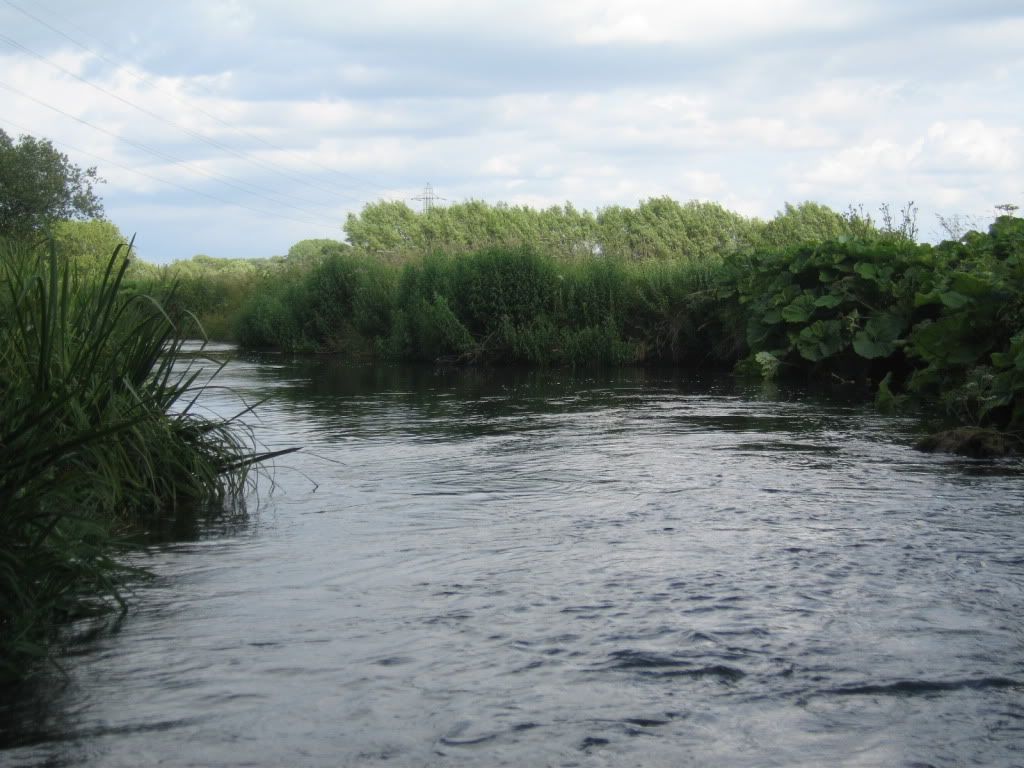 Another hour passed without incident but then I started to get trout plucks from the tail of the swim. Never have I been so pleased to land brown trout (not so pleased that they got a pic though), two in quick succession indicated that the pre-baiting was working at last, the swim had been dead until then. The next event took me completely by surprise, I thought I knew where the bites would come from but this one occurred within ten yards of dropping the float in. A very trouty initial thrash turned into a solid kiting from side to side and I knew then it was either a trout worthy of a pic or a barbel. Luckily it turned out to the latter, a small 3lb 7oz example which had me believing it was twice that size. It had no colour to it strangely but it was a barbel and that's all that mattered;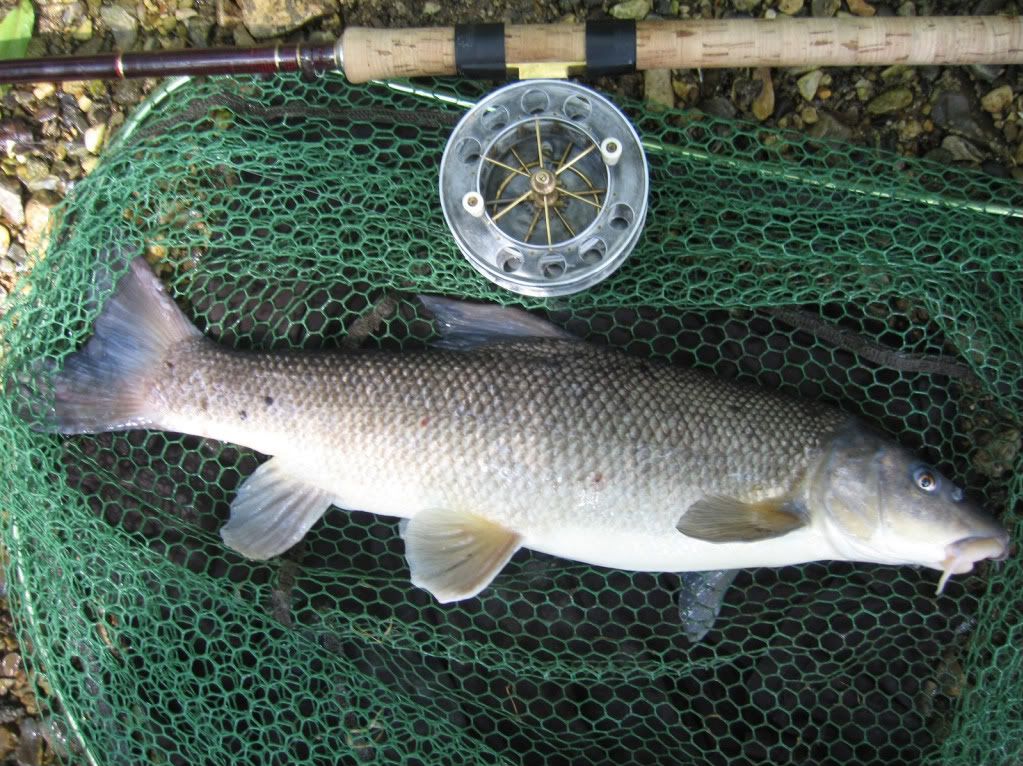 A ciggie/lunch/calm down period followed while the bait box continued to drop maggots. Would there be any more barbel in the swim? Yes there was, this one was taken fifteen minutes later from the tail of the trot where I expected them to be, lots more colour and a whole 3oz bigger at 3lb 10oz;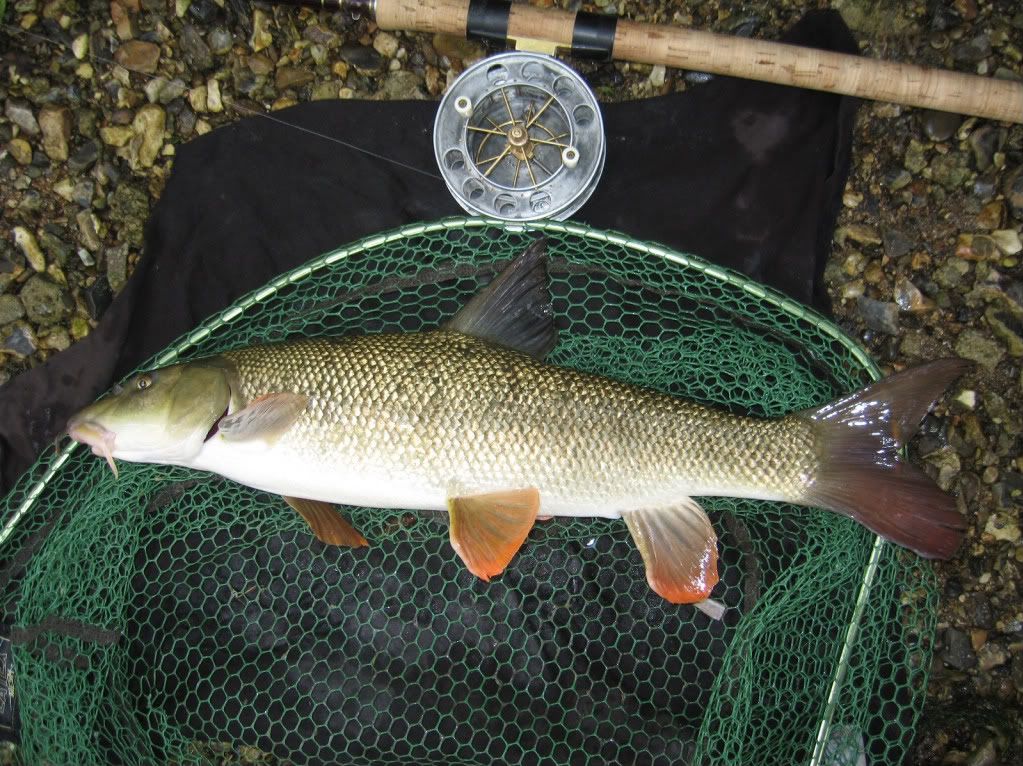 The first time I've caught two barbel from a swim during a session, ok they were tiddlers but on trotting gear they gave a fantastic account of themselves and gave me a few heart stopping moments.
After that it went very quiet, the dispenser was still dispensing and I was still trotting but no bites were forthcoming. I gave it another couple of hours without joy and eventually decided to pack up. Before leaving I waded around the swim to look for features and was surprised to note the variations in depth, some places would be up to my shins others would be so deep I wouldn't venture in. If I ever try static night time barbelling (doubtful) this would be a good spot.
The plan worked, Kennet barbel on the 'pin and I'm really pleased.