K&A Canal, Newbury, Sunday 17th February 2013
After Saturday's drama how could I not revisit the scene? I had plenty of lobs and although the weather wasn't quite as conducive to perch fishing it was pleasant enough and dusk was sure to come. I was chasing…chasing the fraction of an ounce which prevented Saturday's fish reaching the 3lb mark.
On arrival I met a young lad who told me about a canoe race which had taken place earlier, this might have scattered the fish for a time but I reckon perch generally are less spooky than other species and on this canal at least they must get used to a lot of boat traffic during the warmer months. By the time I was settled in the swim (same one as yesterday, no poaching here) the canoes had long gone and it was fairly quite so I was optimistic. My optimism was justified but it was a close call. I had to wait for a couple of hours before the first and only bite, even then I'd shortened the landing net and packed up the scales and camera in readiness for heading home, it was 6:00pm. The float always stays in the water until the very last minute though so it's a case of the left eye looking at the float whilst the right eye sorts out the gear, not easy. When the bite eventually came I found the 8 or so drams that I was looking for. No more than that, 3lbs exactly;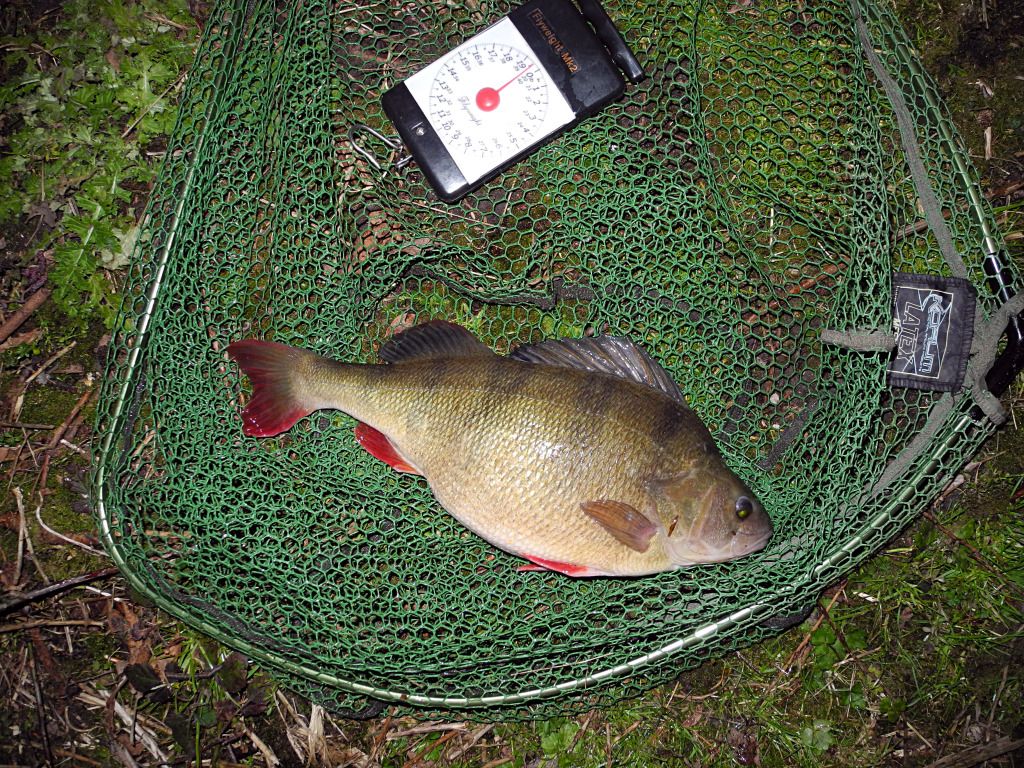 This is the first perch I've seen from this stretch which has showed signs of being spawn laden, it was overly round and I think from here on in weights will increase significantly.
I'm quite getting into this perch fishing, what I like about it is that it doesn't take up the whole day. On my club waters dawn and dusk seem to be the best times so I can do other stuff during the day and then head to the canal late afternoon, if I get really enthusiastic I might try a few more dawn sessions.
I have the last week of this season off work and I think the K&A Canal will be taking a lead role in my end of season activities.