River Thames, Sunday 30th August 2015.
What a strange day this was. It started with a chub quest and ended with three perch for 9lb 7oz. Not all of them were mine though and I have to congratulate Steve on taking the laurels today. But first my plan…mashed bread for feed and flake on the hook, arrive sometime between dawn and 10:00am, bag a couple of seven pounders and celebrate with lunch in the pub.
Everything went to plan for once, right up until the point where I got a glimpse of white belly and then the line went slack. I'd fed the swim with mash for half an hour while I waited for the two guys in the spot I really wanted to fish to pack up and go, they'd been there all night after all. To begin with both rods were baited with flake and within fifteen minutes the left rod wrapped round. It was a most un-chub like struggle, instead of thumping surges it was like pulling in a dead weight albeit a heavy one. I was never to find out what it was but the loss seemed to kill the swim, I tried lobs and did get small perch every cast….so frequently that it became annoying.
On the subject of lobworms I found a neat little coolbag in Sainsburys just big enough to take a large tub of lobs and a couple of those blue ice pack things. I keep worms in a fridge and they last for ages during colder months but if I use them during summer they do overheat and depart this planet prematurely, the bag does a great job of keeping them alive even on the hottest of days;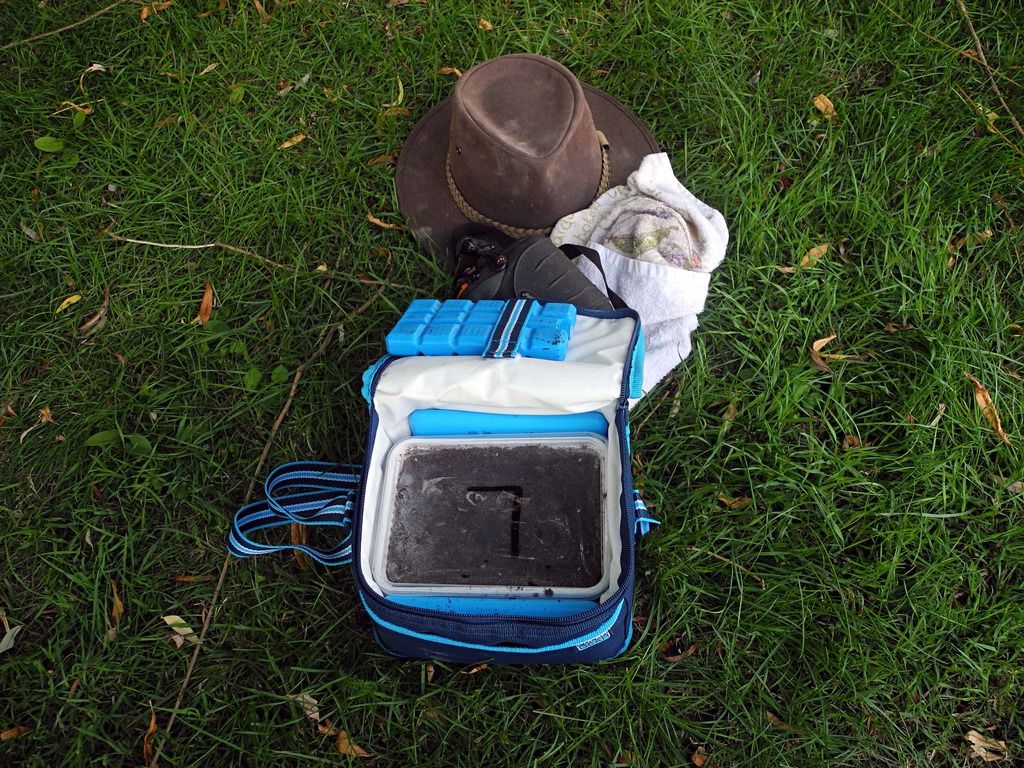 The upstream swim had been vacated so I moved to there, baited up and began chub quest episode 2. This was different from the first episode in that I didn't get any bites at all, the perch were still enthusiastic for lobs so I entertained myself by casting all over the place to see if I could avoid them, nope the river was stuffed and with perfect feeding conditions the perch were out to play.
Angling luck takes all forms and the gods were about to smile upon us. Steve and Alex chugged past in Odysseus, they were planning to moor up but there was no space so would be heading up to the next lock. I lied through my teeth about what I'd caught and bade them farewell but just then another boat left and a mooring became available. Boat parked, kettle on and Steve began catching small perch and dace on maggot, one of the dace was press ganged into live bait service and within five minutes I heard a vigorous splashing at the other end of the boat. I thought it was a pike but the urgency with which Steve was calling for the net suggested not. In the water it looked large enough to be a 'four' and early March it may have made that but on this occasion it was a beautifully proportioned post spawn 3-06 perch. Its mouth was huge;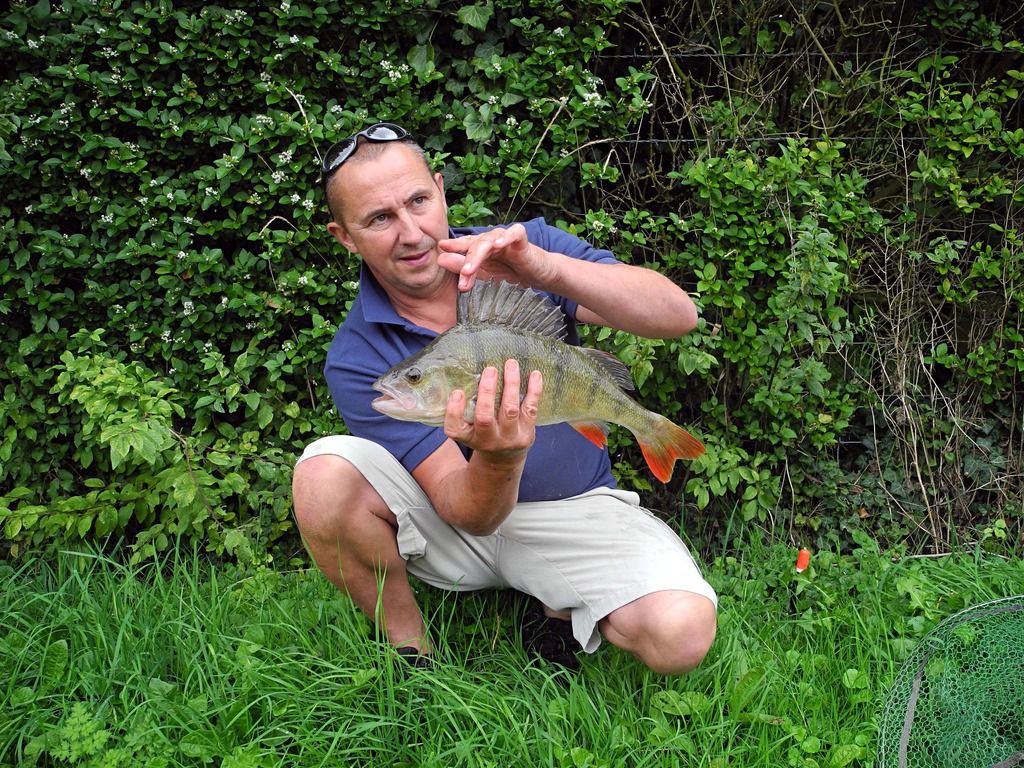 That was pretty amazing considering that the swim had only just been churned up with two boats manoeuvring but it wasn't the end of the story. We were both fishing very close to the boat and my lobworms were being mauled as soon as they hit the water. It wasn't long before I was into another decent fish and it was my turn to call for assistance, once on the bank it pushed the scales to 2-15. The very next cast produced yet another, this time a 3-02. Within ten minutes of starting fishing we'd caught three good perch all from directly next to the boat, they must've been underneath it. Then another strange occurrence, the drizzle strengthened a little and the fish stopped feeding abruptly. It wasn't full on rain but it seemed to be enough to stop all bites from the dace and perch despite us using the same tactics. I can't think of another reason for it.
Later on activity did return but the swim never reached the former glory of that ten minute session. We're trying to figure out what happened and the conclusion we've reached is that we encountered a small group of large perch as they were patrolling up and down under cover of the moored boats. We were just in the right spot at the right time.
It's certainly got my perch juices flowing and I know of a certain K&A Canal swim which will be playing host to my remaining lobworms once the rain eases a bit later today…….
1