I'd not been to Exmouth before but with John and Helen organising the UK's largest kayak fishing event to date and the opportunity of meeting up with a whole bunch of people I'd not yet met but had got to know online it promised to be a good weekend, especially as I would be combining all of this with a bit of work and the chance of getting out after conger and other species not encountered around my area.
A long drive from Great Yarmouth in a new van (first one I'd ever driven, two days before) and towing a trailer (first I'd ever towed had been the day before) it didn't promise to be the most relaxing time but picking up Essexbuoy en-route at least gave some company and help as well as an overnight stop and being limited to 50mph he also helped alleviate the boredom of the run down.
Somewhere in darkest Hampshire the telephone rang – Richi was about half an hour ahead of us and was still up for a night conger session as planned previously and by the time we arrived at the campsite our spirits had lifted somewhat. I was amazed that no-one had launched yet but with the amount of nattering to partake in on arrival (without a cuppa being proffered by anyone I hasten to add) it was understandable and the number of launchers had swelled by the time I returned from the hotel.
Good old Dorado turned up in the nick of time and we were all pleased to see him – not because we like him particularly but because his trailer would come in handy for getting us down to the launch point and back and so off we went. As popular was Overrun who had brought a bunch of pre-ordered nav-lights which were immediately fitted, botched or otherwise pressed into use.
On the beach we all got kitted up, tackled up and into the water in short order.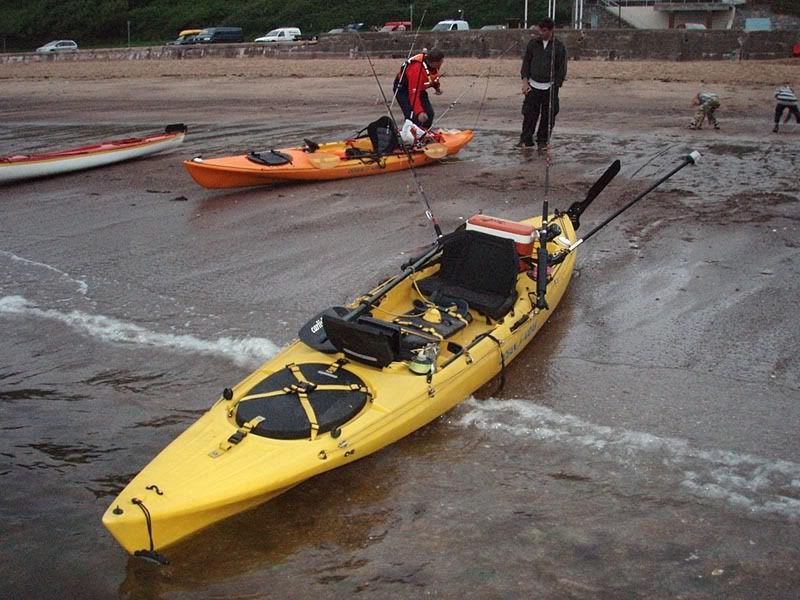 I launched at around 7pm I think, shortly before Carpyken
and paddled out to the demented Dover-boy
who fortunately recognised me as inedible and relaxed without ramming me amidships!
It'd been a while since we'd last been on the water together but I started off with another bunch – Essexbuoy and Curly (Lozz on the right just before he paddled off into the sunset) who also had some of James' navlights (note how bright they are already) and we were joined by Carpyken and another who's name I forget. I trolled a Sabiki rig out to the mark weighted with a wedge and although I saw fish in the clear water below I failed to connect with anything sadly – a pity really as I wanted a mackerel for bait and also as I'd never caught one.
Variously anchoring and drifting our huddle of four yaks made no real dent in the local fish stocks as feathers failed to drag up more than the odd mackerel. Using ragworm on one rod and working the Sabiki on the other I decided enough was enough and I decided to head over and see Lozz. We had each other by the short and curlies out here as I had a light and he had some tobacco and so we did some trading before I decided to head out and annoy Richi.
He was getting plenty of little rattles but the conger weren't showing. The water was flat calm and I anchored up alongside and we chatted while waiting for things to happen. And happen they did – if you want to catch fish, follow Richi! He had a fish or two and then my Sabiki rig, baited with pieces of rag started to bang away as I struck into my first ever Dogfish!
Now I know most people hate the sight of them but not I (give me time!) and I brought it in. It was small but a beautiful little thing and one that I was hoping to finally get. I also wanted the curled-up Doggy photo and it obliged: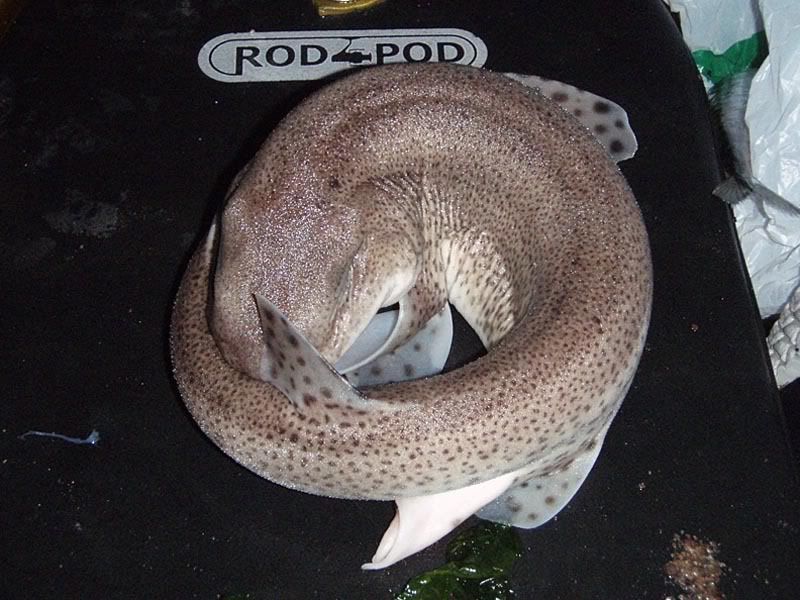 Now, my aunt had arrived at my parents that night from South Africa and as she is forever catching sharks from her boats I decided that for once it was my turn to brag – I phoned up…
"Hi mum, I just caught a shark!"
"Really? Wow! How big?"
"About a foot…"
I thought that was hilarious. Monday when I saw my aunt she said that her husband had called up too and told her, on hearing this tale, that they also had one the same day measuring a foot. Between the eyes.
More of the same followed both on the ragworm and on the conger rig with half-mackerel bait (thanks Richi) and then I caught one of Starvin's saviours, a Pout.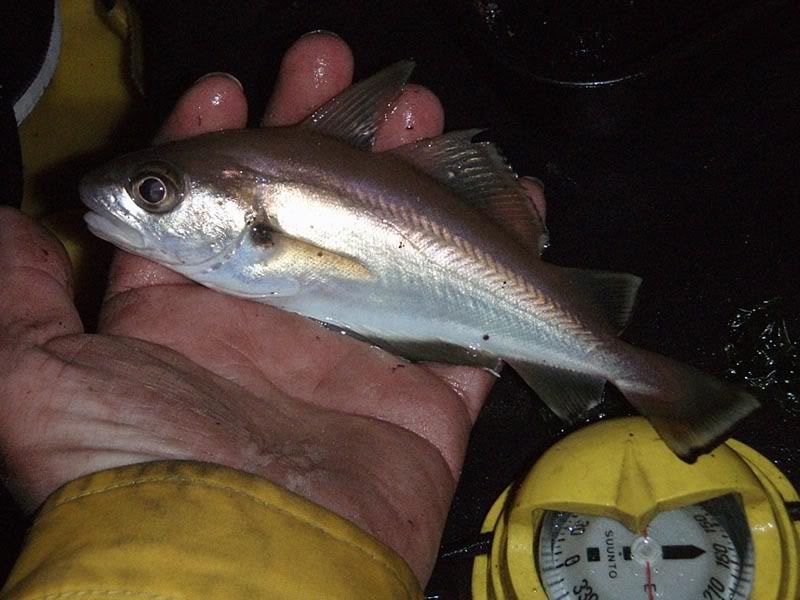 Eventually it was time to go in and having landed four Dogfish and one Pout (and missed lots of other doggy bites) I up anchored and paddled in. It was still totally flat and I decided to paddle in with Dorado in his Kaskazi to see if I could keep up. I didn't lag behind too much but I don't think Simon was expending as much effort as I was either and I guess over the half mile or so we paddled I was probably 150 yards behind at the end of it.
Ashore we loaded up and went back to the site with pretty much nothing but Dogfish caught. Unfortunately my camera went AWOL inside the van and I got no more pics from the weekend.
The next day saw me in the 'Burger Van', showing the Humminbird finders to anyone who wanted to see them and by the time we'd finished and packed up I was soaked and decided against another night session so just ended up drinking, eating and chatting with everyone else for the rest of the evening. Cheers for keeping me topped up with burgers, beer and banter everyone – especially Vlad whose burgers were fantastic.
Because of the rain and the long drive ahead Steve and I decided against fishing the Sunday morning but went down to see people off and say our farewells. What a site!
Lozz and Sharkhunter's daughters in wetsuits!
Sorry, I meant all those kayaks on the beach, the slip and the promenade. Brilliant to see so many and the water looked very inviting – I half considered getting the yak down and fishing anyway but we decided we'd better not and headed back to the campsite to say a few more good-byes. It was while talking to Starvin' that I heard the mayday go out on my VHF that I happened to switch on to monitor things. My heart sunk but I was surprised at how clear the reception was after the initial 'Say Again' that I heard. Of course, we headed back to the beach and by now everyone was in or nearly in and the sea looked a lot different to an hour before. The current was streaming and although I couldn't see past the point I understood that it had really started pumping – 12-15 foot swell was what I heard and even if people were exaggerating (it's difficult to judge wave height from a yak) it still meant a big sea. Fortunately all was well and once again we headed off, this time for home. I may have only launched once but I'd added another species and had a great time with friends whom I'd met before, friends I hadn't met offline and new friends…a great weekend, so a big thank you to all who made it happen.