What an end to the season! The opening day was pleasant enough but between then and now there really hasn't been much to say about my fishing trips. Blank after blank had me wondering whether the angling gods had got it in for me or whether I'd just got myself in a rut fishing known swims and taking success for granted.
When the reliable swims eventually failed to produce (as they often do) I had no plan B and just kept on flogging the same dead horses. Eventually I got fed up with that but rather than getting off my arse and finding new swims I just didn't go fishing. Enthusiasm waned to the extent that mid season I had little interest in angling at all and when the floods came I was probably the only angler who wasn't too bothered about not being able to get out.
The prospect of a week's annual leave at the end of this season re-kindled some interest, Chris Plumb then took pity on me and kindly pointed me in the direction of short stretch of the Kennet which had produced chub for him this season. It was a swim that I knew about and had fished a couple of years ago but I'd struggled, a very pleasant spot but hard work.
So, I decided that would be my mission for the week, to catch something from that swim. The first two attempts produced nothing at all, not even a bite and that was after several hours of constant light feeding and sending the float down as close to the far bank vegetation as I could. In mitigation it is a difficult place to trot, bites only come from the slower water by the trees and often the float gets kicked out into the faster flow mid river, when that happens the chances of a bite reduce dramatically.
Monday's session started in the same way as the previous two, feed-trot-nothing, feed-trot-nothing. This continued for what seemed like an age until finally the float went under and after a stress inducing few minutes this 4lb 12oz chub posed for the camera, it was my only bite of the session;
I was really pleased with that, it wasn't a massive chub but I'd stuck at it and not given up in a difficult swim.
The next time I got to fish the swim was today. The forecast looked good (angling wise) with a foggy start lasting until about mid morning, it would then brighten up for a nice sunny afternoon. I hate getting up early in the mornings when I'm on holiday but forced myself this time so I could fish for a couple of hours in the fog. The best I could manage was an arrival time of 8:00am, not too bad.
I was confident, conditions were great with no breeze and a dense fog everywhere, it wasn't too cold either. The feeding/trotting sequence commenced and although there was no action for the first hour I'd come to expect that so wasn't too concerned. Towards the end of the second hour though I was getting a bit worried, the sun was getting up and burning off the fog, it wouldn't be too long before I'd be in bright sunlight and the best of the conditions would have gone. The third hour came and went, by that time I'd removed my coat, hat and applied factor fifteen to my neck. I reasoned I may as well stop for a cup of tea, it was now a glorious day and conditions were against me, any success would only be brought about by continual feeding and a fish daft enough to venture out from the tree cover. But it was the last day so I may as well carry on until something happened.
Something happened at about 1:00pm some five hours after the session started and after countless trots through the swim. The float went under and I struck into a chub, a good one at that and it exhibited typical chub behaviour by heading straight for the far bank trees (it was close to them anyway). I was pretty calm at this point, steering it away from the snags and generally waiting for it to tire against the flow so I could gain line and land it. I would've been annoyed at losing it, probably would've blubbed in my maggots for a while but once the curry house had opened all would've been forgotten.
Then I saw the stripes, it was a perch not a chub and it was the biggest perch that had ever been attached to a fishing rod in my hands. I was no longer calm and the prospect of losing it took on very serious proportions, there isn't a curry house menu in the land which would've provided solace under such circumstances. In the water it looked massive and I foolishly started to guess its weight, at least four maybe a 'five'. All of this would be academic if I didn't land the darn thing and it was still pretending to be a chub, the difference was that I was now playing it quite tentatively so when it went for snags it got there. After a couple of heart stopping moments extracting it from the trees it made a beeline for the near bank reeds and everything went solid, I walked down with the net expecting it to be buried deep in the water but found it on the surface tangled in line. I was very relieved at being able to net my first ever perch over four pounds at 4-02, sorry for the Blackberry photo, I'd left my proper camera at home;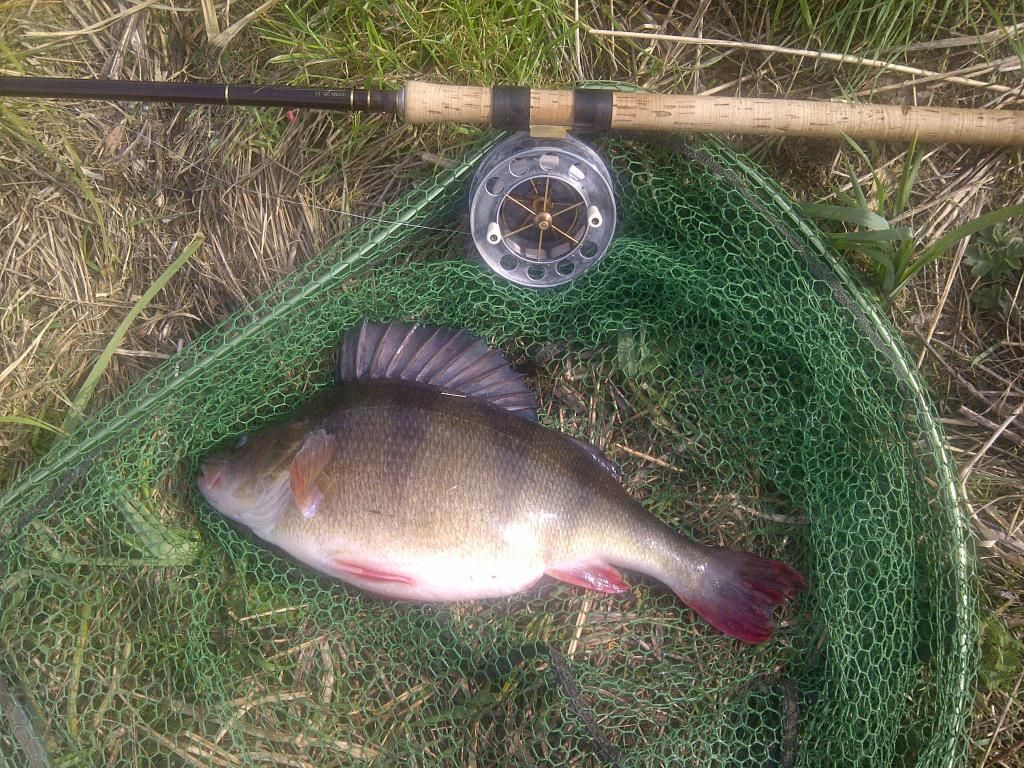 So that's it, two bites and two fish from a swim which I've found very difficult to figure out. I don't know whether I just got lucky on a couple of occasions or whether the constant feeding gradually tempted the fish from their cover, I'd like to think the latter but either way it's a swim which doesn't give up its fish lightly…not for me anyway!
1