Bait-Tech are delighted to welcome three new faces to our team of consultants. With the ever-evolving trends on the UK Commercial Match Scene we feel it is vital to keep on top of this to continue the development of cutting edge bait products to bring to market and stay at the forefront of the industry.
The latest recruits will help us with the most modern commercial fishery methods and techniques offering a stream of advice we feel is invaluable to us in terms of future products – The domination of F1 orientated fisheries requires a specialised approach and these anglers are synonymous with being at the top of their game when it comes to the species.
Joining the brand are: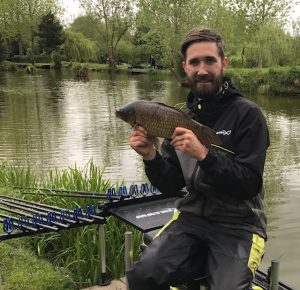 Shaun Little – The Matrix Brand Manager has for long been at the top of the sport and F1 filled venues are where he spends most of his time on the bank. With a love for fishing at speed for large numbers of fish he is always looking for baits that will increase his catch rate.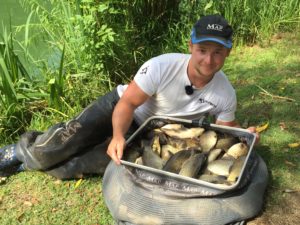 Aidan Mansfield – MAP backed Aidan is one of the brightest young prospects on the UK Match Scene. With Tunnel Barn Farm being his main base, he has an extensive knowledge of the current trends on one of the most competitive venues in the country. Having recently taken on the challenge of the White Acres Festival circuit also we doubt it'll be long before he is framing regularly there too!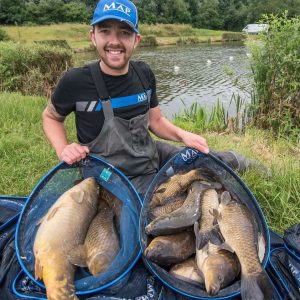 Mark Malin – Another MAP backed angler Mark has been a consistent performer for many years and has become somewhat of an all-rounder with an individual win in the Thames Championship to his name among many other accolades. Like most anglers Mark spends the majority of his time fishing on commercial waters and enjoys catching Big Carp and F1's equally. He was also part of the winning team in the Tunnel Barn Farm Winter League which includes, Shaun Little, Aidan Mansfield and Andy Neal!
With this strength in depth to add to our already formidable team of anglers we are excited to see what the future brings with our new additions. One thing is for certain though, we will never settle for second best and continue to push the boundaries in bait design and quality to put more fish in YOUR net.
You can keep up to date with all our latest news on our Website, Facebook, Twitter and Instagram pages and with plenty of new Video footage being added to our YouTube Channel this is a brand you must keep an eye on…
#TeamBaitTech
New Direction Tackle 3*Magnetic Butt Rest P8 for Carp Fishing rod(3 PCS)
1 new from £18.00
1 used from £17.11
Free shipping
as of 22nd November 2020 8:30 pm
Features
Fits any brand of Rod.Rubber stip that fits any brand of rod. You do not to buy multiple rests for different types of rods. Offers a far more intelligent design than any other on the market.
Magnet connection. Powerful Magnet connection means you can easily place the rod on the ROD POD
Unique&Small size. Unique butt rest and the overall size is and discreet
NGT DELUXE CROSS ROD POD & PADDED CARRY CASE
as of 22nd November 2020 8:30 pm
Features
Fully adjustable NGT 'Cross Pod' with deluxe case
Features include; aluminum profiled tubes, stable main body, front and rear adjustable 3 rod buzz bars, easy to fold, complete with carry case.
Closed Length: 78cm, Max Length: 116cm, Fixed Height: 39cm
Digital Fishing Electronic Weighing Scales-Catch Weight Pro 2 Carp Fishing Scales,The Original Digital Hand Held Balance Fishing Scale! Easy To Use Scales With Hook. The Weight Is In lbs Ounces & KG
1 new from £12.97
Free shipping
as of 22nd November 2020 8:30 pm
Features
BEST IN CLASS - GUARANTEED! - Our advanced Strain Gauge Sensor System easily beats conventional load cell or spring balance systems to give you precise measurements, EVERY SINGLE TIME! Batteries Required 2 X AAA 3V ( NOT INCLUDED)
HIGH QUALITY BUILD: Made from only the finest quality polymers, the compact and modern design is highly durable and long lasting. The sensor may be small, but provides accurate information!
WIDE MEASURING RANGE: Catch Weight Pro 2 is so precise, it can measure your catch - from 0.2 lb (10 gm) up to 110 lbs. (50kg). Our product also includes a Tape !
RECOMMENDED BY ANGLERS: Recommended by sport anglers and fishers worldwide, the Catch Weight Pro 2 is simple and straight forward to use. This 5 star rated product displays the weight in Ounces, Pounds or Kilograms - All with the simple click of a button!
EASY TO USE: The compact, modern design includes a durable LCD Backlit Display - Easy to read during Day Or Night! The strong, durable weighing strap give you a fantastic product that immediately becomes an essential part of your fishing kit! FREE 12 MONTH WARRANTY - We are so confident in the quality of our products that we are now offering a FREE no questions asked warranty for the first 12 months. If It breaks simply return it to us and get a brand new item sent out the next working day.