10 Mar 2020
Fisheries Enforcement Support Service meets with new Rural & Wildlife Crime Police Chief
The Angling Trust Fisheries Enforcement Support Service's National Enforcement Manager, Dilip Sarkar MBE, and North-West Regional Enforcement Manager, David Lees, recently met with the Chief Constable of Cheshire, Darren Martland – the National Police Chiefs' Council's new Lead on Rural & Wildlife Crime.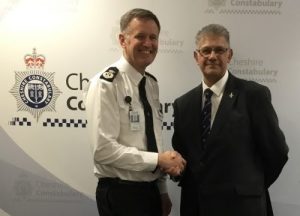 Dilip Sarkar said: "It was an important opportunity for us to highlight Fisheries Crime, explain our role and remit and emphasise the benefits to the police service, especially regarding intelligence, provided by both the Voluntary Bailiff Service and wider angling community.
"We also discussed extending the powers of Police Community Support Officers to check rod licences and other key operational matters.
"David Lees and I were most impressed by Mr Martland's commitment and attention and both our team of policing professionals and trained volunteers look forward to supporting the fight against Rural & Wildlife Crime howsoever we can."
Chief Constable of Cheshire, Darren Martland said: "It was great to meet with both Dilip and David recently, I look forwards to working together in supporting the fight to tackle Rural & Wildlife Crime."
The Fisheries Enforcement Support Service is funded by fishing licence income as part of the National Angling Strategic Services Contract with the Environment Agency.