Angling Trust News Release
After a delay of nine months, the Environment Agency have today released the latest assessment of the health of our rivers and still waters.  It makes for depressing reading.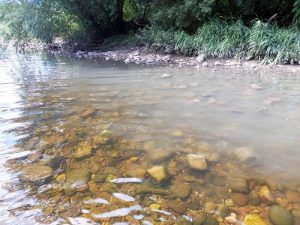 The last assessment showed that only 16% of water bodies covered by the Water Framework Direct were ranked as being good. Today's assessment shows that figure has dropped to zero – not a single one!
The latest assessment represents more accurate measurements that reveal the true poor state of our waters. Rather than a change in underlying condition, and the improvements needed if the government is going to meet its 2027 target of 75% being classed as good, there has been no progress. The Government needs to urgently invest in turning our failing rivers into thriving blue corridors.
Stuart Singleton-White, Head of Campaigns at the Angling Trust, said: "The government has made great play that they want 75% of rivers, lakes and stream to meet good standards by 2027. Today, we find out that none of them do. This is shameful. Our rivers are officially the dirtiest in Europe. So much for the Government's ambition to leave the environment in a better state for future generations.This shows they are failing and failing badly.
"What we need is leadership, not excuses. The comprehensive spending review will be a real test to see if the political leadership our rivers, lakes and streams need is there. We have to see funding to clean up our environment massively increased. We need regulators who can do their job properly and we need to hold polluters to account.
"From the UN to Sir David Attenborough we have heard time and again about the biodiversity crisis we are facing. Freshwater biodiversity is the most at risk. If ever there was a time for action, it is now. We can't wait, our fish can't wait, our rivers can't wait."
The new Environment Agency figures show that:
Every single surface water body monitored by the Environment Agency in England has failed the chemical standards, meaning that none have a clean bill of health overall
The failure rate on many other measures of good water health has shown little or no improvement, the most important being assessments of Ecological Status. Only 16% of English waters were classed in good ecological health for in 2016, with the figure remaining 16% in 2019
The figures released today show that the proportion of English waters in good health is one of the worst in Europe, with a European average of 40% of surface water bodies in good health
England's rivers and lakes are also the least healthy in the UK, with waterbodies in Scotland at 65.7%, Wales at 64% and 31.3% of rivers in Northern Ireland classed in good health
There has been a small improvement in the fish class assessment from 17% being good to high in 2016 to 18% in 2019.  Invertebrate have improved from 58% to 61% over the same period
Current monitoring overlooks many of the highest quality waters – headwater streams, ponds and small lakes – so we have little idea how these are faring.
Mark Owen, Head of Freshwater at the Angling Trust said: "The Government's target in its 25 Year Environment Plan for 75% of waterbodies in England to be in good condition 'as soon as possible' is now all but unachievable. These figures expose why Sir James Bevan recently called for the "one out, all out" approach of the Water Framework Directive to be removed. This is an embarrassment for him and for the Government. Trying to change the standards and massage the figure in future is not going to work. It needs to be a political priority with immediate action."