Two long established angling clubs in the Oxford and Reading areas have decided to enter into a new water sharing agreement with aim of encouraging more anglers to experience some of the great fishing that the River Thames has to offer.
Reading District Angling Association (RDAA) have offered Oxford based Littlemore Angling Society (LAS) members free access to over two miles of the Thames at Northmoor and Sandford weir stream in return with help with bailiffing and maintenance. Littlemore are offering RDAA members fishing on their waters at Sandford Meadows and Kennington below Oxford. The arrangements exclude match days but both clubs are in discussions about the possibility of holding joint matches on the river.
Both these stretches of the Thames produce excellent bags of roach, big catches of bream in certain areas as well as chub, barbel, pike and perch to specimen sizes.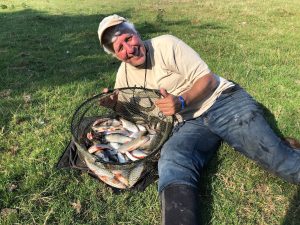 Angling Trust Policy Chief and RDAA President Martin Salter said:
"The middle Thames is full of fish these days and some of the recent match weights have been nothing short of spectacular yet outside of competitions it is rare to see more than a handful of people fishing this wonderful river. I'm delighted that we've been able to open up more fishing for members of both clubs and we hope our partnership will encourage other angling associations to enter into similar arrangements. After all, why compete when you can cooperate."
Alan Campbell, Secretary of Littlemore Angling Society added:
" We already have the fishing on some of the bank opposite the RDAA waters at Sandford Weir and I know our barbel anglers in particular will welcome the opportunity to have full access to the weirpool. The RDAA stretch at Northmoor, above Oxford, has a good pedigree but has been underfished fished for years. It will certainly be another good option for our members and we know that the Reading anglers will enjoy some of the great roach and chub fishing that we have to offer below the weir stream at Sandford Meadows and for the bream up at Kennington. This arrangement is a 'win win' for both clubs."
Thames specialist and angling journalist Keith Arthur said:
"How refreshing to see clubs who could easily be rivals collaborating to achieve the best outcomes for their members and, especially, the future of some brilliant wild fishing on the River Thames. In most walks of life there's no doubt teamwork has enormous benefits and this is a fine example."
The new arrangements come into force from June 16th 2020.