20 Jul 2018
Success for Team England in the SALC Shore Home International
The stunning lochs of Argyll in Scotland hosted the 2018 SALC Shore Angling Home International over the weekend of the 6th and 7th July 2018 as Scotland, England, Ireland and Wales once again competed for medals across Seniors, Ladies, Youth and Junior categories.
The competition proved to be a successful one for Team England, taking silver medals in all three categories they entered, Seniors, Youth and Juniors. Host nation Scotland took gold in the Seniors, Ladies and Youth categories while Ireland took the honours in the Junior category. 
The Senior competition was held on the shore of Loch Leven and Richard Yates led team England; Ian Bowell, Kenny McCoy, George Smith, Neil Cutler and Andrew Dugdale, with Ben Arnold as reserve.
The team arrived in Scotland a few days early for some practice and found the venues to be fishing well, with plenty of dogfish and rays plus some codling, haddock and ling at range in the deeper water. There were also some smaller species such as poor cod and small wrasse closer in against the rough loch edge. Once the points system was announced it was clear that the smaller species would be the target on the first match day as there had been good numbers on that venue, however the second day would be more about casting for dogfish.
Richard Yates, England Manager said: "We started the first match targeting the close in fish.  Tackle losses were very high in some zones with some pegs being tougher than others, one of our anglers lost 40 weights on rotten bottoms, while another lost 17 rigs, finding it hard to get anything back even with tackle designed for the rough terrain."
Scotland won the first day on 17 points, Wales were second on 13 and we tied for third with Ireland on 10."
The second day went as expected with dogfish at range being the main fish. However, the difficult fishing continued on the same beaches and had a drastic effect on the number of fish in some areas with one zone producing a single fish. England won the day with 14 points, Ireland and Wales tied for second on 10 points and Scotland were fourth with 9 points. This meant Scotland held on to the lead, but England moved into second place, with Wales third and Ireland fourth.
The Youth and Junior competition was held on picturesque Loch Fyne and the teams were greeted with glorious weather as clear skies and high temperatures dominated the first two practice days, but the fishing produced some excellent catches for Team England. The championship venue was a mixture of rocky shore line or rough ground fishing into kelp areas and fish caught were dogfish, dab, codling, whiting, pollock, gurnard and dragonet - plenty for the anglers to enjoy.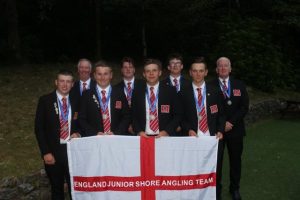 England's Junior team was led by the experienced David Graham and ably assisted by Colin Olver and the team consisted of Owen Dunn, Riley Price, Owen Strange, Oliver Saint, Ben Cloke and James Slater (reserve). Day One of the Junior category fished to a 15cm minimum size limit with all fish measured by stewards and released at point of capture. Fishing was patchy at the start with the odd dab and gurnard being caught.  An hour and a half into the match the fishing started to improve in a 20-minute spell just before low water and another flurry of fish just as the tide started flooding boosted anglers score cards.  At the end of day one England were in gold medal position with 18 points, Ireland recorded 13 points while Scotland and Wales each had 8 points.
Day Two and the team moved further towards deeper water in Loch Fyne, with the prospect of even better fishing than the first day, with the mood being of nervous excitement in the England camp. Unlike the first day and every practice day, the best fishing proved to be in the first 40 minutes of the match, with no flurry of fish around low water and the early flood, just the odd fish caught at the halfway stage and virtually no fish in the last hour. England struggled to capitalise in this early spell and didn't have the opportunity to make a comeback during the remainder of the match and finished with 24 points, enough to secure the Juniors second place and a silver medal.
David Graham, England Junior Shore Manager said "A big thank you to Mike Horn and all the rest of the Scottish Federation for running the superb Championships and for being great hosts and making the team feel very welcome.  Also, a big thank you to David Neil for organising and supplying our superb practice baits and to all the companies that give continued support to the England Junior team, Kamasan, The Southern League and Opens, Vass Waders and Rainwear, Christchurch Angling Centre, Tronixpro and Mugged Write Off.  Last but not least a massive thank you to all the parents who chauffeured the team and all the tackle and kept us fed and watered during the Championships."
England's Youth team was led by the experienced duo of Mark Hurcombe and Malcolm Stote and the team consisted of Ben Eggleton, Adam Howard, Dillon Thompson, Warren Cutting and  Rory Eastlake. On Day One the team worked very hard to finish in a credible second place just one point behind Scotland and two points in front of Ireland. Day Two was a very hard-fought competition and it was so close between England and Scotland that they tied for first place.  The gold medal was awarded on number of fish on count back and Scotland edged England by just one fish.
Mark Hurcombe, Team England Youth Manager stated "This was a great new team to work with and a team that will go all the way both in the Home Nations and the World Championships. They all worked very hard during the Championship and I'm very proud of everyone's achievement of getting team silver."
Senior Results:
1st Scotland 26 points (Gold)
2nd England 24 points (Silver)
3rd Wales 23 points (Bronze)
4th Ireland 20 points (Dark Bronze)
Youth Results:
1st Scotland 28 points (Gold)
2nd England 28 points (Silver)
3rd Ireland 26 points (Bronze)
Junior Results:
1st Ireland 31 points (Gold)
2nd England 24 points (Silver)
3rd Scotland 20 points (Bronze)
4th Wales 19 points (Dark Bronze)
Ladies results:
1st Scotland 20 points (Gold)
2nd Ireland 18 points (Silver)
In the ladies category this year there were only two nations able to field teams which saw Scotland win the gold medal and Ireland finish in runner up position with silver.
Team England would like to thank the Scottish Federation for organising a successful championship and special mention should be made of the bait, which was plentiful and of excellent quality and we look forward to seeing you all again in 2019.