Tubertini England Home Boat Team took second place honours at the SALC Home Boat International Championship out of Weymouth harbour from 13th to 16th June 2019.
Team England consisted of; Gary Geoghegan (fishing/manager), Cliff Newbold, Martin Bobbett, Brett Lomas, John Bellamy, Richard Day, Peter Bailey (reserve) and Cliff Williams (2nd reserve).
Team England's preparations began back in February and over the course of the coming months the team travelled back and forth to Weymouth to practice in the build up to the Championship which proved very useful.
On the official day of practice the weather conditions were gusting up to 35 knots and fishing conditions were extremely difficult and because of this and the low pressure the fish were not found to be readily feeding.  Most of the teams ventured to the edges of zone A or were kept inside of the blow off zone for safety reasons.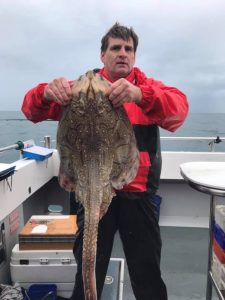 Day one of the official competition saw the teams battling through heavy rain and strong winds and for safety reasons anglers were given 30 minutes to prepare their bait on the quayside as conditions were too rough outside of the harbour. The boats began the match in zone A, but because of poor fishing conditions were again forced into the blow off zone.  Team England battled hard throughout the adverse conditions, but fish were scarce with boats being won with as little as nine fish.  At the end of the first day Ireland were leading just ahead of England in second place, Wales in third and Scotland fourth.
Day two started again with strong winds up to 33 knots but luckily stayed dry weather conditions.  After preparing the bait again at the quayside the boats headed out.  Fishing began again in zone A around Portland, but by mid-morning a move closer inshore for safety reasons was implemented.  Fish were again at a premium and boats once again were being won with as little as ten fish.  Team England fished extremely hard in the poor conditions, but all in all it was Team Ireland who won the Championship overall claiming gold with a superb win, with England in runner up position, Wales in third and Scotland in fourth.
Results;
1st Ireland – (day one) 510.97% – (day two) 408.86%.  Overall total 919.83%
2nd England – (day one) 438.85% – (day two) 391.96%.  Overall total 830.81%
3rd Wales – (day one) 416.67% – (day two) 223.14%. Overall total 639.81%
4th Scotland – (day one) 351.49% – (day two) 260.82%.  Overall total 612.31%
Gary Geoghegan, Team England Manager said "Congratulations to Ireland for producing an excellent team performance in arduous and testing conditions with England securing a creditable silver.  My thanks must go to Brian Owen and the Angling Trust for organising an excellent Championship.  Also, to the Weymouth boat skippers for literally going the extra mile to ensure that we had a competition and to Ray Ashby, John Wright and Ray Barron for giving up their time and acting as stewards."
"Additional thanks must also go to Mark Theedom and Tubertini UK for their continued support and  sponsorship of the England team and to Christchurch Angling Centre and Lagoon Bait and Tackle who have contributed towards the team's preparations.  Most of all my thanks go to all my squad colleagues who have given me complete and utter support and dedication over many months in the run to the Championship".
The Angling Trust would also like to offer their appreciation and thanks to The Heights, Isle of Portland Hotel for accommodating all the teams and their kindness, to all the other supporters who have helped support the championship; Tronixpro, Fladens, Asso Fishing Lines, Bluezone Fishing, Weymouth Angling Centre, Christchurch Angling Centre and West Dorset District Council and to Weymouth Town Council.
The Angling Trust would like to offer their congratulations to Tubertini England Home Nations Boat Team on a superb silver medal win.
My Planet Large 5'x3' England St George Cross Flag Premium Quality English Supporter Fans Decoration Flag
6 new from £3.47
Free shipping
as of 9th September 2020 3:38 pm
Features
St George Flag England 5ft x 3ft
This Flag is Very Light-Weighted. So It is Perfect for Low-Wind Areas
The Color is Sharp and Vivid and The Dye Has Been Processed for UV Fade Resistant.
Made of durable polyester. Double stitched all around the edge and strengthened by canvas header and two brass grommets. You will fully appreciate the craftsmanship and quality of this flag
This is the Authentic high-quality flag
Football Manager 2019 PC CD
6 new from £25.01
4 used from £12.00
as of 9th September 2020 3:38 pm
Features
Test your skills in 50 of the biggest footballing countries.
Climb to the top of the table and beyond with any one of world's top 2500 clubs.
Play the transfer market and scout more than 500, 000 real players and staff.
Watch your unique football vision play-out on our acclaimed 3D engine.
The Bundesliga and Bundesliga 2 are fully licensed and playable for season 2018/19.
He's One Of Our Own: The Story Of Chris Wilder's Blades Revolution
18 new from £8.27
10 used from £4.09
Free shipping
as of 9th September 2020 3:38 pm
Features
| | |
| --- | --- |
| Release Date | 2018-09-08T00:00:01Z |
| Language | English |
| Number Of Pages | 208 |
| Publication Date | 2018-09-08T00:00:01Z |