Our eagerly awaited week on Graviers was upon us. Both myself & Andy had invited good friends Frano Pavey & Nathan Doggrell.
We arrived at the lake to be told that the previous group had blanked even though there were fish showing everywhere. We saw at least 5 shows just walking around the lake.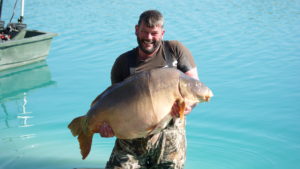 Myself & Andy went on the point and Frano & Nath decided to fish the swim on the same bank.
Everything has to be done via boat on Graviers mainly because of fish care as the weed can be an issue but because it was early in the year and Luke had been treating the water with a fish friendly dye the weed wasn't a problem so Luke gave us permission to land fish from the bank if we needed to.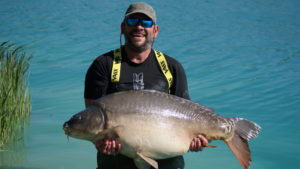 Frano & Nath decided to use the boat to find features then use marker braid to set the distance and baited using a bait boat to limit disturbance in the swim. The wind turned Northerley and was blowing down to their end of the lake and it did appear the majority of the fish had followed it as Frano counted around 20 shows on the first morning. They baited steadily with chops and whole CR1 and fished bottom baits over the top. Their first take came 48hrs in on the Monday and was a new PB for Nathan a 42lb Mirror. In the early hours of the following morning i was woken with a phone call from a very emotional Frano. He had just landed his new PB a 56lb Mirror! We were absolutely made up for them both.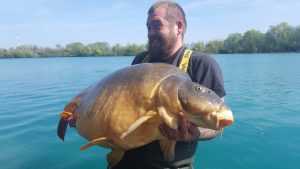 Myself & Andy had seen one or two shows but were struggling for a bite. We both new we needed to be patient.
On Wednesday afternoon we noticed movement down in Frano & Nath's swim and could see Nath bent into a fish. We watched him play it for a long time from the bank so i walked down to them.
I came into the swim to find Nath sat on the floor with his head in his hands and a very shocked Frano holding the landed net. I peered in to the net and found myself staring at the Brown fish. What an awesome creature! I ran back to my swim to get my phone to take pics. By this time Luke had come round and confirmed it was the Brown fish. I went back to our rods so Andy could go down and see the fish. Unbelievable! So pleased for Nathan. The scales hit 80lb on the nose. I think
Nath might struggle to beat that PB!
Myself & Andy both continued to fish our baited areas and had 2 roaming rods covering as much water as we could but still no bites.
On Thursday afternoon i walked down to Frano & Nath and asked if it was ok with them if i could fish what we now call "the polite area". It was not a problem with them so i set out in the boat and lined myself up with the area Frano & Nath had had their fish from and fished my side of it.I dropped my bait i scattered a hand full of CR1 around it and fished a bottom bait. I reset all the other rods and persisted with an area now known as "Timmy's Bush" as i had already had fish from there on a previous trip.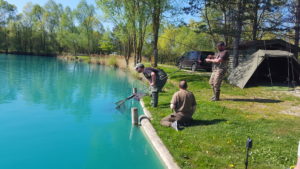 At 3 o'clock on Friday i walked down to Frano & Nath to have a chat. I had literally just set foot in their swim when i could hear Andy shouting across the lake. My rod in "the polite area" was away! I ran back and set out in the boat. I got to the fish fairly quickly but it was around 300 yds out. It came to the surface fairly quickly but took one look at me and dived back down and hung deep for around 20 mins. It just wouldn't give up. It towed me around for what felt like forever! I eventually ended up in the far margin and managed to net her. I could see she was a good fish and began the slow trip back to my swim. The scales hit 70lb on the nose a new 70 for Graviers and the 3rd largest fish in the lake!. Whilst processing the fish and having photos the rod on "Timmy's Bush" screamed off! Andy got out off the water and lifted into it, i gave my fish now known as "The Swain thing" a goodbye kiss and watched Andy play the fish in. By now Frano, Nath & Luke had joined us in the swim. The fish kited right to the side of the point then gradually Andy gained line. It surfaced for a split second in front of the net and Luke confirmed it was The Scarred fish. You could have heard a pin drop as Andy played her towards me and the net. A huge amount of emotion and lot of swearing burst out as she slipped over the cord! There is video footage on my FB page. After all the photos, hugging and celebrating had calmed down.
Luke came back round for a beer and a chat later that day. He confirmed that there had never been a 70,80 & 90lb capture in the history of Graviers and that he would name the new 70 "The Swain Thing" such an honour on such a legendary venue.
4 PB's in one session and two of the most famous Carp in the world landed. Unbelievable!
All the fish were landed on 18lb Fox Camo soft steel mainline, Korda Dark matter tubing with a Korda lead clip, both fish were caught on the RT rig consisting of Kryston Mantis Dark, & size 4 Nash Fang Gaper hooks.
All fish were caught on 18mm CR1 bottom baits apart from the Scarred fish which fell to an 18mm CR1 bottom bait tipped with a chopped down Fluro pink tropical heat pop up.
Huge thanks to CR baits for supplying an awesome bait, John Flewin, Arron Fisher & Ethan Thomas for their support and messages throughout the week.
Thanks to everyone for the kind words on Facebook and messages etc
A massive thank you to Luke Moffatt, Andy Swain, Frano Pavey & Nathan Doggrell for making it such a memorable week but of course the biggest thank you of all goes to the fish.
Graviers history made and a session of a lifetime.
All the best
Tim.
xxx