Hillside fishery has some superb catfish in it and they are starting to wake up.
Tom Farrar managed this 40lb cat out of Peg 2 on Berts Pool early on Thursday morning. He was fishing with his dad who was targeting the cats with his baits and rigs while Tom was trying for the carp. Despite this approach he hit into this monster which went for his 15mm pop up.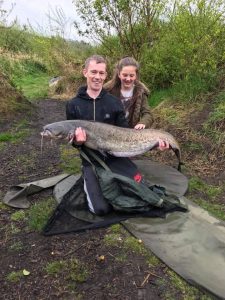 Kyle Murgatroyd with a 33lb 8oz catfish from Peg 9 on Berts Pool on Saturday 13th may. On his second visit to the complex he managed to land this beauty, fishing over a bed of pellet and corn.
"The Destroyer" weighing in at a colossal 52lb and therefore topping its previous appearance to create a new Lake record.  Terry Warburton managed to land it after an hour and ten minutes of it taking his chorizo sausage hook bait.  It come out of Peg 1 on Berts Pool at
2.40am
yesterday which makes it two big cats from that swim
in 48 hour
.
The fishery details are –> 
Commercial Street, 
Crawshaw Booth, Lancashire, United Kingdom,
 07956 772571