How can a fishing app help me fish?
Finygo positions itself as an app "that'll help you catch more fish", and given it's not a rod or a hook you're probably wondering, as I did "How?".  I'd used a log book many years ago and it was handy but a pain to find anything. Well while reviewing Finygo I realised it's also basically a log book –a log book made from Sherlock Holmes's brain!
In a nutshell
Finygo tracks your fishing with GPS, all you have to do is add as much or little detail about your tactics.
The 'Holmes' part about the app is that not only can you see your stats, but most importantly you can analyse your fishing and see by a period of time, species of fish, specific weather conditions etc, – the best way to fish a venue. It helps you learn based on how you fish, rather than just trusting your probably dodgy memory.
That'll give me a big head start to have a good day's fishing. Now I understood how it can help me catch more fish.
Finygo was fully available in June 2017 and is a UK app and it caters for different angling terminology around the world, it's easy to use, powerful and stable. You can download it on Android and Apple phones from their stores and all you have to do is setup an account, which is quick and easy. You can join Groups, which I did a little later, and also setup your own groups. This is handy because if you want to share your catches, spots and locations with only certain people, that's how you'll do it.
Getting started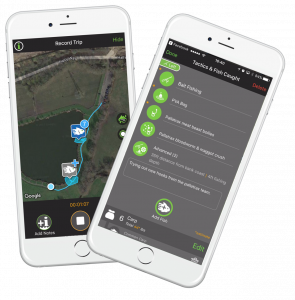 Easy trip and catch recording
Press the Fish at the bottom of the screen to either start recording a trip or add an old one. It's an old trip you use the search bar to find the venue and add spots yourself. If you're recording a trip Finygo uses GPS to figure out exactly where you are and tracks your movements when you fish. Handy for stalking as you'll see all your movements.
It covers all types of fishing with huge list of lures, baits, flies, and feeds which change depending on the type of fishing. If yours isn't there, just add it. You can add tactics and catches per rod if you've got multiple rods and as many tactics as you want – which I did.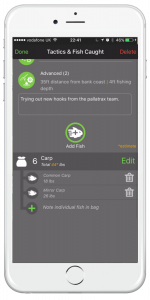 So much choice
When you add your tactics you can add as little or as much detail as you want to, like the distance from the bank, hook length etc. When you catch a fish choose the tactic that got you the fish, choose the species, add a photo, the weight and your done. If you're bagging up or at a Match, it's got a Bag feature to quickly add multiple fish with the total weight, you can even add specimen fish to a bag.
There is also swim mapping feature called 'Notes' if you want to remember those all-important fish spots, underwater features etc. You just take a picture and make notes on the picture so you can remember them. This is a bit like Fox Swim mapper, but the difference is its free, and seems on the face of it more powerful. They're easy to find on the maps too.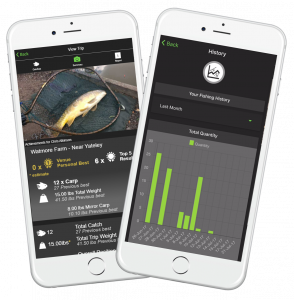 Sharing or keeping your spots a secret
What worried me about a fishing app is if others would be able to see where I fish. I didn't want an app to decide for me what was shown. Finygo gives you the choice to decide what information you share when you save your trip and catches.
That's where their Groups feature is really important. You can choose to share your exact fishing spot and tactics with a group of your closest friends, but only share the catch to the Finygo Community, not the location.
There are lots groups based on species or location, you can create your own groups and control who can join.
Really know what works for your fishing
Knowing which of your tactics work and when is the best part of Finygo. It's so easy to see from the charts which of your catches work best at a venue or group of venues. And you can analyse them in so many different ways, either looking just at your own or other peoples too – as long as they've shared theirs though.
Battery and data issues
On the Android phone I hardly noticed the battery going down on a full day's fishing. iPhone's not as good but must be down to the phone as it's ok on Android. The iPhone battery lasted about 8 hours of fishing, and doing some phone calls, emails, photos, so not bad. It's ok if you don't have a data signal when you fish as Finygo will still record your trip (or you can do it yourself when you have data). If you have Premium though, you can download the map before you head out.
Free and full of advertising?
It's free to use and no, it's not full of advertising. The only adverts I've seen are product recommendations from pro-anglers. When you first start using Finygo you'll have the Premium version which means you'll get to see everything. But that only lasts for a month, then you'll have the free version which is fine to use. But if  you want to see catches older than 6 months or analyse catches by weather and water conditions, then you have to pay for the Premium subscription at £2.79 a month, which is less than the price of a pint. There's also a Pro account for pro-anglers which they can use to promote their product recommendations or link to their or supplier sites which costs £19.99 a month.
Is it worth the subscription price? Absolutely! I'd rather use Finygo's Holmes-type brain to figure out which of my tactics work, rather than trusting my dusty memory that only really remembers how I got my best fish.
Get the app here –> https://bfvz.app.link/EWGfNzZY3E
Follow their social media accounts for more information…
Website: www.finygo.com
Facebook: /Finygo
Twitter: @Finygo
YouTube: Finygo TV